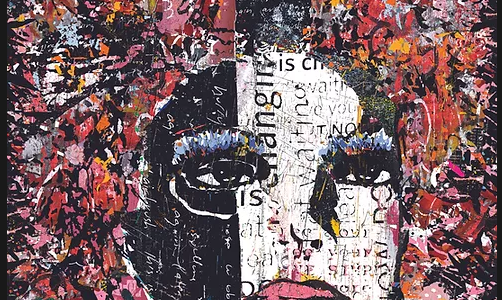 Meet Daryl Thetford, Featured Artist at Bayou City Art Festival-Memorial Park on March 25-27
 The Bayou City Art Festival, celebrating their 50th Anniversary and produced by Art Colony Association, Inc., is one of the largest & most prestigious juried Fine Art Festivals in the nation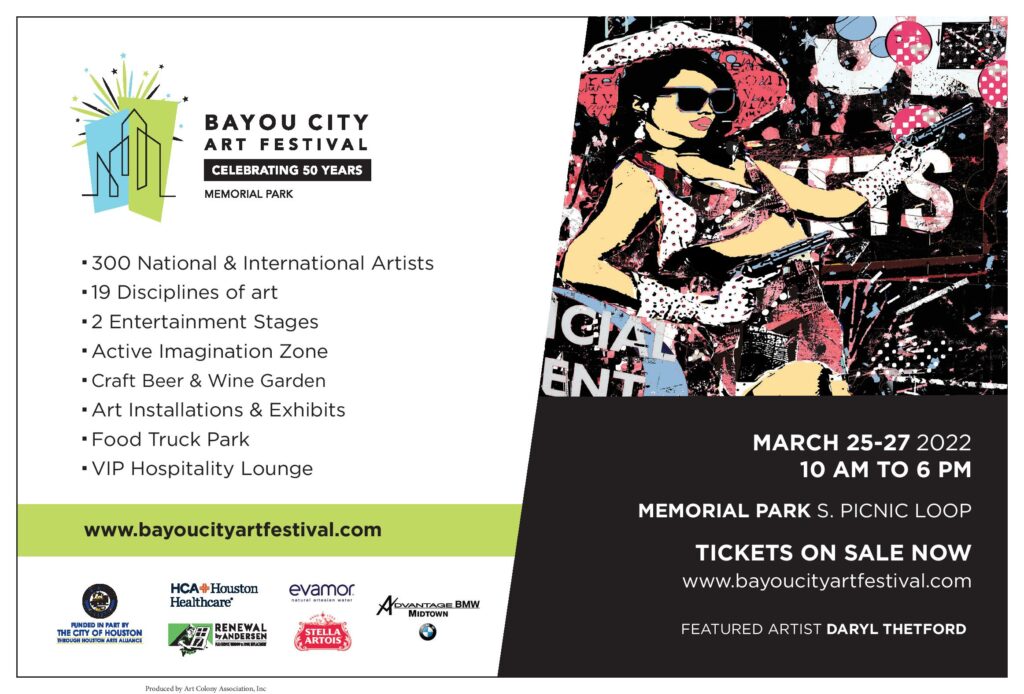 300 national and international artists will come together again with thousands of art-loving patrons in Houston for three days full of art, music, food, and entertainment.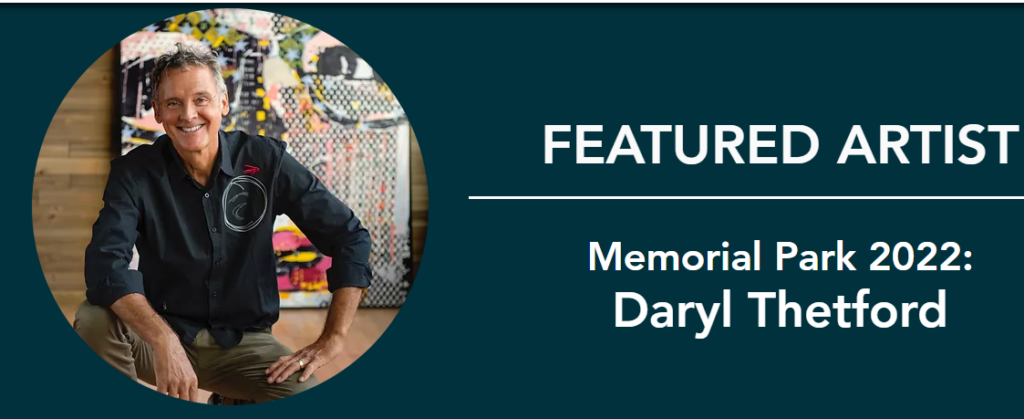 ABOUT FEATURED ARTIST DARYL THETFORD:
Daryl's work has been described as graphic, modern, pop, and contemporary, although what to actually call the process has been a larger source of debate; it has been called photo collage, digital art, and digital mixed media. The process begins with Thetford selecting a single, original photographic image followed by a digital layering and combining of dozens of additional original photographs. It is a process that takes an average of 40 hours. His resulting images range from culturally familiar individual pieces to more esoteric series' based on man's inner struggle with modern society or the human sense of isolation in the noise of the modern world. Thetford then creates a mixed-media piece using this printed image to create one-of-a-kind paintings using torn and weathered handmade paper, various artist mediums, and acrylic paint. ​Daryl currently lives with his wife Dana Shavin, a celebrated writer and artist, in Chattanooga, Tennessee.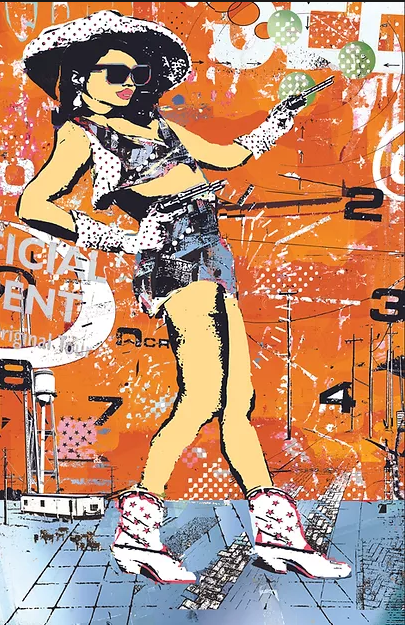 MEET DARYL THETFORD—IN HIS OWN WORDS:
1. Please share a little about yourself & how you knew art would be your passion. 
I loved drawing and doing anything artistic as early as I can remember.  Coming from a rural working class background, I had no idea there were people who made their living as artists, besides the very famous ones, so becoming an artist myself never really crossed my mind.  Long story short, I was a community mental health manager/therapist/crisis intervention worker for twenty years, as was my wife. At the very time we were beginning to feel burned out, we met someone who was making his living as an artist, and he explained how he had gotten to where he was. My wife quit her mental health job first and became a potter on the art festival circuit,  and I followed with photography once she was doing well.  Once I started, I knew I would be doing art the rest of my life.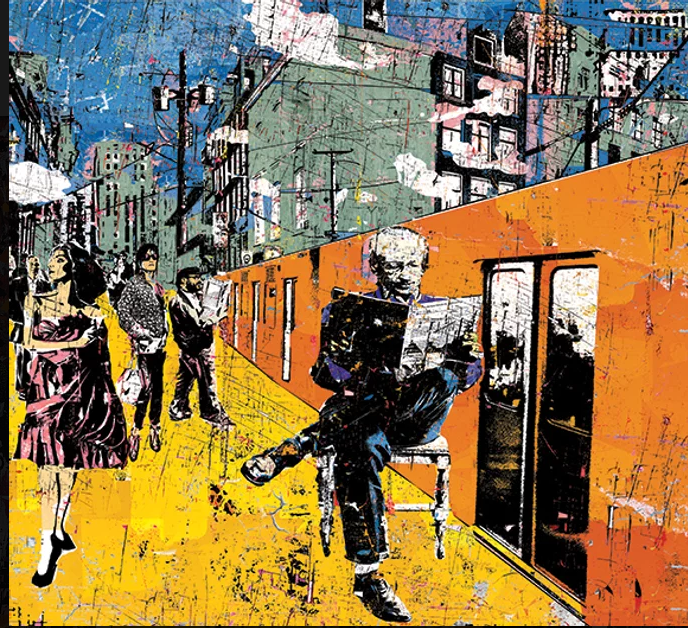 2. Little about your art skills and how you developed them.
From age 9-10 I took oil painting lessons from an elderly woman who taught kids to paint in her garage.  Her claim to fame was as an actress playing Jane on the Broadway version of Tarzan.  I had no other art training.  
3. Talk about your concepts and what you're communicating in your art. 
I sometimes hear artists say that their artwork has no intentional meaning. As my background is in psychology (I worked in the mental health field for 20 years),  I believe there is unconscious meaning in most, if not all, of what we do, but we often have to do the hard work of discovering what it is.  I have a psychological body of work, The Struggle to Evolve Before the End of Time, (https://darylthetford.com/galleries/the-struggle-to-evolve-before-the-end-of-time/that makes observations about contemporary life, our distractibility, obsessiveness, and the search for balance and meaning.
My cityscapes and western work, which may on the surface seem to be straight forward,  are also infused with both conscious and unconscious ideas and meaning.  Growing up in very rural Tennessee, I had romantic and naive ideas about cities and the people who lived in them—I saw wealth and glamour and very few of the other, harder realities of urban living. You can still see some of this idealism in my cityscapes today, along with the energy and chaos that is part of the reality.  Much of the work I will bring to the show will be my western work, which straddles the line between the romantic, individualistic, rugged-cowboy image a lot of us have of the West, and a more thoughtful, contemplative and playful vision of the humanity inherent in our western myths. 
4. Thoughts on being the featured artist for Bayou City Art Fest.
Bayou City is  one of only  4-5 shows I participate in each year. I spend the rest of my time on work for galleries, corporate commissions, and other projects. I've always done very well at The Bayou City Art Festival, and  have secured a number of exhibit opportunities and large scale commissions through the show.  Houston itself has been great to me also, with solo exhibits at the Jung Center (my first solo show) and at The West Loop Gallery.  I am just delighted to be in the show on its 50th anniversary, much less to be the featured artist.  It is really a great honor. 
5. Words for up-and-coming artists.  
I could write pages on this, but the simple answer is to go bold with your work, engage with the audience, and believe anything is possible.  If the festival venue is not right for you, but want to make your living as an artist, there are many opportunities out there, you just have to do the research and the work to find the right fit.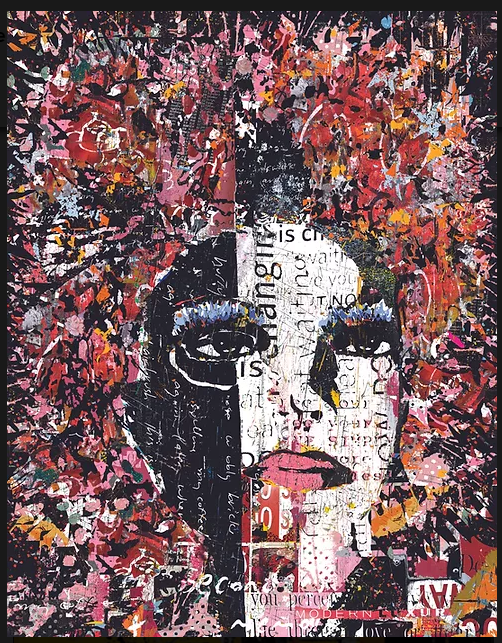 FOR TICKETS:
Tickets are available for purchase online only. Tickets will not be sold at the gate.
FOR MORE INFORMATION: Visit https://www.artcolonyassociation.org/
ABOUT ART COLONY ASSOCIATION, INC—
Established in 1972, the Art Colony Association, Inc. ("ACA") is a 501(c)(3) nonprofit organization dedicated to producing juried fine art festivals to provide financial support to local nonprofit organizations. Over the past 50 years, the Art Colony Association, producer of the Bayou City Art Festivals, has raised nearly 4 million dollars in support of local nonprofit organizations. The Festivals are funded in part by grants from the City of Houston and through the Houston Arts Alliance.