FASHION/BEAUTY
Magpies & Peacocks Presents Its New Retail Membership: Sundays With Style
Membership: Join Magpies & Peacock for the second Sunday of each month for an exclusive social day of shopping and style, as they drop new up-cycled and sustainable items, and have a 20-minute eco-fashion chat with our style ambassador (the Minister of Style) Omar Lisandro + a bevy of special guests.
Your monthly Membership Donation of $25 directly benefits our environmental and social programs – diverting textiles from landfill for reuse in order to disrupt the cycle of waste in the fashion industry, and our workforce development training program for marginalized communities.
Membership Benefits: $25 monthly (you can pause or cancel anytime).
Sundays with Style complimentary event entry – exclusive sustainable up-cycled items, style chats with environmentally friendly local celebrities, specialty sips from our MAKR Cafe partners, and more.

10% off sales in-store or online on the day of SWS

Access to SWS member-only events and perks from our partners

Early access to other Magpies & Peacocks events

10% off ticketed Magpies & Peacocks events

One Magpies & Peacocks + Mendit kit when you sign up.

More information, go to  https://magpiesandpeacocks.org/?mc_cid=bf37c37331&mc_eid=d7026b8a24#/membership/.
M&Ps Spring I Collection 'Avant Apocalypse' Now Available Online
SS23 Spring I Avant Apocalypse: This 100% upcycled collection, designed in-house and produced by the Magpies & Peacocks MAKR Collective team, was created as a direct reaction to the ongoing catastrophic trend in fashion – the monumental rise and denial of textile waste, its grave environmental impact and the mistreatment of garment workers + animals across the industry. Out of catastrophe, beauty + goodwill can rise for people and planet! 
Shop here: https://www.shopmagpiespeacocks.com/?mc_cid=bf37c37331&mc_eid=d7026b8a24
SUDOR SAUNA STUDIO BRINGS HEAT TO ALLEN PARKWAY CORRIDOR'S REGENT SQUARE WITH FIRST OF ITS KIND MEMBERSHIP OFFERING IN HOUSTON
A first of its kind health and wellness offering in Houston, Sudor Sauna Studio is now adding some additional sizzle to Regent Square, GID's urban infill development that is playing a key role in reimagining Houston's in-demand Allen Parkway corridor between Downtown and River Oaks. Situated on the ground floor of The Sterling apartment building at 3515 West Dallas Street – facing Regent Square Park and with complimentary, covered parking just steps away – the 2,500-square-foot Sudor Sauna Studio flagship location debuted on January 7, 2023.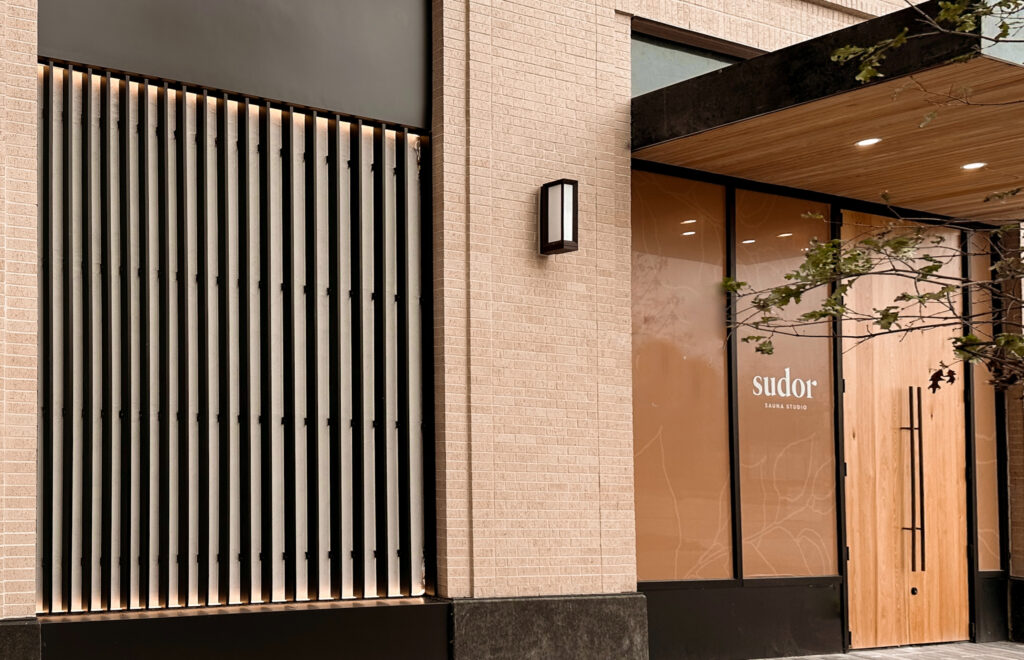 A passion project for founders Katherine Garcia and Kevin Cumming, whose work backgrounds are residential real estate investment and private equity respectively, the brand was conceived to combine the restorative benefits of a deep sweat – or sudor in Spanish– chromotherapy (color therapy) and a cold plunge, along with a convenient opportunity to briefly unplug from the stresses of daily life. The duo hope this is the beginning of many Sudor Sauna Studios to come.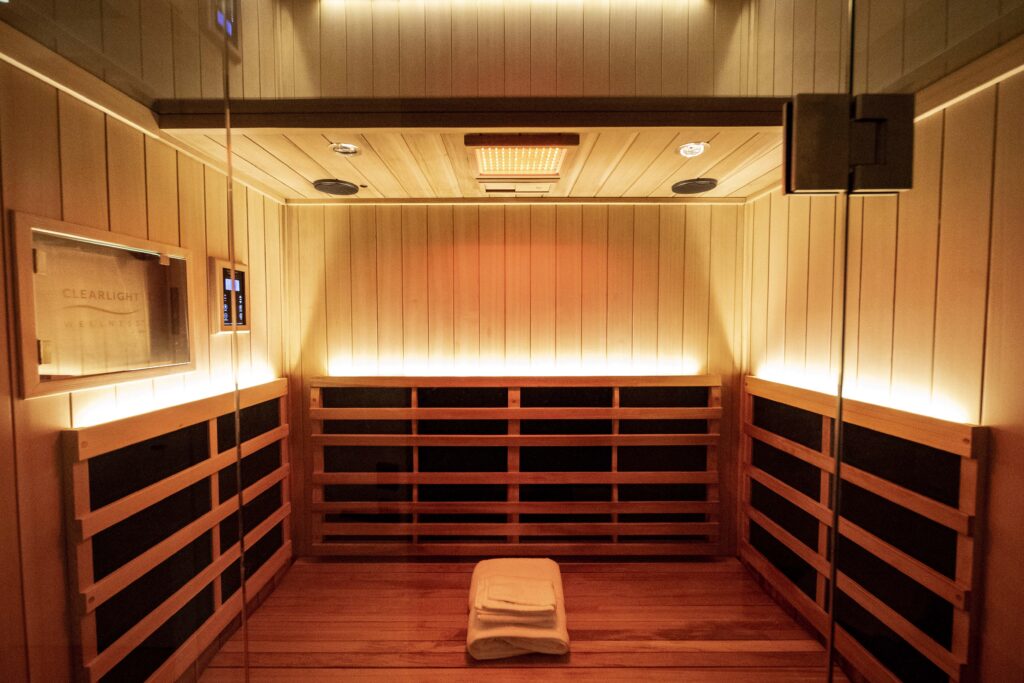 "We're so excited to introduce Sudor Sauna Studio to Houston at Regent Square," said Garcia. "This area's active, diverse and sophisticated demographic is ideally suited to piloting a concept designed to easily and enjoyably promote rest, recovery, calorie burn and a variety of other enhancing effects."
Inspired by Garcia and Cumming's travels, the spare, but stylish, space was designed by Houston-based Content Architecture as a refined getaway with thoughtful ambience and amenity elements. Clients can select either a la carte or membership options to enjoy 10 private and generously-sized infrared sauna suites, each equipped with Bluetooth speakers and a TV loaded with streaming and mediation apps. The spa-like experience is further enhanced by men's and women's lounges with cold plunge pools, showers and lockers, making a midday or lunchtime getaway a breeze.
Each sauna has a capacity for up to three people to experience with friends, but the size also allows for solo enjoyment with plenty of room for stretching and movement exercises. The relaxing, 45-minute Sudor Sauna Studio experience is made possible by a process, that unlike traditional dry saunas, uses infrared wavelengths that warm the body from the inside. The result is the ability to comfortably utilize the sauna for a longer duration, while furthering the benefits of increasing circulation and reducing inflammation, improving skin clarity and tone, lowering blood pressure, improving cardiovascular function, burning calories, reducing the appearance of cellulite and detoxing.
The complimentary addition of chromotherapy LED lighting to the service creates different physical and mental reactions based on color choice to improve mood, sleep patterns and skin quality. Finally, the included option of a cold plunge incorporates an element of contrast therapy, an ancient practice that is buoyed by the pairing of hot and cold elements. Photos courtesy of Sudor Sauna Studio. 
Take a look at Texas Standard — a modern western style clothing brand born from the belief that Texans deserve a collection that represents where we're from and what it means to be a Texan.
Texas Standard is a men's apparel company made to stand apart as the premium clothing brand Texans can call their own.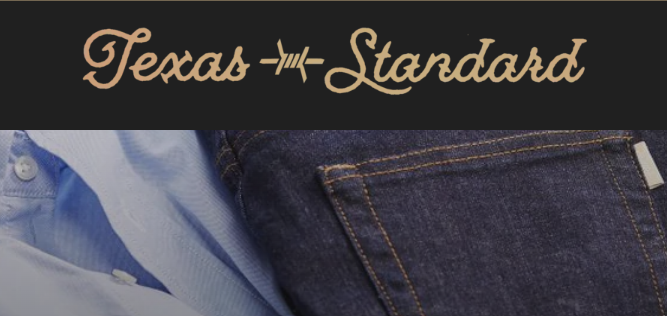 With a quality-first mindset on a mission to design, develop, and distribute its products right here in the Lone Star State, the company opened its doors in 2016 with team members in Austin, Dallas, and Houston, and has manufacturing and retail partners across the state and beyond. Texas Standard is also a company with a larger reason for being – directly giving back 10% of profits to Texas communities through charity partners.
For more information, visit www.Texas-Standard.com.
LOCAL HOUSTON LIFESTYLE INFLUENCER BRINGS JEWELRY POP-UP SHOP SUPPORTING WOMEN'S RIGHTS TO FOUR SEASONS HOTEL HOUSTON

 
The Zart Collection by Araz Garakanian showcases Armenian artistry in bold, strong, and powerful jewelry pieces which support women's rights

 
Carefully handcrafted traditional Armenian jewelry, The Zart Collection, will showcase their unique line of jewelry at the newly-transformed Four Seasons Hotel Houston on Wednesday, May 18, 2022, from 6:00 to 9:00 PM. 
Ignite your senses with a lavish evening of shopping, bubbles, and bites at Houston's downtown destination. Guests are invited to delve into the richness of Armenian culture through an eclectic range of timeless to bold pieces by The Zart Collection. As each piece is handcrafted in Armenia by artisans who have truly mastered this craft, The Zart Collection supports the women and advocates for women's rights in Armenia.  
 This event is open to the public and no reservations are required to attend.   
Four Seasons Hotel Houston has introduced its Lifestyle Membership program allowing locals to fully experience the Four Seasons lifestyle, with priority access to the Hotel's amenities, including exclusive services and events. A limited number of coveted memberships will be on offer, providing Houstonians with elite access to one of the city's most known addresses. Attendees will also learn about the benefits of membership and how to sign up at this event.  
About The Zart Collection 
Araz Garakanian, CEO of Zart Collection, is a native Houstonian of Armenian ethnicity. The idea behind her brand sparked when Araz realized she wanted to find a way to teach more people about her culture in a creative way. Zart Collection is a silver jewelry line based in Houston, TX. Zart means jewelry in Armenian, thus the brand literally translates to "Jewelry" Collection. Each piece of jewelry is handcrafted in Armenia in limited quantities by artisans who are truly masters at their craft. The goal of the brand is to showcase the Armenian culture through traditionally inspired pieces, while providing opportunities to incredibly talented artisans in Armenia. Zart Collection gets to bring traditional Armenian jewelry to modern-day fashion and most importantly, make it accessible to people of all cultures. 
SUPPORT CREATIVES HOSTS 2ND ANNUAL VIRTUAL HOLIDAY
BEAUTY BASH FUNDRAISER TO BENEFIT THE BEAUTY INDUSTRY
20 of the industry's top artists including Linh Phan, Cesar Mushi, Kathy Nunez, Marika D'Auteuil, James Earnshaw (and more) will be offering LIVE education at just $20 each.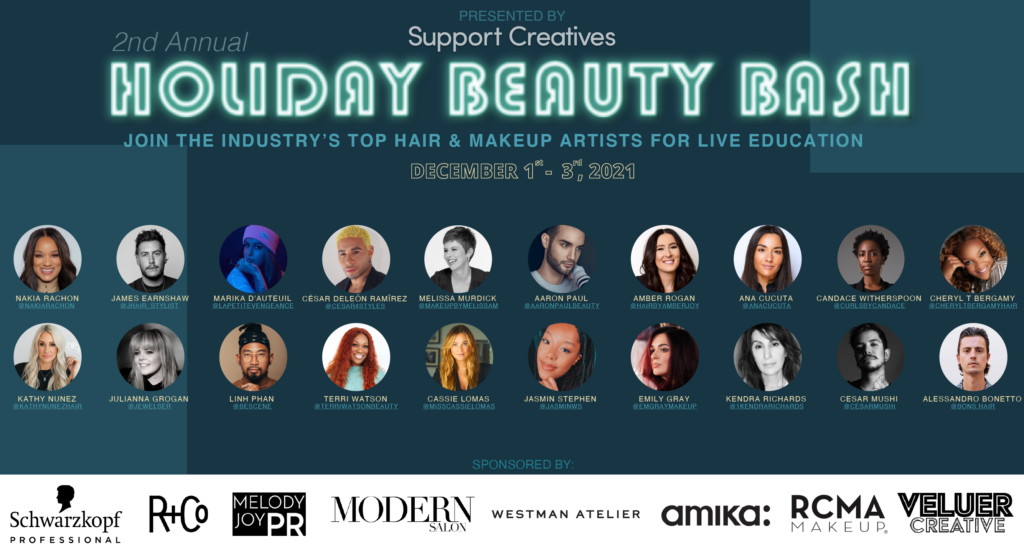 Support Creatives, a 501c3 beauty nonprofit dedicated to providing artists and beauty industry professionals with resources and proper support systems, will be hosting its highly-anticipated second annual Holiday Beauty Bash fundraiser event. This virtual beauty event will once again feature 20 top hair and makeup artists from around the world who will present LIVE education to a global audience. The Holiday Beauty Bash fundraiser will kick off on December 1st – 3rd and will be headlined by an array of industry leaders and innovators such as Linh Phan, Cesar Mushi, Kathy Nunez, Marika D'Auteuil, James Earnshaw, and more. Brand sponsors include RCMA Makeup, Amika, MODERN SALON, Schwarzkopf, Westman Atelier, R+Co, Melody Joy Public Relations, and Veluer Creative.
ABOUT THE EVENT:  Support Creatives' second annual Holiday Beauty Bash fundraiser is a unique virtual experience that supports artists, industry professionals and beauty lovers across the globe who are in need. Funds raised will be used to advance educational and beauty-based programs, while also offering financial assistance to artists in need.
The event will be led by 20 renown industry hair and makeup artists who will lead exciting virtual classes with various topics including "My Signature Velvet Glam" Tutorial with Terri Watson, Modern BLONDING with Kathy Nunez, "Custom Curly Cut By Candace" with Candace Witherspoon and "Midnight Glam Foxy Eyes For New Year's Eve" with Ana Cucuta. 
HOW TO PARTICIPATE:  The global livestream event will be open to the public and starts at a $20 donation per class.  All Access Passes are also available for those that want full event access for only $99 ($400 value). Evenbetter, be one of the first 50 to purchase and you'll receive a FREE R+Co Rainless Dry Cleansing Conditioner and FREE Westman Atelier Lit Up Highlight Stick — TOTAL VALUE $80!!   
ARTIST SCHEDULE — Can't watch live? All classes will also be available On Demand. 
For more information, go to https://supportcreatives.org/collections/hbb. 
Designer Diva resale warehouse opens in Spring Branch, launching partnership with Social Motion, Inc. to help neurodiverse individuals
  Designer Diva resale warehouse, recently opened in Spring Branch after being in the Westchase area for several years, has launched a partnership with Social Motion, Inc. (also known as Social Motion Skills and SOMO) to work with teens and young adults with neurodiversity and intellectual/developmental differences. SOMO is currently training teens with autism on transition-to-work skills in the megastore this summer and will continue using the facility as a training site going forward.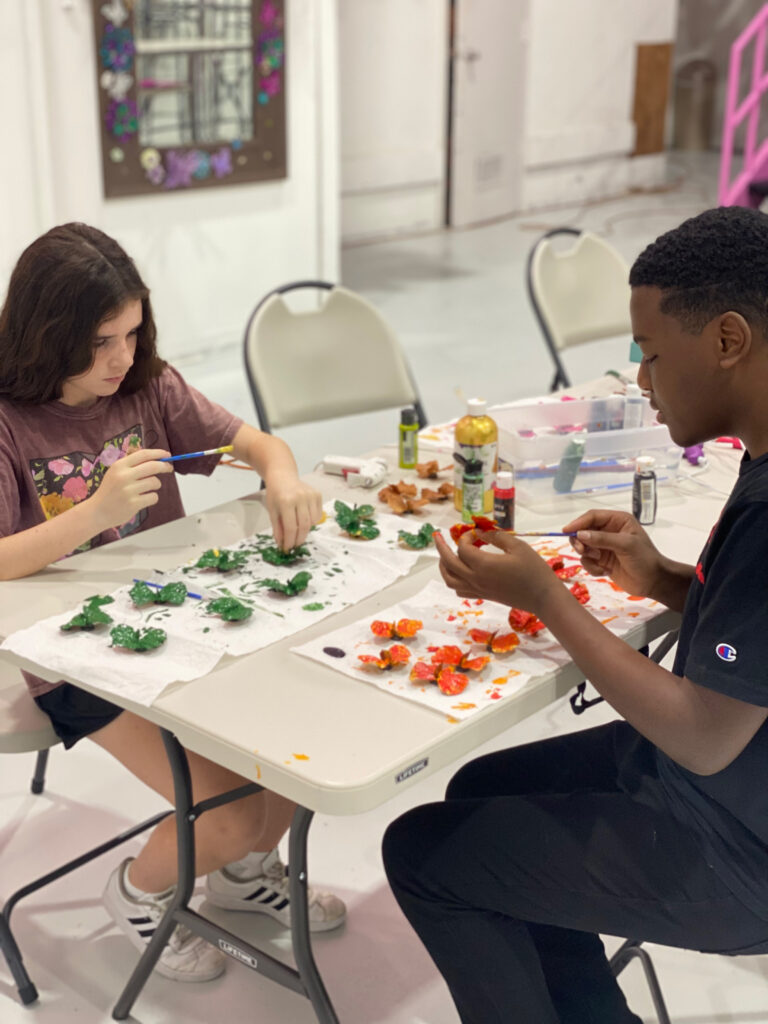 With assistance from SOMO partner The Center for Pursuit, the store was the perfect site for Social Motion's summer "Learn to Work" program with participants learning inventory processes, sales, customer service and interpersonal skills, while creating décor and maintaining the site for shoppers. 
Designer Diva, founded by Michelle Puckett, donates 10 percent of its proceeds to the nonprofit Blooming Butterfly Garden, a calming green space located onsite to grow plants and flowers that attract monarch butterflies. Blooming Butterflies donations help promote the economic independence of women, senior citizens and teens by providing clothing, a support network and career development tools.
In April, Social Motion, Inc. and The Center for Pursuit announced a strategic alliance to bring expanded autism and life span services for those in the Houston community through the "Center of Excellence." Each organization will remain focused on serving its core clientele, while the alliance will allow expanded services to be provided to a broader range of clients.
The Center for Pursuit, which opened in Houston in 1956, provides residential, day and employment services to adults with intellectual and developmental disabilities (I/DD). Social Motion, Inc. helps individuals with autism and similar special needs reach their full potential, offering a lifepath of solutions from childhood through adulthood. This alliance is a natural, synergistic fit between partners with proven experience in working with pre-teens, teenagers and adults.
"This collaboration with Designer Diva exemplifies what good can happen when community partners come together," says Wendy Dawson, Executive Director of Social Motion, Inc. "Michelle has opened her business to embrace youth with differing needs in gaining the skills they need for a successful future."
Located at 10707 Haddington Dr., across the street from Social Motion, Inc., the gargantuan 35,000-square foot Designer Diva space offers thousands of high-quality items for sale, including women's clothing and evening wear, shoes, handbags, jewelry, belts, hats, scarves, sunglasses and accessories, along with fragrances in The Scent Bar. Items are organized by category, color and size. Items made by the young program participants, including birdhouses and magnets, are also for sale.
"I love seeing how the young adults open up, show their creative side and help each other," says Puckett. "I'm so inspired by their desire to learn how to work and their dreams about business. They are a joy to work with, and I'm grateful Designer Diva can provide this opportunity."
Connected to the main Designer Diva showroom, via a walkway, is an annex housing several themed boutiques and a conference room for use by outside groups. These boutiques include Winter Wear, Vacation Wear, Rhinestone/Gem Room, High-End Couture Room, Wild Wild Divas Rodeo Wear, Ooh La La Lingerie Room, Fine Jewelry, Massages by Ben and the Gowns/Cocktail/After-Five Room with an extensive collection of ballgowns. Designer Diva has a professional seamstress, trained in Paris, on staff.
Days and hours for Designer Diva are Tuesday – Saturday from 11 a.m.  – 6 p.m. The shop is taking consignments. To learn more, call 281-497-6991. The address is 10707 Haddington Dr., Houston, 77043, with the entrance on Stebbins Circle around the back of the building.
For more information, visit designerdivallc.com, www.socialmotionskills.org and www.thecenterforpursuit.org. 
Photo courtesy of Designer Diva
AUSTIN FASHION WEEK IS BACK!
DECEMBER 2-5, 2021
THE DOMAIN
Austin Fashion Week will consist primarily of daytime runway shows on at least Friday, Saturday and Sunday, December 3-5, 2021. Depending on participation, there is a chance we will add another day of shows on Thursday, December 2.
All shows will be in person, outdoors, with smaller capacities than in years past (likely no more than 200 seated attendees per show). 
Unlike past years, shows will be shorter in duration with fewer designers in each show. Most shows will run 40 minutes – 1 hour with several shows throughout each day. Shows will run approximately every 90 minutes with a new ticketed audience. We feel this is the best way to continue to have the same level of attendance as past years while also providing a smaller, more intimate show-viewing experience. Ticket prices will be lower on a per show basis than years past.
Having daytime shows allows for more opportunities to support our partners at The Domain and to give flexibility in everyone's schedules. Restaurants and bars will offer special menus and items for Austin Fashion Week ticket holders. These promotions will be announced in the coming months. There will be many more opportunities for designer meet and greets and more interactivity than years past.
VIP opportunities will continue, likely in partnership with one or more of The Domain retailers.
This past year+ has offered so many opportunities for people in our community to find a passion and help others. Visit here to nominate a community hero.We can't wait to celebrate them on the runway.
Austin Fashion Week is also planning a live-streaming option for anyone unable to attend for any reason — sold out shows, out of town guests, COVID or any other reason you choose. Live streamed events will be provided free of charge to anyone holding in-person tickets for any show this season or you will have the opportunity to purchase a virtual only ticket for the entire weekend of shows. 
"Be Different" Campaign Launched by Houston's Nan & Company Properties
Nancy Almodovar
, President and CEO of 
Nan & Company Properties
, announced the launch of her luxury real estate company's "Be Different" campaign with a line of new
merchandise
, designed by the team at Nan.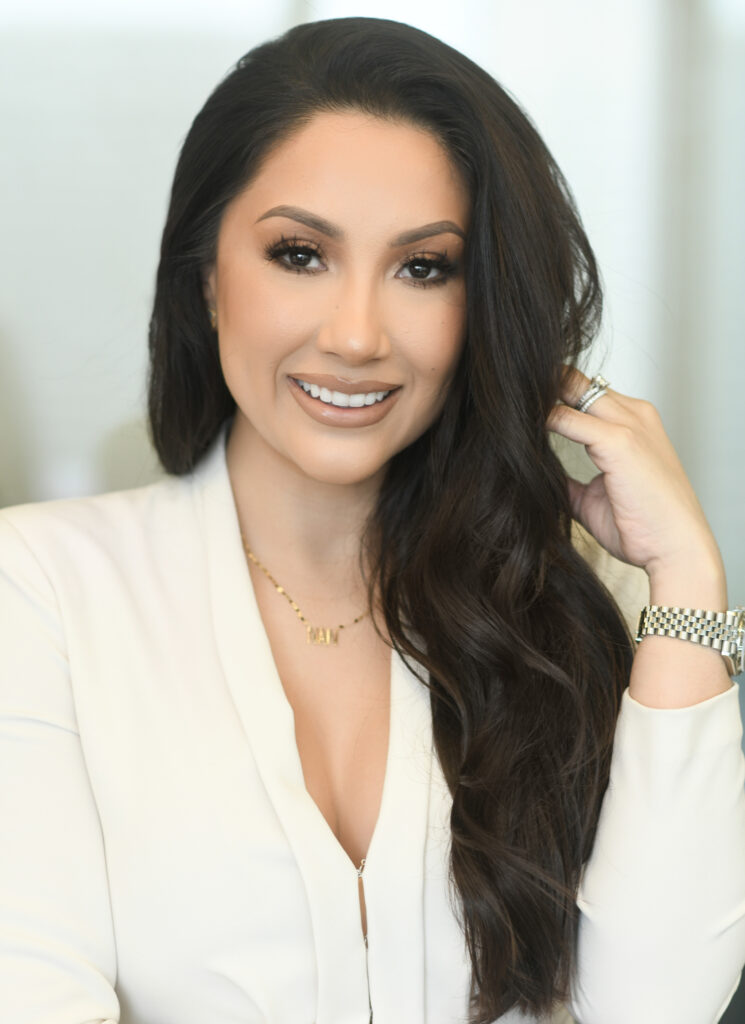 In addition to reinforcing the company's mission to embrace and celebrate diversity and raise awareness that being different is encouraged, the movement allows Nan to give back to the local community by utilizing the proceeds of t-shirt sales to purchase holiday lunches for underprivileged children in certain Houston-area schools.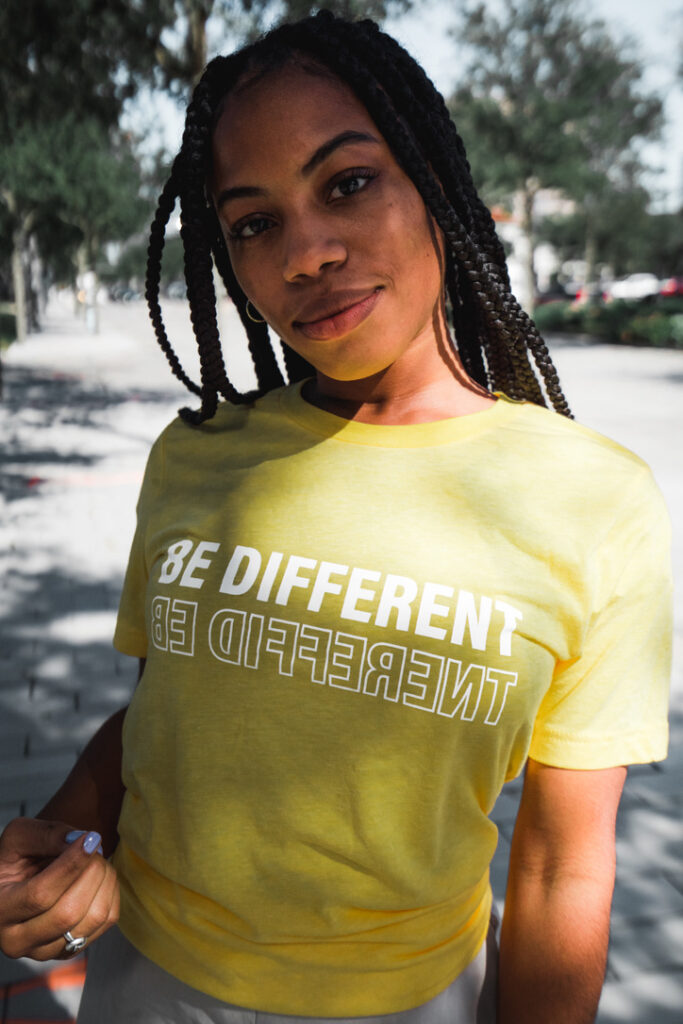 "This campaign is all about identifying what sets you apart from the crowd and using that to empower yourself to achieve success," said Almodovar.
The company will be releasing different designs seasonally that will communicate this uplifting message.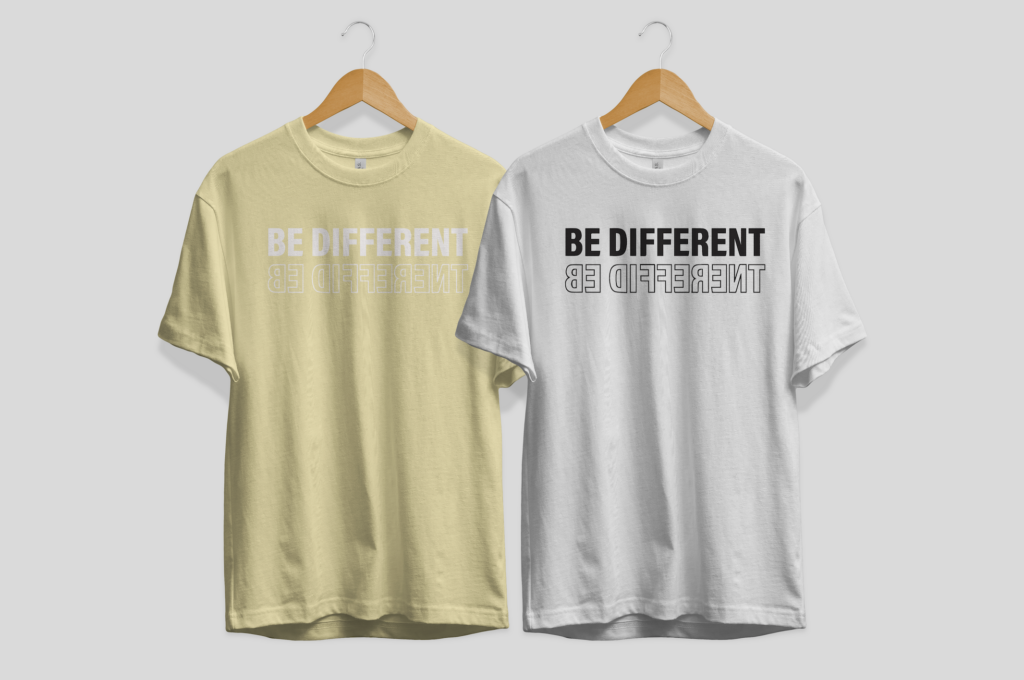 Founded on the premise of bringing something different to the real estate industry, Almodovar started Nan & Company Properties in 2014 from her kitchen table after working at other real estate firms in Houston.
She realized her goals and aspirations could not be fulfilled by any other company, and therefore she decided to start her own firm. 
Today, the company has 75 agents and 12 staff, and the diverse team at Nan & Company Properties speaks 14 different languages and excels at working with firms across the world.  
Photos courtesy of Nan & Company Properties
NEW ORLEANS-BASED EYEWEAR BRAND, KREWE, TO HOST SAMPLE SALE AT RIVER OAKS DISTRICT
New Orleans-based eyewear brand, KREWE is returning to River Oaks District on September 17, for a four-day sample sale. The brand has curated a unique selection of sunglasses and optics that will be up to 80% off. Synonymous for their cult following and hand-crafte
d frames, this marks the brand's third sample sale at River Oaks District.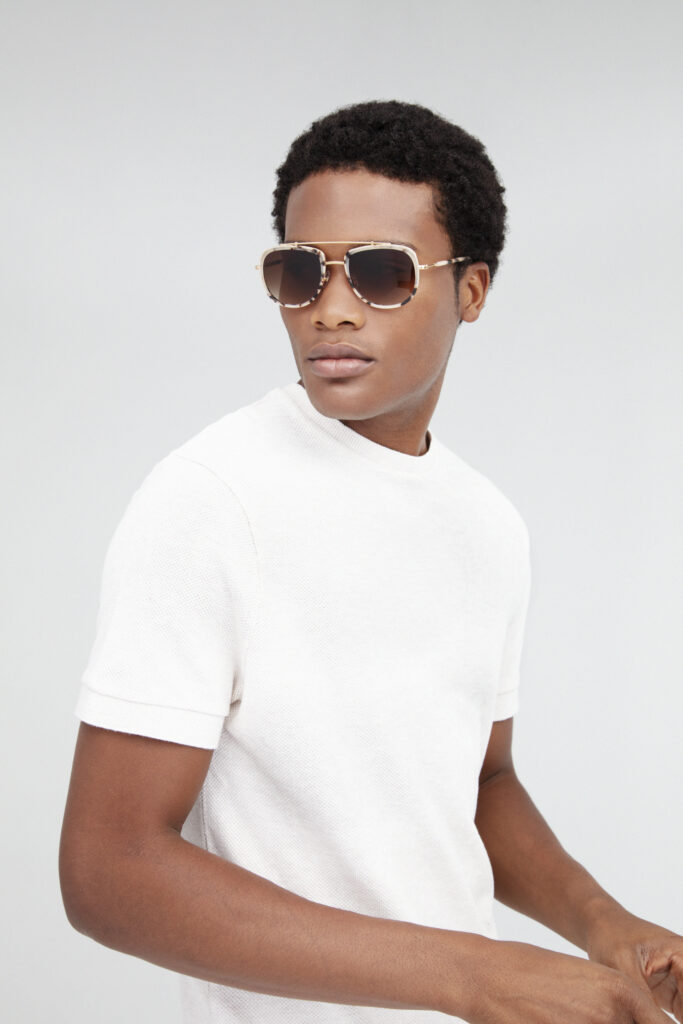 Dates & Hours are  S
eptember 17th-20th
Thursday-Friday, 11 AM – 7 PM 

Saturday, 9 AM – 5 PM

Sunday, 9 AM – 3 PM *while supplies last 
NOMAD'S LATEST LAUNCH OF LUXURIOUS SHADOWS INFUSED WITH FRANKINCENSE OIL REVIVES THE DAZZLING SPLENDOR OF THE GOLDEN AGE OF TRAVEL
It's the 1920s and the Orient Express is preparing to depart. This is the Golden Age of Travel.
DESTINATION ORIENT EXPRESS: THE ORIENT EXPRESS AS INSPIRATION: NOMAD's latest destination invokes the dazzling splendor of this famed train & journey, which is still in operation today. The NOMAD x Orient Express palette is a richly designed, sensational escape into another era.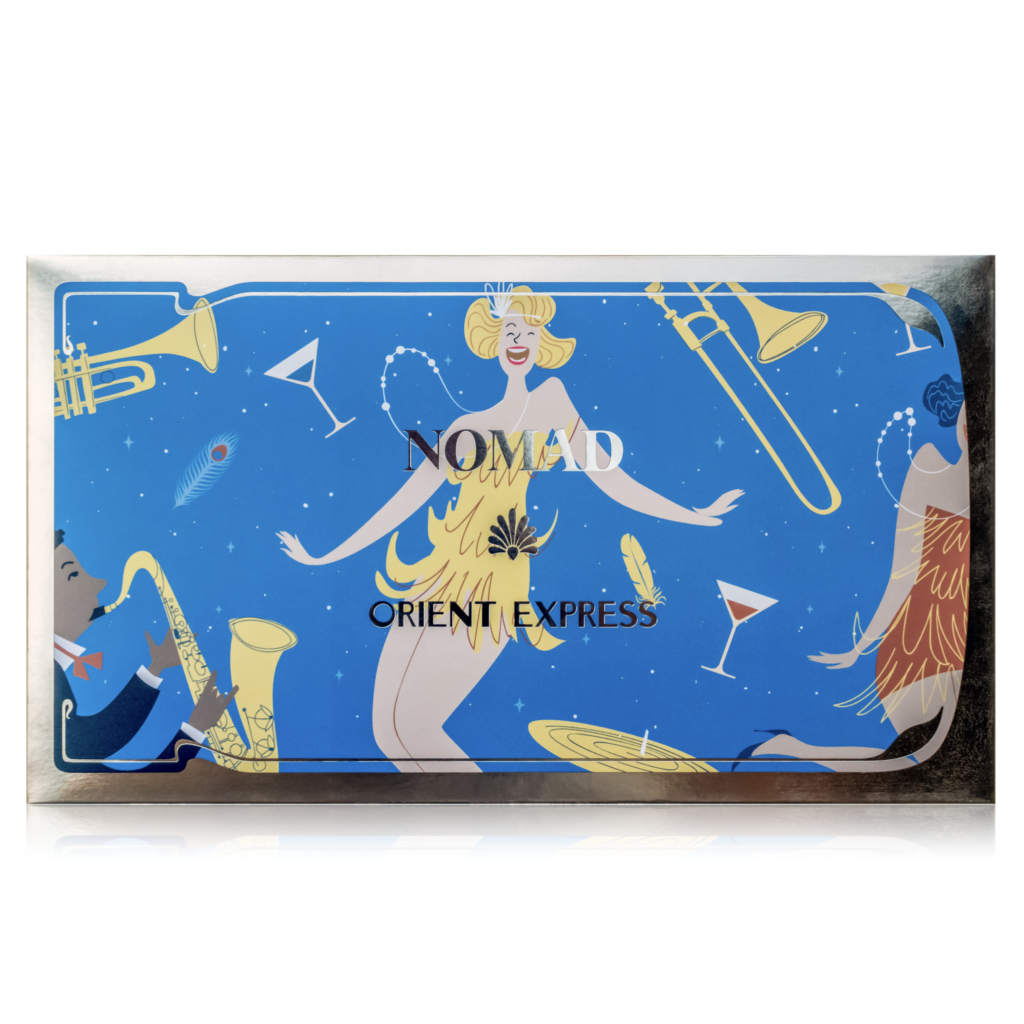 NEW ELEGANCE: CLASSIC MATTE SHADES MEET NEW RAZZMATAZZ SHIMMER SHADES: NOMAD x Orient Express is an 18-pan intense eyeshadow palette with classic matte shades and new razzmatazz shimmer shades. 
Designed with 4x finer pigments for a velvety soft feel and intense color payoff, the rich matte, duo- chrome, foil and velvet shimmer shades explore the Orient Express in its entirety. The shades in this palette are also uniquely infused with Frankincense Oil for smooth, crease-proof color stay. Each shade below is also PETA Certified Cruelty-Free and Vegan, and free of Parabens, Phthalates, Mineral Oil, Talc, and Gluten.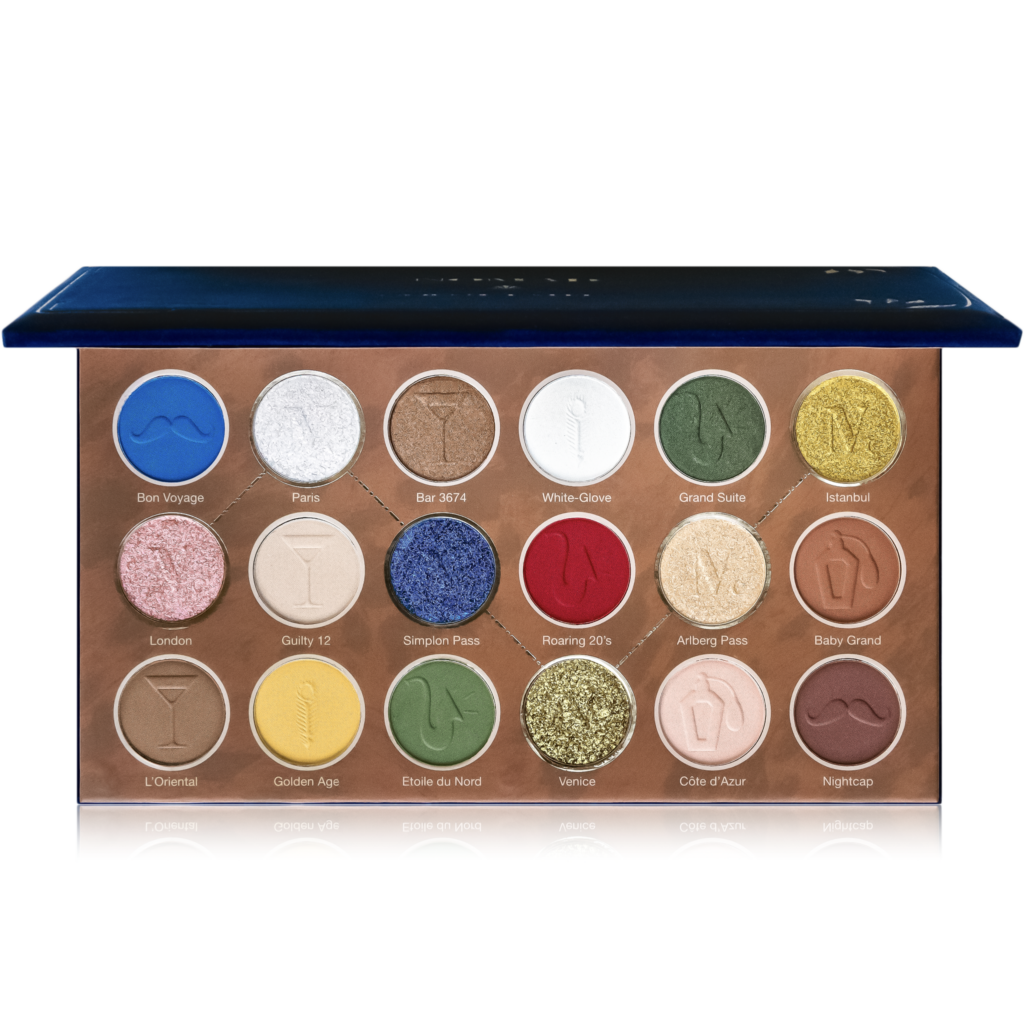 BON VOYAGE – matte royal blue
GUILTY 12 – matte ivory cream
L'ORIENTAL – matte burnished brandy
WHITE-GLOVE – matte cloud white
GOLDEN AGE – matte aspen gold
ROARING 20'S – matte true red
ETOILE DU NORD – matte countryside green
BABY GRAND – matte light mahogany
CÔTE D'AZUR – matte pink cream
NIGHTCAP – matte cognac brown
PARIS – duo-chrome pearl white with baby pink shift
LONDON – duo-chrome champagne pink with lavender shift
VENICE – duo-chrome burgundy gold with green shift 
ISTANBUL – foil shimmer opulent gold 
SIMPLON PASS – foil shimmer deep sapphire 
ALBERG PASS – foil shimmer champagne gold
BAR 3674 – foil shimmer warm bronze 
GRAND SUITE – velvet shimmer pine green
NOMAD x Orient Express will be available for $44 on www.nomadcosmetics.com in August 2020.
Poison Drummer, Rikki Rockett, Teams Up With Local Houston Start Up Transparent Sunglasses, To Debut Exclusive "Rikki Rockett" Collection
Native Houstonian, Margot Hogan, launched transparent sunglasses in December 2019 to ignite the joy in self expression and bring the fun in celebrating who you are…with sunglasses. From the start, Margot aligned her company with the music industry because she saw a mutual passion for self expression.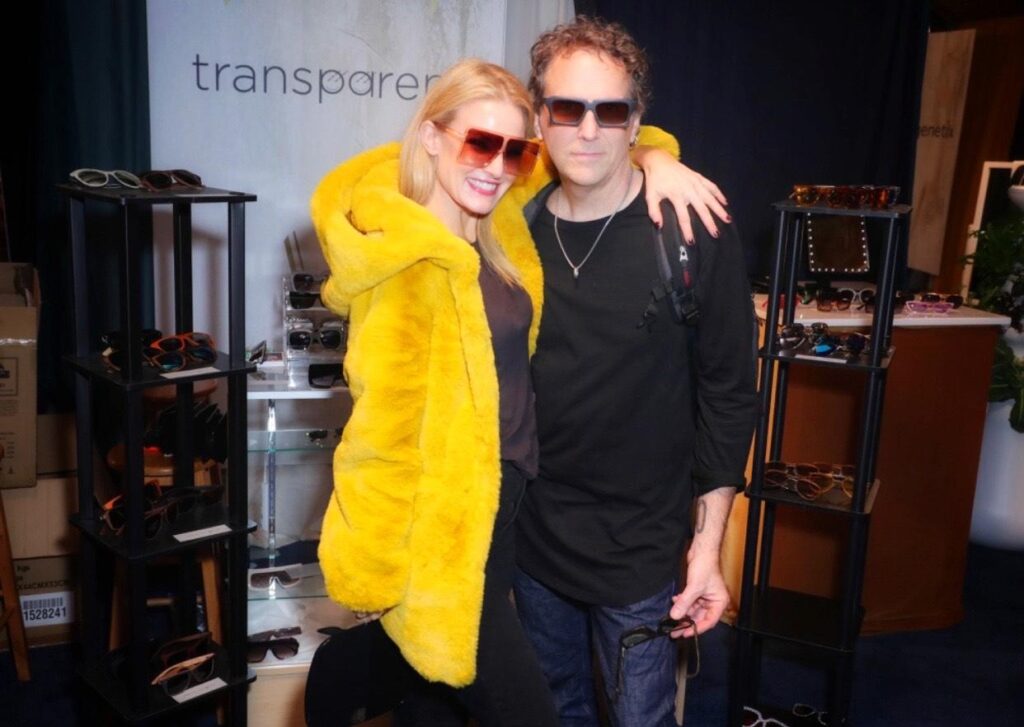 "A fan of all types of music, I also noticed that musicians, like me, wear sunglasses all the time -indoors, outdoors, on stage – whenever! I just made sense."
Each pair of transparent sunglasses is designed to inspire a vibe and experience when you wear it; what's more each pair is named after someone Margot imagines wearing them, whether that be a musician, a friend, or even a book character! This caught the eye of one special Houston customer, and friend Sandy Sturm, who had previously worked at MTV. Sandy connected Margot with former MTV Networks Executive and Rock Music Manager, Eric Sherman, and soon after Eric introduced Rikki Rockett.
"The chance to speak with Rikki was something I never imagined in my wildest dreams, much less getting to design sunglasses with him. I'm obviously a huge fan…", admits Margot. Sharing personal stories and interests over the phone, one a Houston entrepreneur and one a famed American band drummer, the bond of transparency was ignited.
"Our "Rikki" collaboration was born almost immediately with Rikki's clever idea to make sunglasses using the same wood source as drumsticks", remarks Margot. "Rikki is super creative and always thinking of new ways to connect with his fans, so we set out to create a beautifully handcrafted wooden design, using maple as a nod to Rikki's drumming."
The duo set out designing sunglasses are both timeless and versatile, inviting both men and women could enjoy them. And the "Rikki" is one big hit! "At the end of the day, we're all human. It's all about being confident, feeling like a rockstar, and having fun with a cool pair of sunglasses", says Margot.
SKINCEUTICALS ANNOUNCES OPENING OF SKINLAB™ IN PARTNERSHIP WITH WEST AVE PLASTIC SURGERY
SkinCeuticals and Plastic Surgeon Dr. Forrest Roth Provide State-of-the-Art Skincare to Consumers 
SkinCeuticals, the brand known for advanced, professional-grade skincare backed by science, announces the opening of SkinCeuticals SkinLab™  in partnership with West Ave Plastic Surgery. SkinCeuticals SkinLab™ is a holistic skincare destination offering cutting edge, physician-validated services with the ease, convenience and accessibility that meets the demands of today's consumer. With the tagline, "Great skin, Made easy," the doctor and brand become more innovative and accessible than ever.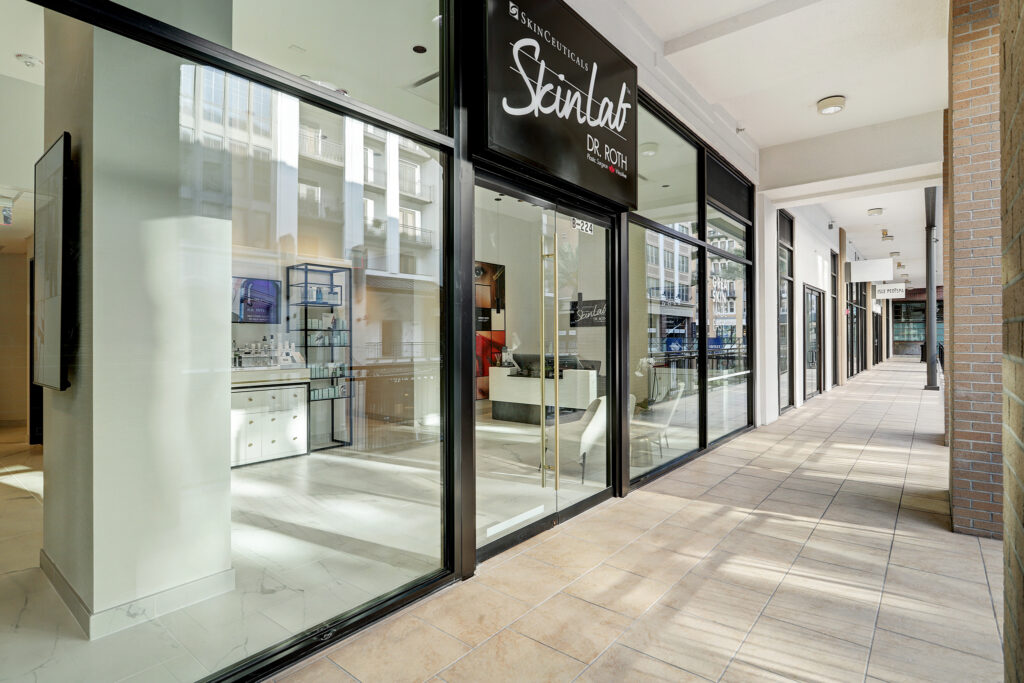 SkinCeuticals SkinLab™ opens in Houston, TX, led by plastic surgeon, Dr. Forrest Roth. Dr. Roth is a graduate of Baylor College of Medicine in General Surgery and Plastic Surgery and is a specialist in both reconstruction and aesthetics. He is adept at treating cancer, burns, and trauma and cosmetic concerns from children to middle age and older populations, and is highly regarded as one of the top plastic surgeons in Houston.
On the launch of SkinCeuticals SkinLab™ by West Ave Plastic Surgery Dr. Roth notes, "We are thrilled to open SkinCeuticals SkinLab™ in Houston in partnership with SkinCeuticals. My goal is to always offer my patients a personalized and accessible approach to aesthetics, and my philosophy overall is to treat them in a manner that is truly customized." He continues, "This made the partnership with SkinCeuticals completely synergistic as SkinCeuticals SkinLab™ offers unique, efficacious treatments. It's a destination built with convenience in mind, which I know our consumers will truly appreciate."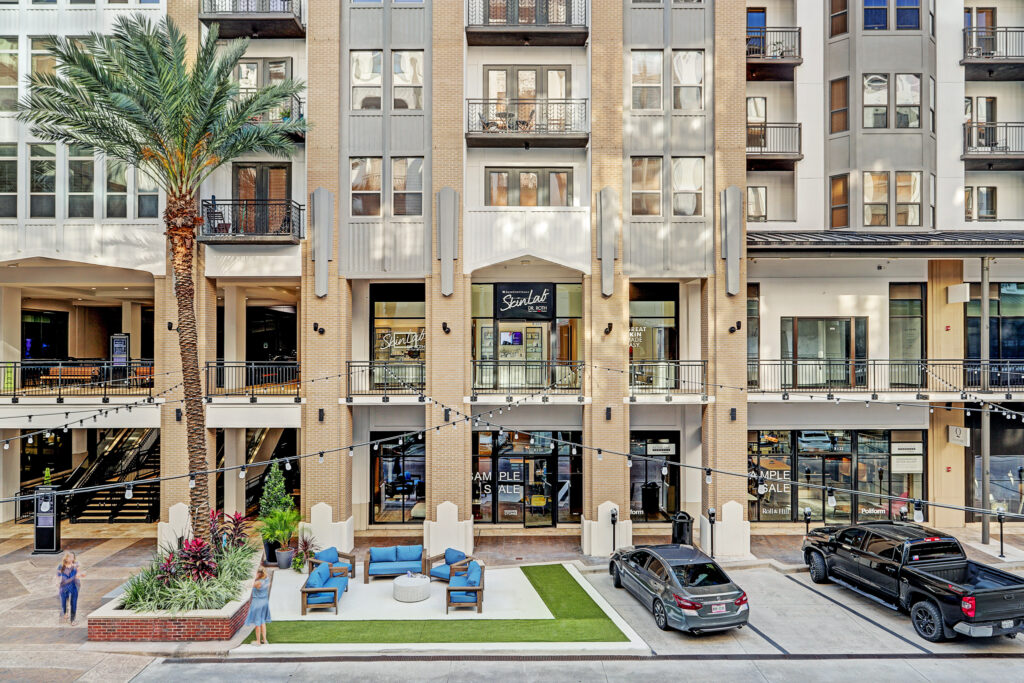 Christina Fair, General Manager of SkinCeuticals says, "We are so excited to partner with Dr. Roth on the launch of SkinCeuticals SkinLab™ in Houston. His dedication to offering an accessible and approachable experience to his patients furthers our goal of delivering the most well-rounded skincare regimens and cutting-edge treatments to everyone who experiences SkinCeuticals SkinLab™."
She continues, "We were founded by dermatologist Dr. Sheldon Pinnell and are currently in over 5,000 physician offices nationwide. In the past 5 years, we successfully rolled out our flagship-physician partner program with over 100 dermatologists and plastic surgeons who trust in our science and business expertise enough to exclusively sell our brand. With SkinCeuticals SkinLab™'s approachable aesthetics, we are bringing in the next generation of aesthetic enthusiasts to our doctors and brand to further our ultimate goal of sharing the wealth of knowledge that our physicians have and our experience with advanced skincare combined with professional aesthetic treatments."
The journey to SkinCeuticals SkinLab™ began with extensive research about the evolving market and corresponding needs of the aesthetic consumer. A modern environment, efficiency in respect to time, credibility and access to a skincare professional ranked high in importance. While the benefits of a holistic skincare approach are widely known, connecting the dots and understanding where to begin can seem like an intimidating task for many. Despite information being more accessible than ever before, a skincare professional opinion remains an unparalleled resource. Personalization has also evolved into a non-negotiable, a demand that SkinCeuticals SkinLab™ has down to a science via carefully curated product regimens, diagnostics and the latest skincare innovation from SkinCeuticals, Custom D.O.S.E.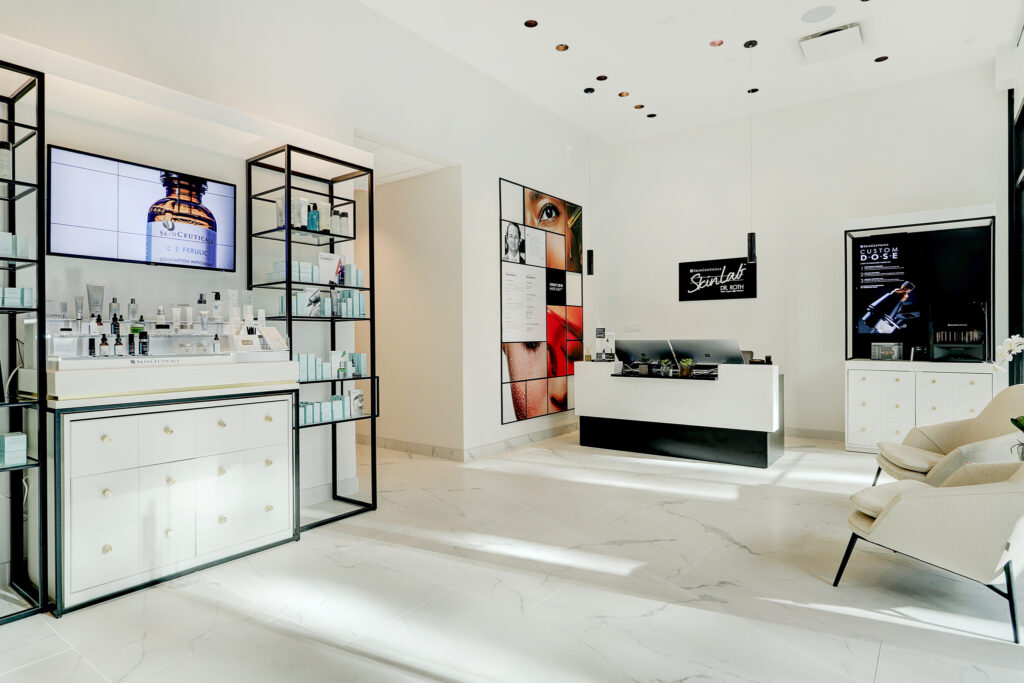 Visitors can look forward to a relaxing, stress-free environment and a simplified treatment menu including an expert skincare consultation featuring the SkinCeuticals exclusive SkinScope LED diagnostic. The space encourages consumers to unplug and unwind in the sleek product discovery areas, shop brand heroes such as antioxidants and corrective creams for a comprehensive regimen personalized by skincare experts. A Dermablend Professional® makeup finishing station is available for touchups following treatments.
In partnership with esteemed physicians, SkinCeuticals curated 3 science-backed signature treatments that deliver professional-grade results with minimal effort and downtime. Treatments, all less than one hour long, include:
SKINSMOOTH: LED Micropeel + Phyto treatment is the perfect skin refresh combining dermaplaning and a chemical peel to exfoliate your skin with the calming and soothing properties of LED light + Phyto Corrective Gel. SKINSMOOTH is ideal for event prep or just a rough skin day. This treatment leaves your skin clear, smooth, and ready to take on the day.
SKINBRIGHT: Hydrafacial™+ Chemical Peel treatment helps restore what daily life can take from your skin. Perfect for routine maintenance or seasonal skin concerns, continue your day with brighter, more even-looking skin.
SKINFIRM: Microneedling + Hydrating B₅ Gel treatment is a perfect reset for your skin. Fantastic for skin rejuvenation, this treatment goes deeper to address more intensive concerns. Give your skin a few days, and you will begin to see firmer, more youthful-looking skin. 
In addition to the signature treatments, SkinCeuticals SkinLab™ will offer aesthetic services through the expertise of the doctor, which include injectables such as neuromodulators and fillers, and body contouring such as Emsculpt®. This is something only SkinCeuticals SkinLab™ can offer. Results are complemented with state-of-the-art SkinCeuticals homecare. Additional limited time services to be announced seasonally.          
Magpies & Peacocks Have Your Masks!
Pivoting Into The New Norm:Magpies & Peacocks (M&Ps), the nation's only 501(c)3 Non-Profit design House, has been mobilizing, creating and kitting up their maker/sewing network to help supply masks (and whatever gear necessary) to Houston medical care givers and essential service workers – providing additional protection where supplies are in high demand and short supply. Everyone on the M&Ps team is pitching in on the fundraising efforts.

In addition to supplying lots of fabrics to other organizations across the city making cotton masks (majorshout out to all M&Ps donors who've supplied thread, cotton samples, scraps and bolts!) they have teamed up with a great pipeline to distribute direct to the frontline. While they have been CRAZY BUSY creating non woven polypropylene face masks and gear to donate to essential workers during the pandemic – they know there is growing need for personal masks, so we now offer our exclusive up-cycled, zero waste, washable face masks for sale on their e-commerce site and at Saturday Curbshop.
So in order to continue to support the PPE needs of the medical + essential frontline heroes,they need your help.
Every time you purchase a face mask it allows them to donate a PPE item to the medical + essential workers risking their lives in the fight to combat COVID19, so we really appreciate your continued support. To date they have donated over 3500 masks because of awesome customers like you! In addition, your mask purchase allows our environmental arts organization continue to employ their tribe of local makers, artists and designers. 
More information at https://magpiesandpeacocks.org/shop. 
GINGER BARBER INTERIOR DESIGN'S THE SITTING ROOM REOPENS
Ginger Barber of 
Ginger Barber Interior Design
 and her black Labrador Retriever, Charlie, will be returning to her tranquil office at 2025 W Alabama St., which doubles as her storefront, "The Sitting Room."
The Sitting Room sells 
candles, wicker baskets, and other decor items, but it is also where Barber works to design homes across the country with her signature style of utilizing simple, neutral and textured pieces that give any home a timeless, uncomplicated look. 
Her office features one-of-a-kind, antique pieces that provide a calming, at-home feeling. Throughout the space, she uses decor and antique furniture that is sourced from all over the country. 
Houston-based Kinkō Donates Hand Sanitizers to Essential Small Businesses
Kinkō Prebiotic Hand Purifier
Due to the uncertainty with COVID-19, Kinkō has found themselves balancing out their average production to hand sanitizer. As of April 2020, they have produced nearly10,000 bottles to donate to hospitals, medical facilities, and homeless shelters across Texas. They will also be fulfilling donations to small businesses across the nation based on a first-come, first-serve basis. Thanks to the founders' resources and expertise (shout-out to Fanny Coste, Kinkō Co-Founder & Cosmetic Scientist), they've joined the hand sanitizer movement. Their sanitizing formula eliminates harmful germs without disrupting your microbiome while keeping the skin hydrated and soft.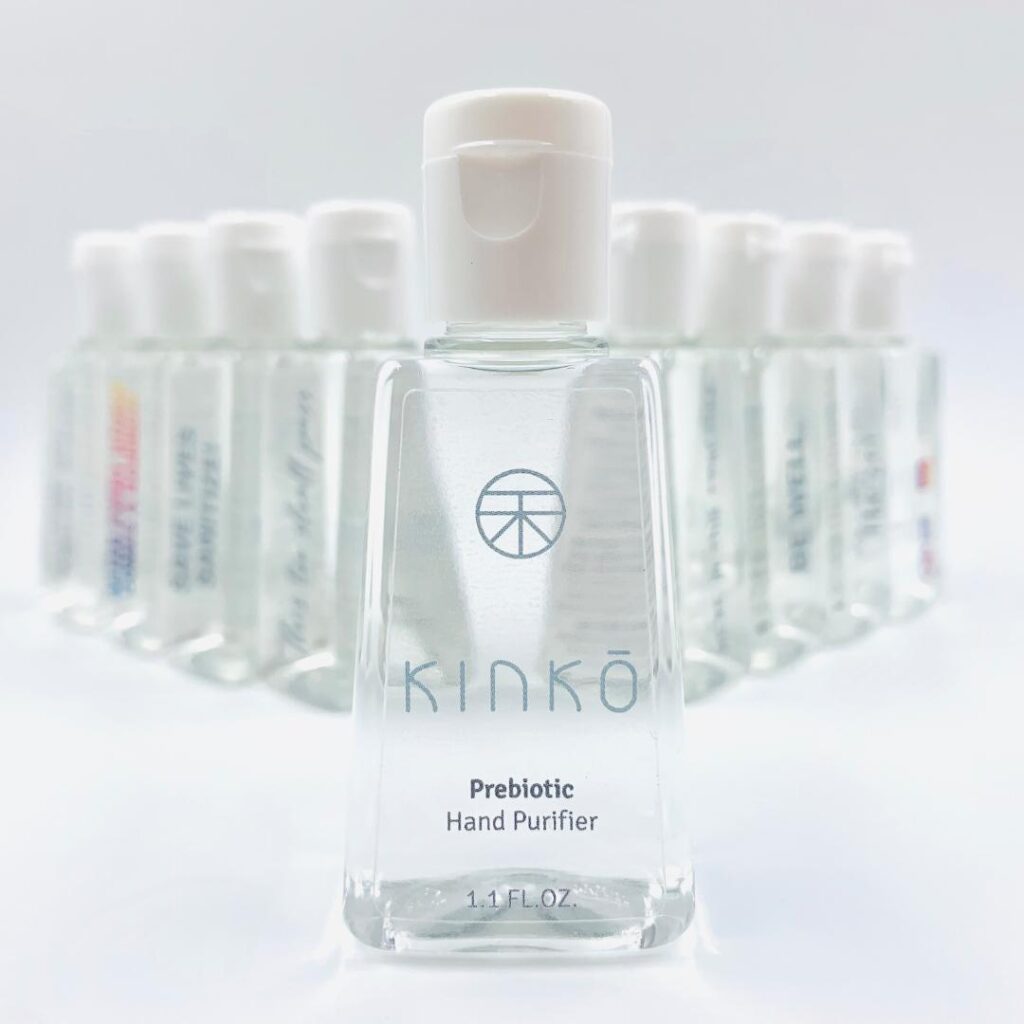 Kinko also wants to donate sanitizers to essential small businesses that are currently open and staffing essential employees. These businesses can fill out a form that's available on their website and submit a request and Kinko will fulfill each order on a first-come, first-serve basis. You can access the form here.
Key Features:
•       Contains65% Ethyl Alcohol, which is above the CDC minimum to kill germs on the skin
•       Has prebiotics andpostbiotics balance the skin's microbiome for better skin health
•       Jojoba esters that protect the skin barrier function even after washing hands
•       Trehalose prevents moisture loss in the skin, keeping it hydrated
•       Bisabolol to soothe the skin
•       Clean, Vegan and Cruelty-free 
Kinkō Founders, Fanny Coste & Chelsi Oestreich
A cosmetic scientist and beauty marketer joined forces in 2019 to launch Kinkō, a new natural personal care brand that brings together clean science with French beauty elegance. Kinkō's French cosmetic scientist Fanny Coste was always in search of a cleaner and safer antiperspirant formula and took on the challenge to find it. The brand's second brain, and product marketing genius is Chelsi Oestreich. Chelsi has been in the beauty industry for over 20 years specializing in marketing and product development. She started her career at Laura Mercier Cosmetics when the brand was just coming to life and it was here that she fell in love with working for entrepreneurial brands. In recent years, she's turned to consulting advising CEOs in all aspects of the corporate structure, marketing, product, and e-commerce.  When her dear friend Fanny Coste reached out with the Kinkō idea, Chelsi knew in her mind she had to help bring this brand to life. After three of her closest friends were diagnosed with breast cancer, she realized the effect that personal care products have on our bodies and women needed to take the lead on making safe, yet effective, products for everyone.  Both Fanny and Chelsi live in Houston, TX, and find themselves as new beauty business entrepreneurs building a brand that was named as one of the Top Startups to Watch in 2020 by BootcampsHouston.com.

FASHION FOR GOOD HOUSTON at Silver Street Studios on Nov. 14-15th
Doors at 6:30 p.m.; Show at 8 p.m.
Come Celebrate Texas and support 2019 Style Setter Shannah Quinn and partner nonprofit Direct Hope.
Celebrate Texas is the most cutting edge, luxury meets street, emerging and established designer fashion event in the state.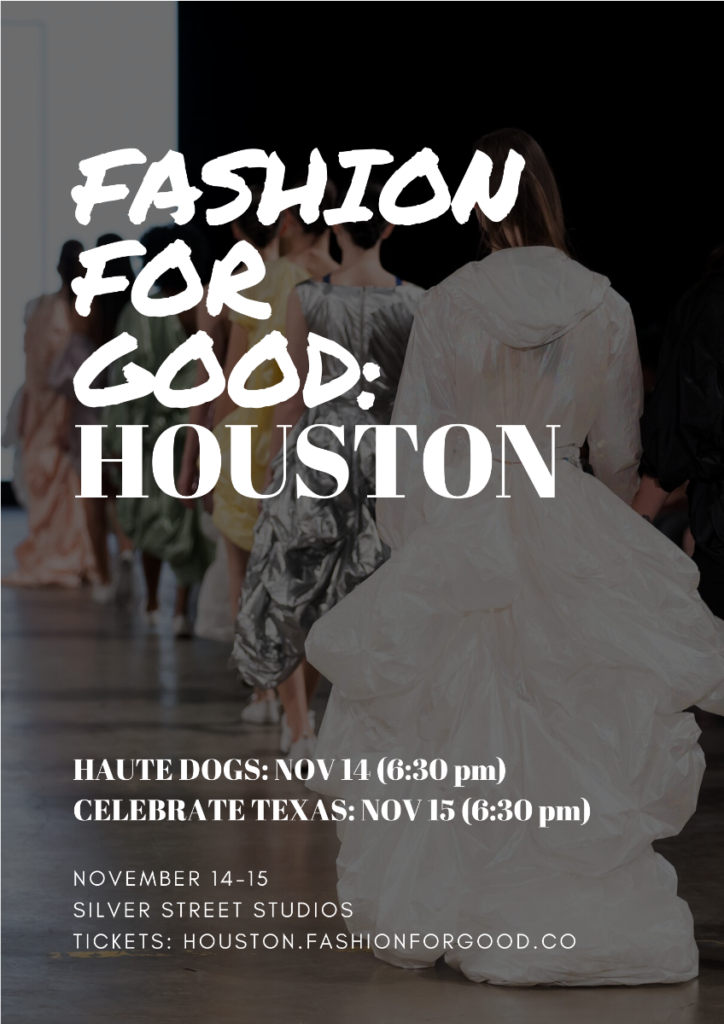 See brand new collections from Project Runway All Star Korto Momolu for Women Grow, Mysterious by NPN, David Peck, Ferrah and more. Click the button below for the full lineup.
TICKET INFORMATION: Individual tickets are $45 – $175; VIP Group "Tables" are $2000. Go to https://houston.fashionforgood.co/schedule/celebrate-texas for details.
ABOUT FASHION FOR GOOD is the leading fashion event producer in Texas and beyond with an emphasis on emerging and established designers.
NEIMAN MARCUS HOUSTON CELEBRATES 50TH ANNIVERSARY WITH FOOD, FASHION, MUSIC AND MORE


Lafayette 148 New York and Neiman Marcus Houston Showcases 2019 Fall Collection
Dan Lawson, Brand Ambassador and Emmy-Nominated costume designer, shared insight on #WeAreNewYork collection

In a runway presentation, Dan Lawson showed Houston guests in Neiman Marcus Houston the finer points of the extensive collection of Lafayette 148's 2019 Fall Collection.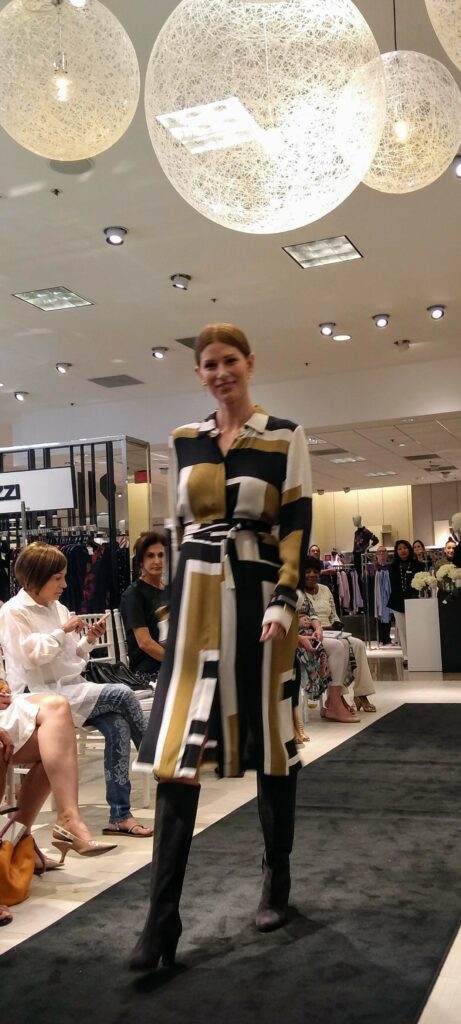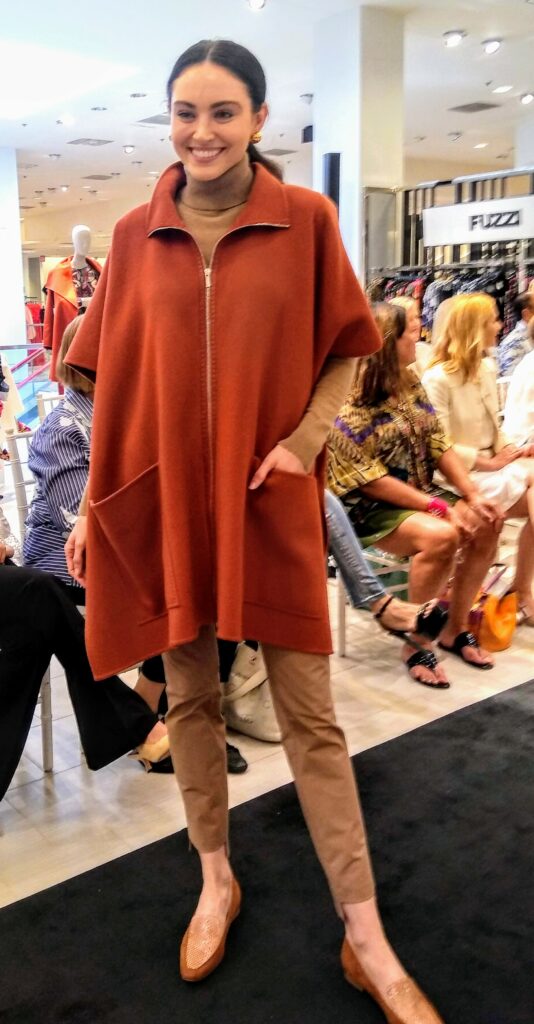 Focusing on the finite details, such as finite top stitching, mixed fabrics, reverse print blazer lapels, guests were loving the transitional fabrics that flowed freely with lightweight softness.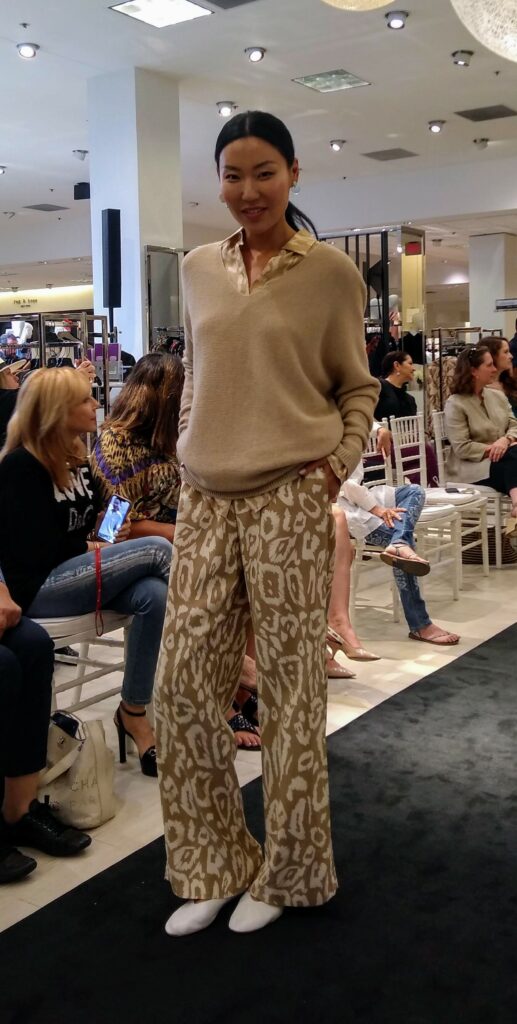 Beautiful sparkling sequins adorned pencil skirts and dresses in wide range of fall colors including burnt orange and black.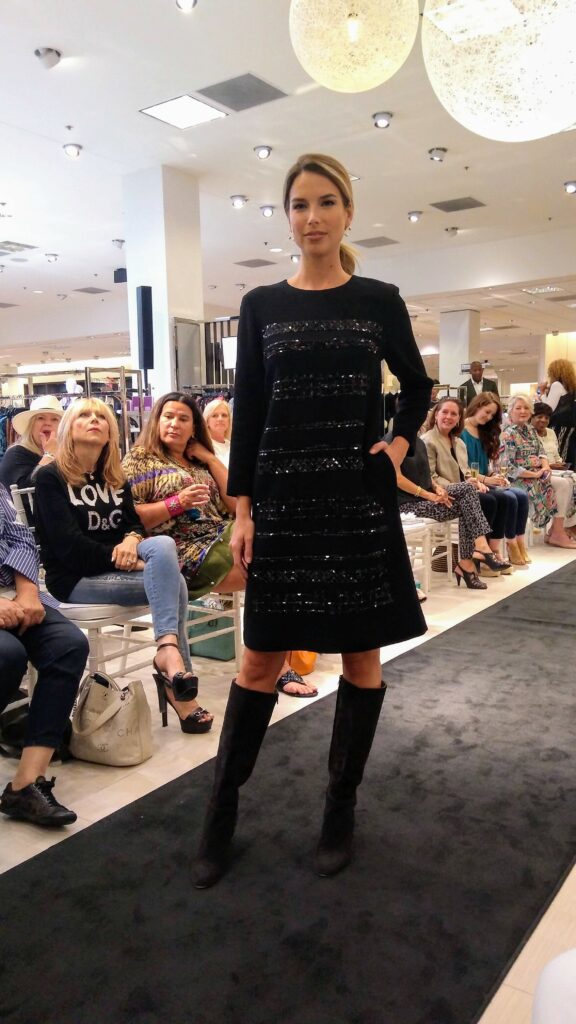 Lawson, known for his work with The Good Wife, The Good Fight and the newest debut show, EVIL, did an excellent job of showing the fine craftsmanship Lafayette 148 is known for.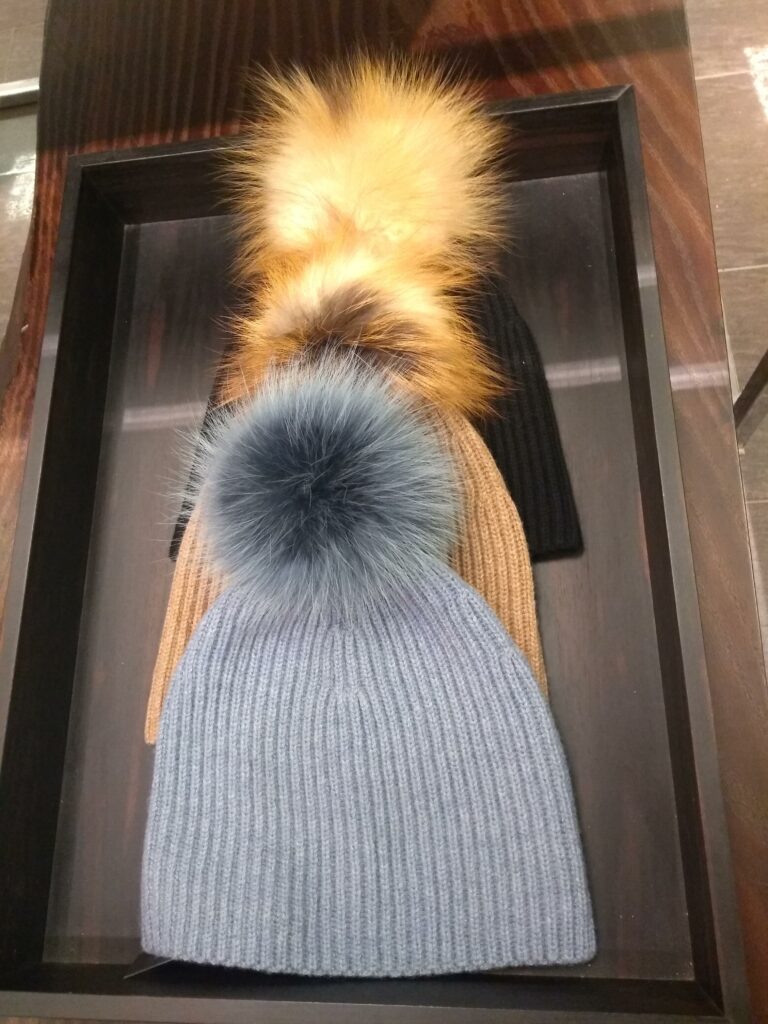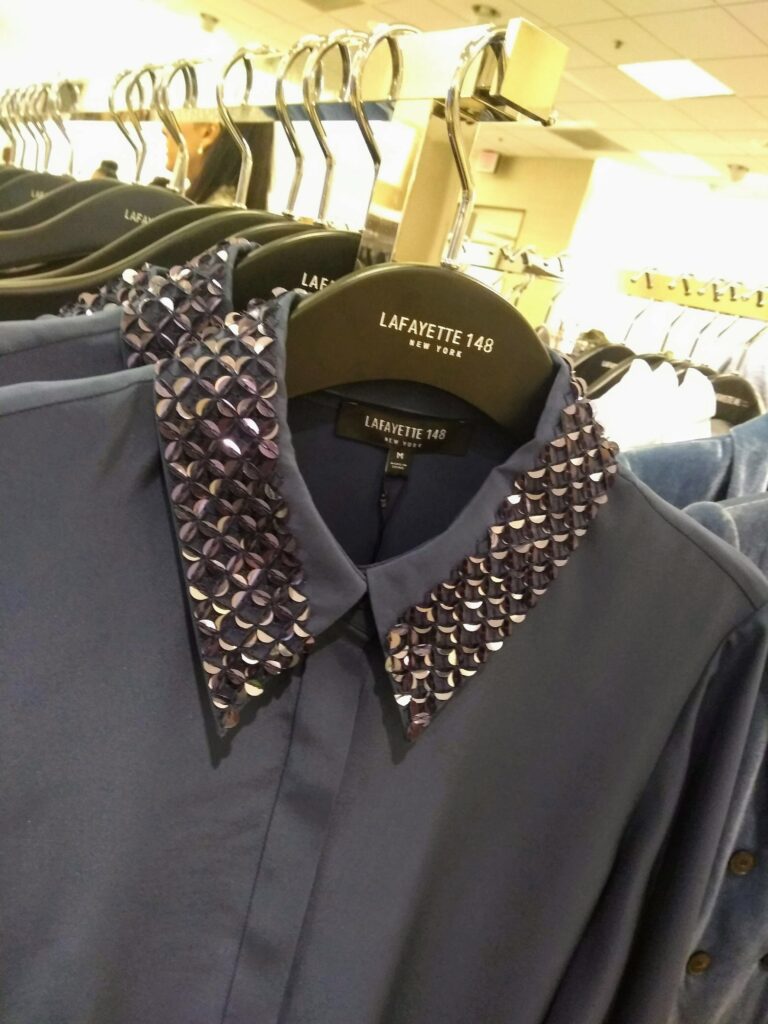 Fabrics are only the best including cashmere from Loro Piana, silks from Como, Italy, cotton from Reggiani, sherling from Spain and classic wool from Botto Giuseppe. No details were left unnoticed.
Lafayette 148 is located on the third floor at Neiman Marcus Houston in the Galleria.
Photos: V. Sweeten
MELODRAMA BOUTIQUE HOSTS HAPPY HOUR FRIDAY IN JULY AND AUGUST
MELODRAMA Boutique hosts Happy Hour each Friday in July and August from 5-8 p.m. for businesses, nonprofits, and designers to showcase their products or services.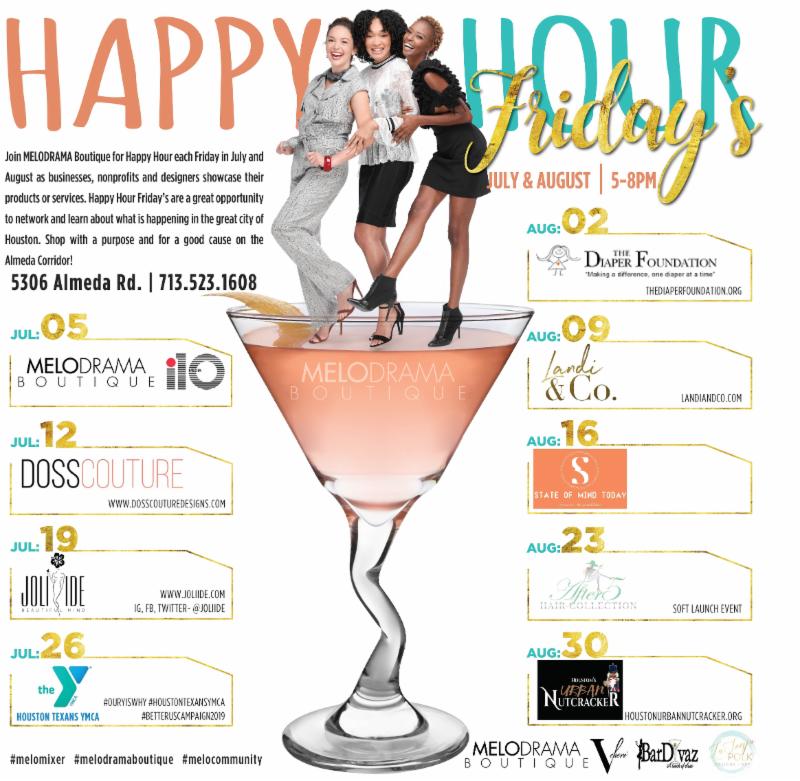 MELODRAMA Boutique is one of several small businesses nestled along the historic Almeda corridor located in Houston's historic 3rd Ward at 5306 Almeda, open Tuesday through Saturday, 11 a.m.- 7 p.m.
Jackie Adams, an African American businesswoman, saw a need to bring fashion to the area. Now, 17 years later, MELODRAMA is a leading example among small businesses and a true testament that with faith and perseverance. 
Featured on Fox 26 News Houston, MELODRAMA Boutique showcased fashion trends of summer 2019 and looks that flatter every frame.
"Support the community and they will support you," says Adams. "For over 17 years MELODRAMA Boutique has been engaged in the community. Fashion, Community and Empowerment are at the core of what we do." MELODRAMA, along with other businesses in the area work together to promote one another. According to Forbes magazine, Houston ranks among the top 30 cities where small business owners are thriving. MELODRAMA hosts several annual events that provide a platform for other small business and nonprofits to promote their brand.
MELODRAMA'S Happy Hour Friday kicks off Friday, July 5th hosted by MELODRAMA Boutique and Reginald Rhodes owner of I10 Media.
Participating businesses and nonprofits include; July 12th-Doss Couture Designs, July 19th -Joli Ide "Beautiful Minds", July 26th -Houston Texans YMCA, August 2nd-The Diaper Foundation, August 9th -Landi &Co., August 16th-State of Mind Today, August 23rd-After 5 Hair Collection (soft launch), and August 30th, Houston's Urban Nutcracker.
 JIANNA JEWELERS PAVÉ THE WAY IN HOUSTON
Ethically-Sourced Jewelry Retailer Opens First Storefront in the Kirby Collection
Jianna Jewelers, an ethically sourced jewelry retailer and third-generation custom jewelry manufacturer, recently opened its first storefront in Houston's luxurious retail center, Kirby Collection, at 3300 Kirby Drive, Suite 5A.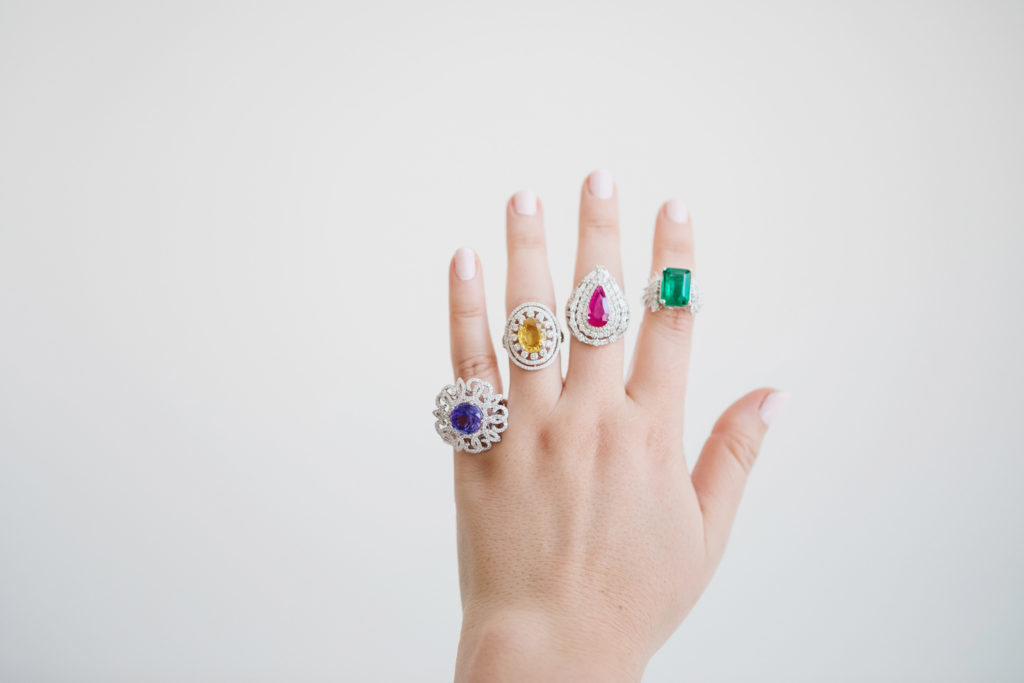 Founded in 1986 in Mumbai, India, Jianna Jewelers is a family-owned business that has exclusive partnerships with five jewelry stores across three continents and supplies multiple retailers across the globe.
While the Houston storefront marks Jianna Jewelers' first retail store, the family's vast experience includes a celebrated royal history, as their ancestors cut and polished jewels from the Golconda Kollur mine and presented them to the royal kings of South India. Some of the vintage designs have even been incorporated into their Heritage Collection. Now, cousins and co-owners Vraj Shah and Shivam Thakkar value the craftsmanship, skills and lessons that have been passed down from previous generations and are eager to bring their distinctive offerings to Houston, including the highest quality fine jewelry and accessories for every occasion.
"We set ourselves apart by prioritizing transparency and designing one-of-a-kind, custom pieces made with our ethically-sourced products," said co-owner Vraj Shah. "We want to fill the gap in the market and truly provide our customers with knowledge and understanding when they come to our store. We place a lot of value on educating consumers and providing them with the proper certification of each stone."
"I was born and raised here in Houston, so opening a store in this city is such an incredible opportunity," said co-owner Shivam Thakkar. "We're proud of the creative designs we have to offer and will continue to place the utmost importance on giving customers an educational and enjoyable experience."
Jianna Jewelers offers a wide selection of handcrafted pieces ranging from engagement rings and wedding bands to exquisite bracelets, necklaces and earrings, all from the company's namesake brand. Customer favorites include the interchangeable pieces designed to be individually attached to earrings and necklaces, allowing customers to wear the same piece multiple ways.
For more information please visit www.JiannaJewelers.com.
French Cuff Boutique and Massage Body + Face Becoming New Tenants at Lake Woodlands Crossing
The Howard Hughes Corporation® announced that French Cuff Boutique and Massage Heights® body + face have joined the exciting lineup of retailers at Lake Woodlands Crossing.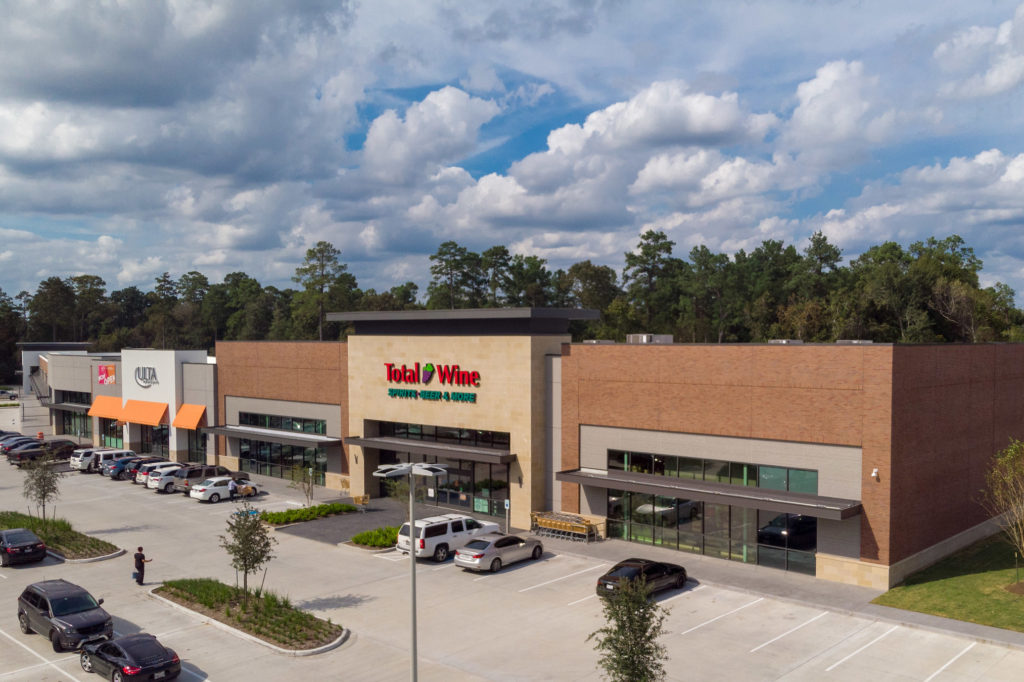 Set to open in April, French Cuff Boutique is a destination for personal styling where women can enjoy access to a multi-brand collection of timeless classics and of-the-moment looks with expert personal service in a warm and inspiring atmosphere. The new 1,398 square-foot boutique will offer apparel and accessory fashions from iconic designers like Milly, Zadig & Voltiare, AG Jeans and more.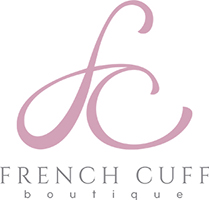 Massage Heights body + face is well-recognized for providing massages and facials – including the popular Hydra-Facial – at affordable prices. They will occupy 3,000 square feet in the center. Caring for the mind, body and spirit, Massage Heights Lifestyle Programs offer customized memberships that provide a series of rejuvenating sessions to calm nerves and clear the mind. Short-term memberships are available as well as non-member massage packages.
The 60,261-square-foot Lake Woodlands Crossing retail center is located at 1900 Lake Woodlands Drive at the northeast intersection of Grogan's Mill Road and Lake Woodlands Drive in The Woodlands Town Center.
Houston's Parry Botanicals Adds New Products to Skincare Line
         Parry Botanicals
, hosted a special launch event called 
"Great Skin Takes More Than Luck"
to celebrate the announcement of adding six new products to their already popular all-natural skincare line.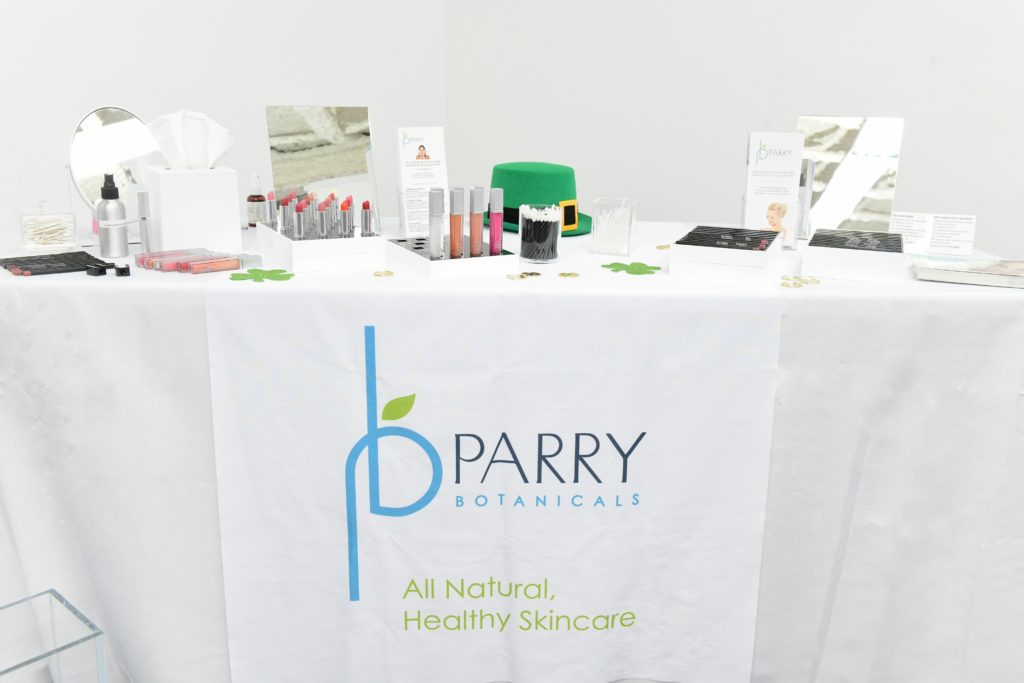 Parry Botanicals Owner/Founder, Elizabeth Parry, discussed how it is possible to obtain beautiful, healthy skin without harmful toxins. The new products include an Arctic Mud Mask, an Eye Balm packed with antioxidants and plant stem cells, a Sugar Body Scrub, a new Aloe-storative Face Cream, a Meditation Mist, and a Squalane Oil filled with natural Vitamin A.
       Exclusive guests of the event were able to sample of all the new products and served clean crafted Organic Wine with Keri Henry from Scott & Cellar.
      The event took place at the beautiful
Gray Contemporary Gallery in Upper Kirby
, owned by Mel and Elizabeth DeWees. Guests were treated to complimentary color matching with 
makeup artist Bobby Wells
. All of Parry Botanicals products are plant based and free of dyes, artificial preservatives, parabens, phthalates, mineral oil and fragrance.
     Parry Botanicals is sold nationwide on their website and in select Florida, Iowa, Louisiana, North Carolina, Texas and Washington stores.
     You can find Parry Botanicals products in Houston at Lemon Peel Facial, SKN, West University Wellness, Naked Naturals, Defy, and both Bering's Hardware locations.
Photos: Daniel Ortiz
FLOYD'S 99 BARBERSHOP IS READY TO MAKE ITS HOUSTON DEBUT
Renowned Rock 'n' Roll Barbershop to open in Heights Neighborhood in the New Year
The trendsetting rock 'n' roll barbershop continues its expansion in the US and throughout the Texas market with its first location in Houston.
The 116th location of Floyd's 99 will open doors in late January at the new retail complex, Heights Waterworks, located at 449 W. 19th Street – amongst other popular neighbors such as Common Bond, Ripe Cuisine, and Hopdoddy.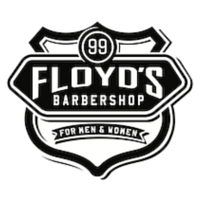 One of the first to market a barber-style concept catering to both men and women, Floyd's 99 offers a full range of services including haircuts, shaving, color, waxing, deep conditioning treatments and styling.
In addition to traditional hair services, Floyd's 99 is known for its iconic barbershop straight-razor neck shave with hot lather and steamed towels, and for offering a complimentary shoulder massage after each service.
Floyd's 99 will not only bring their individualistic brand to the city but will also provide multiple positions to the beauty and service industry job market. Applicants who are interested in submitting a resume should apply at: www.floydsbarbershop.com/careers.
Floyd's 99 Heights will be open Mon.-Fri. from 9 a.m. to 9 p.m., Sat. from 9 a.m. to 8 p.m. and Sun. 10 a.m. to 6 p.m. On weekdays, they will remain open as late as 9 p.m. by appointment.
Walk-ins will be welcome and online bookings encouraged at www.floyds99.com or via the Floyd's 99 app (available for iOS or Android). Appointments will be available by calling 713-422-2923.
Double Down on Fresh Breath Across the Board for Family and Pets with Oxyfresh
Oxyfresh is getting people (and pets) to smile happy with their Oxygene products throughout their line of products.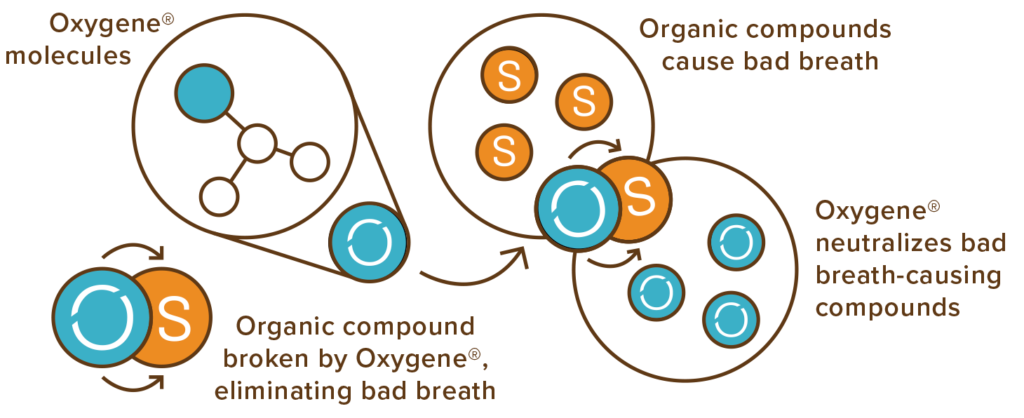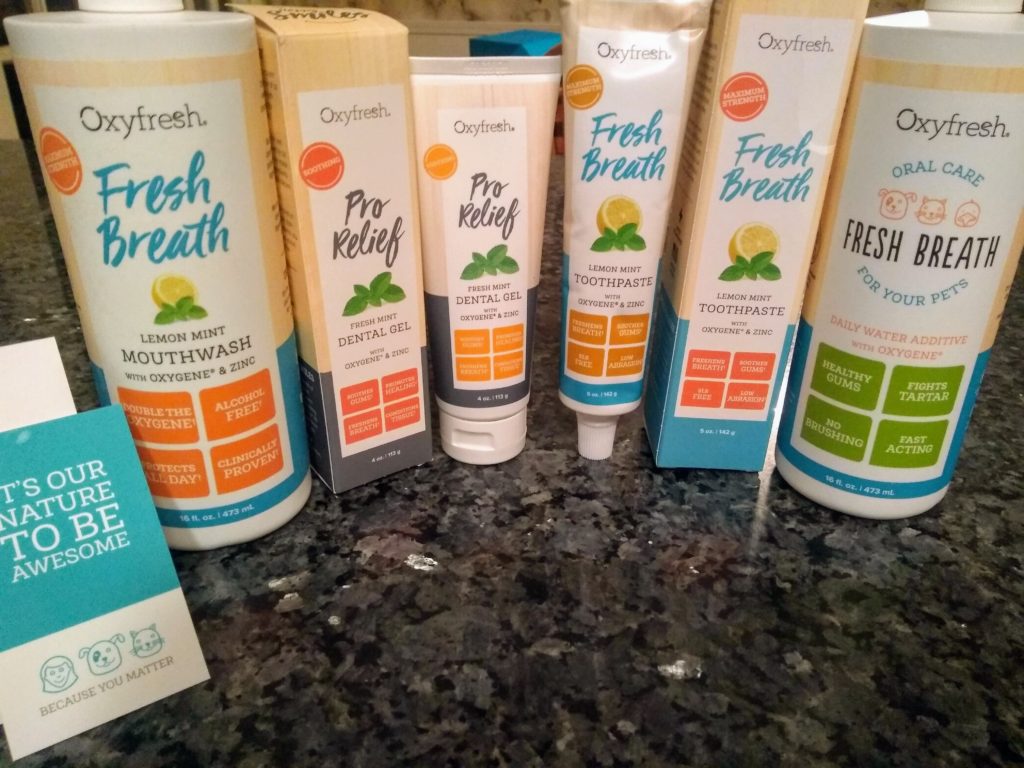 Oxyfresh has created powerful yet gentle formulas that makes them stand alone.
Backed by scientific research and clinical studies, their professional-grade dental products are second to none when it comes to fresh breath and helping to create healthier teeth and gums.
The secret is Oxygene®, a powerful ingredient that safely and effectively neutralizes the cellular debris and toxins that cause bad breath, contribute to an unhealthy smile, and can ultimately lead to dental disease.
They are dye free, alcohol free, low abrasion, and include ingredients like zinc, aloe and  essential oils, all to help deliver a healthier smile.
Get more details on products and their great reviews from customers.
Information at https://shop.oxyfresh.com  or call 1.800.333.7374. 
photo: V. Sweeten
Switch2Pure Celebrates Grand Opening Limited POP-UP in River Oaks District
          Switch2Pure, the stylish storefront pop up,  will be open through January 31st and feature all the best in nontoxic and natural skincare, makeup and wellness products.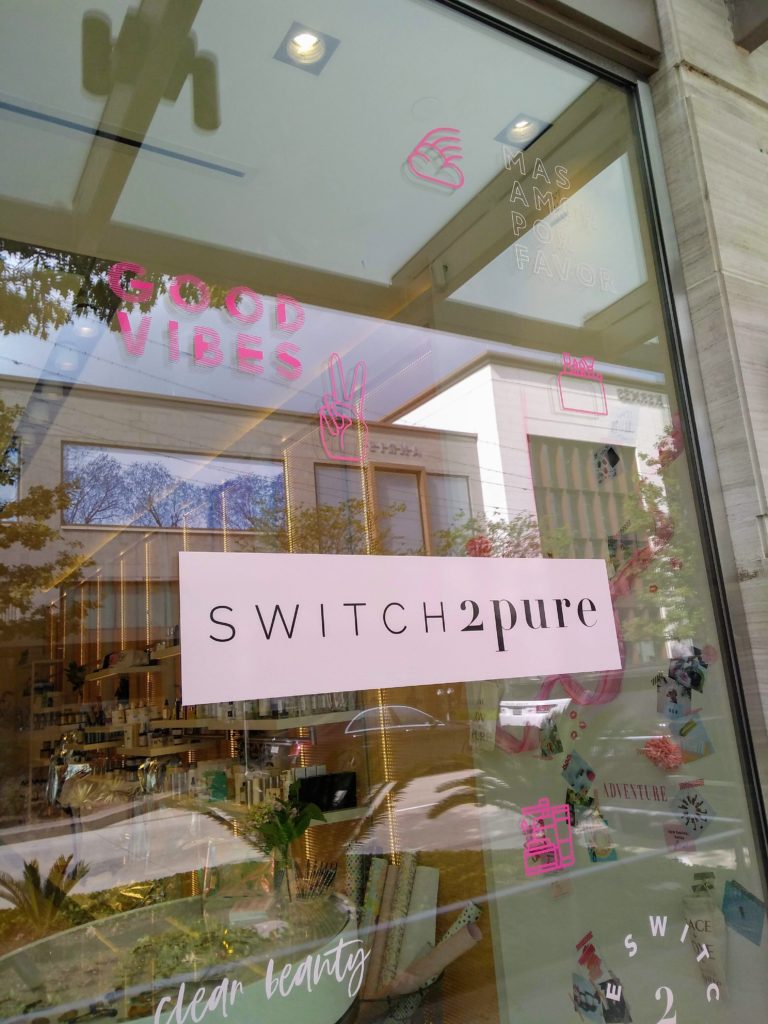 Hand-picked and vetted by Houstonian, 
Estela Cockrell
 and her purist team, every product carried by 
Switch2Pure
 undergoes extensive testing and research and has been deemed safe (and chic!) – as part of their Pure Promise.
photo: V. Sweeten
Stylish crowd toasts to $2.5 million expansion and new Ivy Bar & Bistro at luxe Galleria-area Fiori Spa
A stylish crowd of more than 350 guests flocked to Fiori Spa at 2613 Potomac Dr. on Thursday evening for an exclusive, invitation-only first look at the property following a $2.5 million expansion that includes the new Ivy Bar & Bistro and Attitudes Paris Coiffure.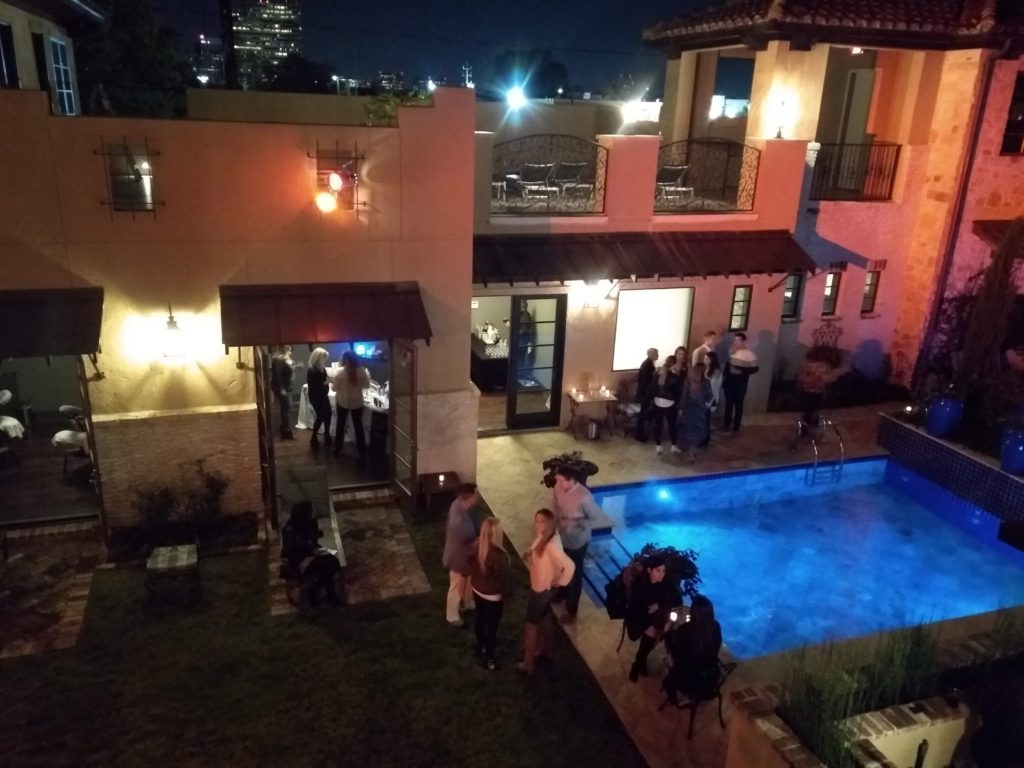 After walking down the red carpet, guests were treated to tours of the 13,000-square-foot two-story spa, including its seven new massage rooms, new outdoor swimming pool and remodeled garden area, expanded state-of-the-art ladies' locker room, additional waiting area and enhanced interiors.
Owners Roy and Natalie Horlock mingled with the crowd as guests noshed on complimentary pizzas, paninis and charcuterie plates from Ivy, along with complimentary wine and cocktails.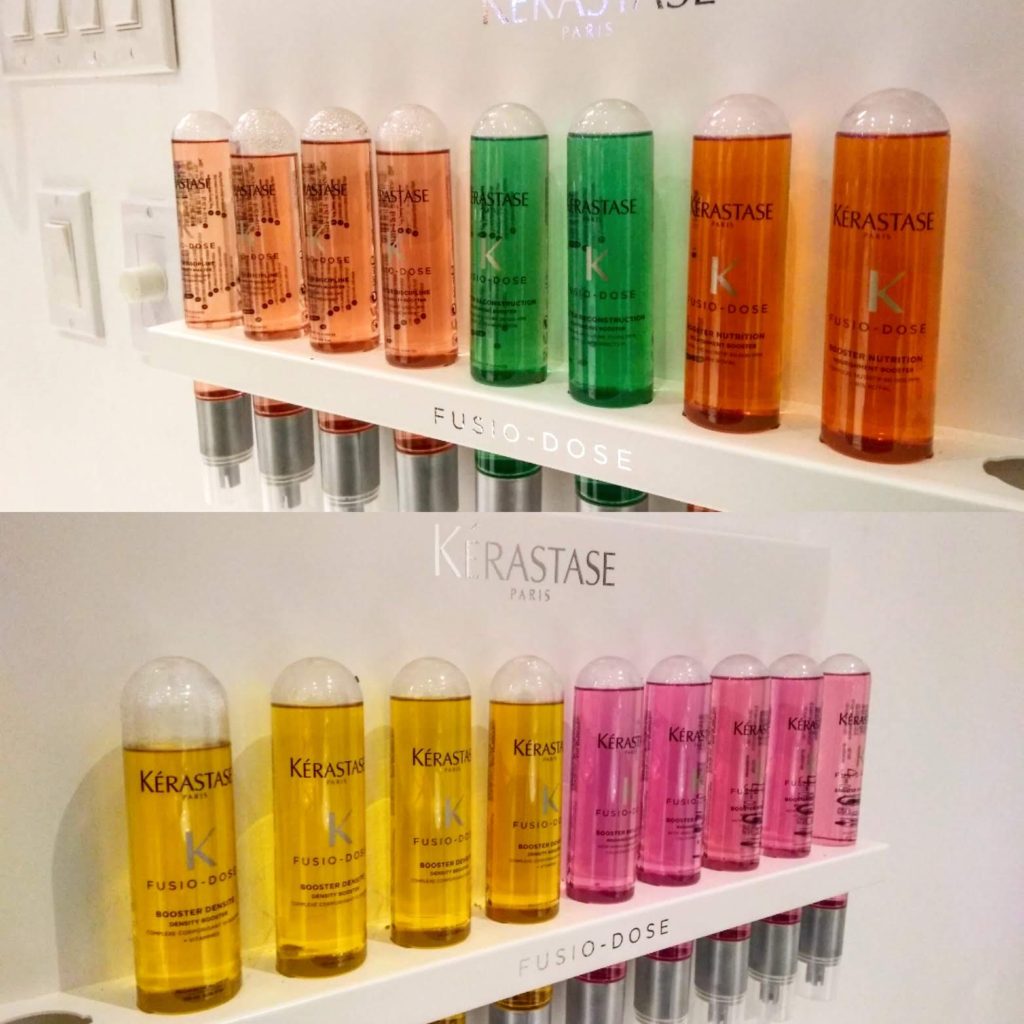 Inside Attitudes Paris, the new full-service hair salon at Fiori, owner David Edery and his team of stylists greeted customers and friends with champagne and delectable passed bites from Le Mistral.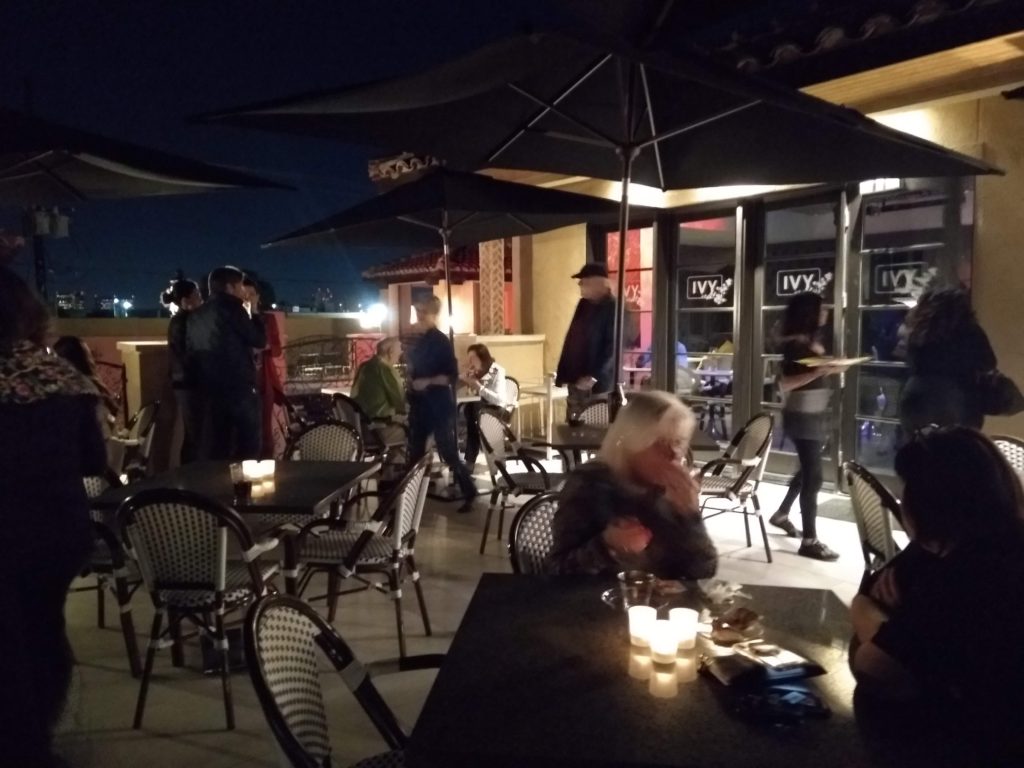 The party continued upstairs at Ivy, the crown jewel of Fiori's $2.5 million expansion.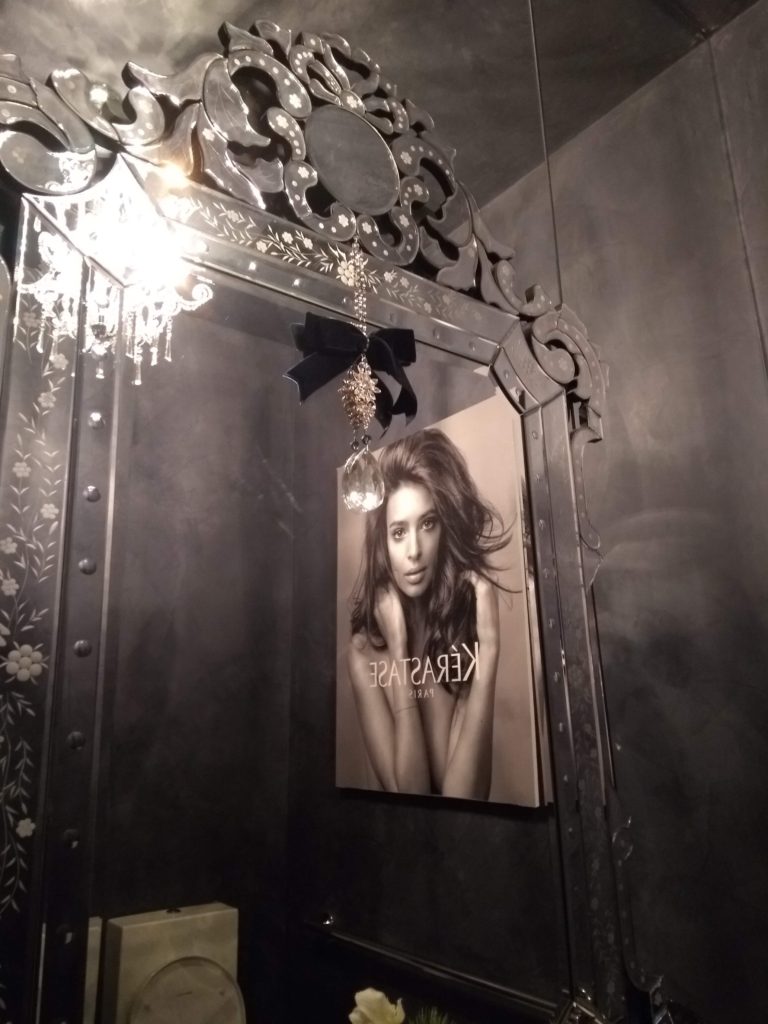 ABOUT FIORI SPA:  Fiori Spa is an award-winning, full-service luxury boutique spa located at 2613 Potomac Dr. in the Galleria area. Fiori is a Tuscan-inspired spa that offers first-class nail services, facial services, a broad range of luxurious massages, boutique shopping, wine selections and more.
Fiori's freestanding property includes 13 treatment rooms, including three couples suites and 10 individual treatment rooms, along with two outdoor pools, an indoor grotto pool, Attitude Paris salon and the new Ivy Bar & Bistro.
Hours of operation are Monday from 9 a.m.-5 p.m., Tuesday-Wednesday 9 a.m.-6 p.m., Thursday-Saturday 9 a.m.-8 p.m. and Sunday 10 a.m.-6 p.m.
For more information, visit www.fiorispa.com or call 713.244.0070.
photos: V. Sweeten
Houston Texans host Breast Cancer Survivors and Patients with Texans Care Fashion Show
Styles provided by Palais Royal
Houston Texans took to the runway with Houston breast cancer survivors and patients currently going through treatment on October 2 in the East Club at NRG Stadium.
Twelve breast cancer survivors/patients were featured with styles from Palais Royal to walk the "pink carpet" with Texans as their escort.
Houston Texans participants included CB Johnson Bademosi, WR Sammie Coates Jr., T Julién Davenport,  NT Brandon Dunn,  WR DeAndre Hopkins, S Kareem Jackson, T Kendall Lamm, C/G Greg Mancz, S Tyrann Mathieu, ILB Brian Peters, NT DJ Reader, DE Carlos Watkins and LS Jon Weeks.
Ladies were then surprised with tickets to the Texans' Pink Ribbon Day game as well with swag bags with goodies from Palais Royal and the Texans.
photos: V. Sweeten
Run On by Jackrabbit is Now Open in River Oaks Shopping Center
Run On by JackRabbit has joined River Oaks Shopping Center, a 320,000 SF open-air shopping center with a variety of local and national retailers, upscale restaurants, and entertainment.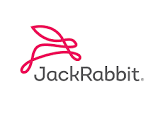 Run On by JackRabbit is a local running   store offering a full assortment of major  athletic brands to service its local running   communities. 
 JackRabbit focuses on great services that are meaningful to you, their customer.  They offer training programs, free fit analysis, and solutions to help you reach your goal. There are 62 stores in operation across 18 states, with 12 of those in Texas. 
EVER Skin has skincare and makeup with botanical based ingredients
EVER Skin is a botanical-based, clinical grade, CLEAN skincare line that will safely and drastically transform your skin! EVER's secret ingredient is its LSR10, a patent-pending bioactive complex of three powerful components, scientifically formulated to reduce the top 10 visible signs of aging.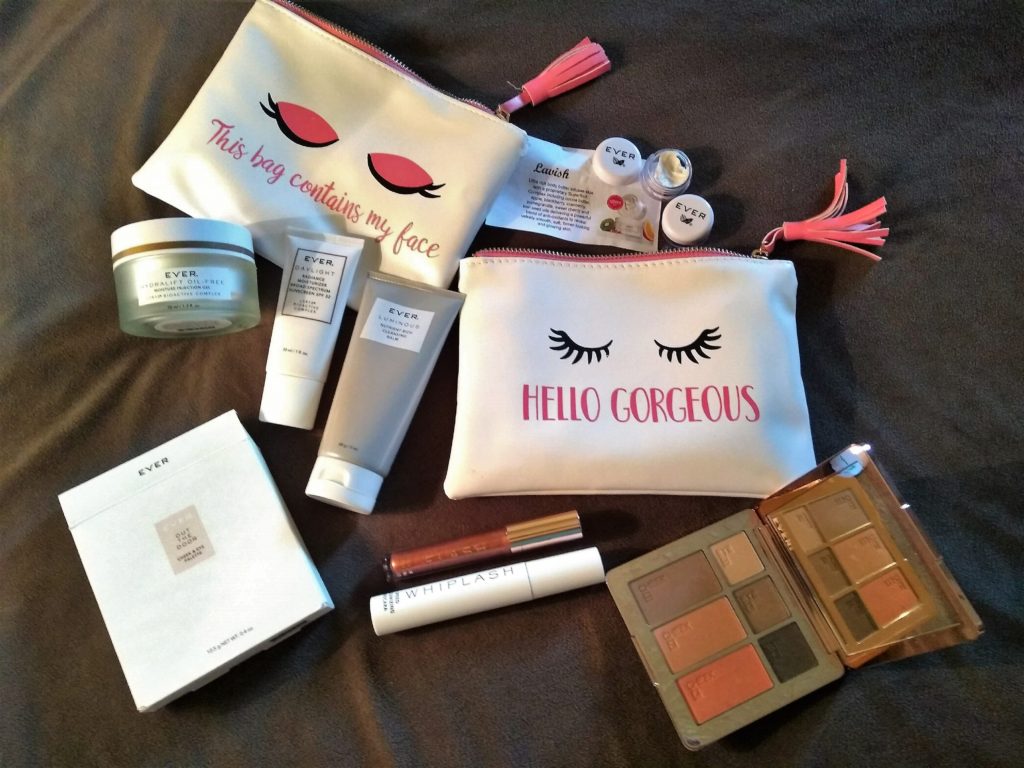 Ectoin > A natural compound that helps reduce the visible effects of sun damage and premature aging.
Magnolia Bark > Contains Honokiol, an antioxidant that is 1000x more potent than Vitamin E.
Ergothionine > An amino acid that helps to minimize the appearance of wrinkles and helps reduce visible signs of sun damage and aging.
More information, go to www.everskin.com/with/kimevans
Parry Botanicals Creates Cancer Care Kit
     Parry Botanicals owner/founder, Elizabeth Parry's, life has been touched by loved ones battling cancer. The first question we often ask when we hear of someone is going through treatment is, "What can we do to help?"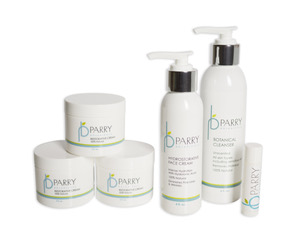 The desire to help support people during their treatments, along with first hand experience from friends, a relationship with world-renowned cancer treatment center MD Anderson, and the knowledge gained as a candidate Texas Gulf Coast Leukemia & Lymphoma Society  (LLS) Woman of the Year, inspired Elizabeth to create a 
Parry Botanicals Cancer Care Kit.
     Parry Botanicals' 6-piece Cancer Care Kit
 includes products that provide non-toxic care for distressed skin. The kit includes three containers of 2 oz Restorative Cream, one 6oz Botanical Cleanser, one 4 oz Hydrostorative Face Cream and an Organic Lip Balm. It retails for $200 and be sold exclusively online via the 
Parry Botanicals
 website at
www.parrybotanicals.com.
JANUS et Cie release The GET-TOGETHER Collection
JANUS et Cie and longtime collaborator Michael Vanderbyl introduce a sleek, luxe interpretation of one of the most common pieces of furniture to ever exist: the classic picnic table and bench.
The Get-Together collection, reinvented in aluminum, is an architectonic homage to the nostalgic furniture. Like its name suggests, the table and benches, which come in three sizes and finishes, are meant to provide a place to gather with friends, family or coworkers.
"The picnic table has always been a symbol of togetherness," says Vanderbyl. "I wanted to take the idea of the familiar and create something new. It's difficult to put your own stamp on something this iconic, so I decided to focus on the 'X' form, using it to unify the table and benches and playing with its proportions and construction for a harmonious, graceful result."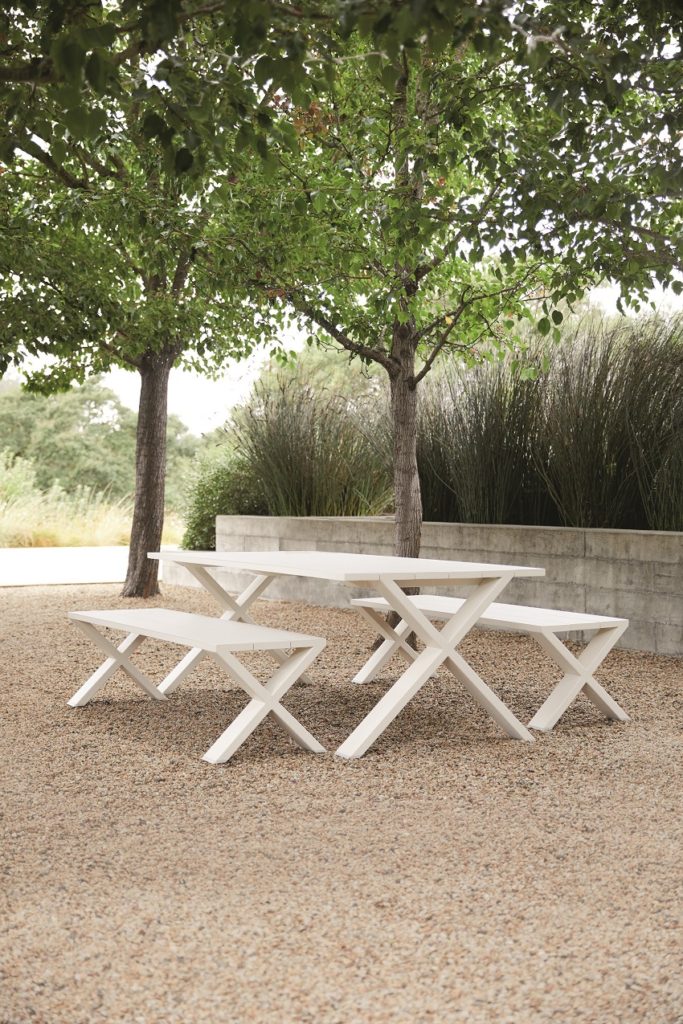 Finishes include Textured White Vermouth, Bronze, and Metallic Grey.
The versatile Get-Together collection is suitable for indoors, outdoors, public, residential, commercial or hospitality environments. The Get-Together Table 221 and Bench 187 are the 2018 winners of IIDA/HD Expo Product Design Awards in the Seating: Group or Series – Outdoor category.

Visit the JANUS et Cie Houston showroom located at 3935 San Felipe St.
photos: JANUS et Cie
Need a Special Touch For Events & Gifts?
Check out LITTLE NOTES with their clever front and back designs
Frances's breakout product, LITTLE NOTES, come in lots of summer-friendly designs — equally perfect as hostess gifts and place-cards, as well as birthday party gift-bag swag and new school-year presents for teachers as summer wanes.
Trend-setting stationery company, E. France's LITTLE NOTES do multiple duties at any party this summer, from Fourth of July BBQs and swanky outdoor dinners, to cool pool parties and back-to-school gatherings.
LITTLE NOTES are chubby little round-edged cards on hefty paper stock, with eye-catching watercolors by E. Frances Creative Director, Ali Flippin.  Unlike gift enclosure cards though, LITTLE NOTES dispense with envelopes in favor of original art on both sides, creating short narratives from front to back with lots of room to jot names, notes, gift tags, grocery lists, or little love messages. Since the product's 2013 debut, 5 million LITTLE NOTES have been sold (in boxes of 85).
Find E. Frances Paper products at the following Houston retailers and www.EFrancesPaper.com.
A Bientôt
Brazos Bookstore
British Isles
Contemporary Arts Museum
Dromgooles Stationery
Emerson Sloan
High Fashion Home
Katie & Co
Museum Fine Arts Houston
Send More Joy
The Modern Card
Thompson + Hanson
photo: V. Sweeten
The Original Worm, Developed by Austin Athlete, Aids in Therapy
The Original Worm, great for workout enthusiasts, travelers, or basically anyone with neck to foot muscle tension, is the portable, full body massage roller that combines the benefits of therapy balls with a fitness massage roller. 
This ingenious massage/recovery product, developed by avid Austin athlete,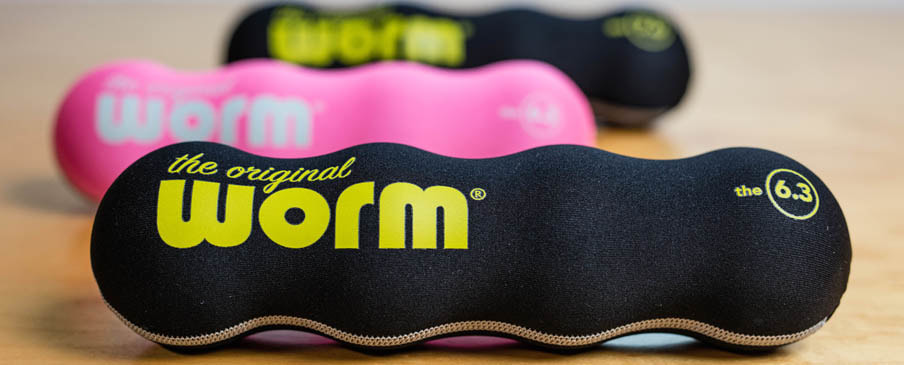 Karen Atkins, is perfect for travel, it can be used for the journey or at the destination. 
The Worm is available for purchase at numerous brick and mortar locations, Amazon, Relax the Back stores nationwide, and now at XpressSpa and locations at all major U.S. airports including DFW, Houston, JFK, LAX, CHI, and more. Full listing is available on website at www.theoriginalworm.com.
See The Original Worm in action at YouTube demo: https://www.youtube.com/ watch?v=fwedzrYB0uQ.
SAVE THE DATE for The Makeup Show Houston coming in March 2019
Texas attendees will NOT want to miss out on the fun, education, and inspiration that will be going on at the Houston show in 2019. As they say, everything is BIGGER in Texas.
The Makeup Show has chosen to move its Dallas show to Houston, in order to support the city after the Hurricane Harvey destruction. Not only that, but Houston is an up-and-coming makeup hub in the industry right now, what can be better than that?
Below is a sneak peak of what to expect on March 23 & 24, 2019!
70+ EDUCATIONAL OPPORTUNITIES: Hear from some of the greatest in the industry as they speak on a variety of topics and show attendees how to be successful while setting themselves apart.
60 BEAUTY BRANDS:  Shop great discounts and network with brand executives
and MORE!
More information at www.themakeupshow.com/houston.
Local Houston Esthetician Named Massage Envy Regional Esthetician of the Year
Massage Envy, the leading provider of total body care services, has named Karen O'Sullivan, an esthetician at the Massage Envy The Woodlands franchised location, Regional Esthetician of the Year. 
From a group of more than 25,000 dedicated massage therapists and estheticians collectively employed across the Massage Envy franchise network, 52 winners were recognized for their high levels of professionalism, exceptional client care and devotion to wellness. Karen received the award at Massage Envy's National Franchise Conference on April 24.
Make Your Marc on the World with Marc Skid Organic Underwear 
Premium, eco-friendly underwear brand donates $4 of each purchase to Charity Navigator Four Star charities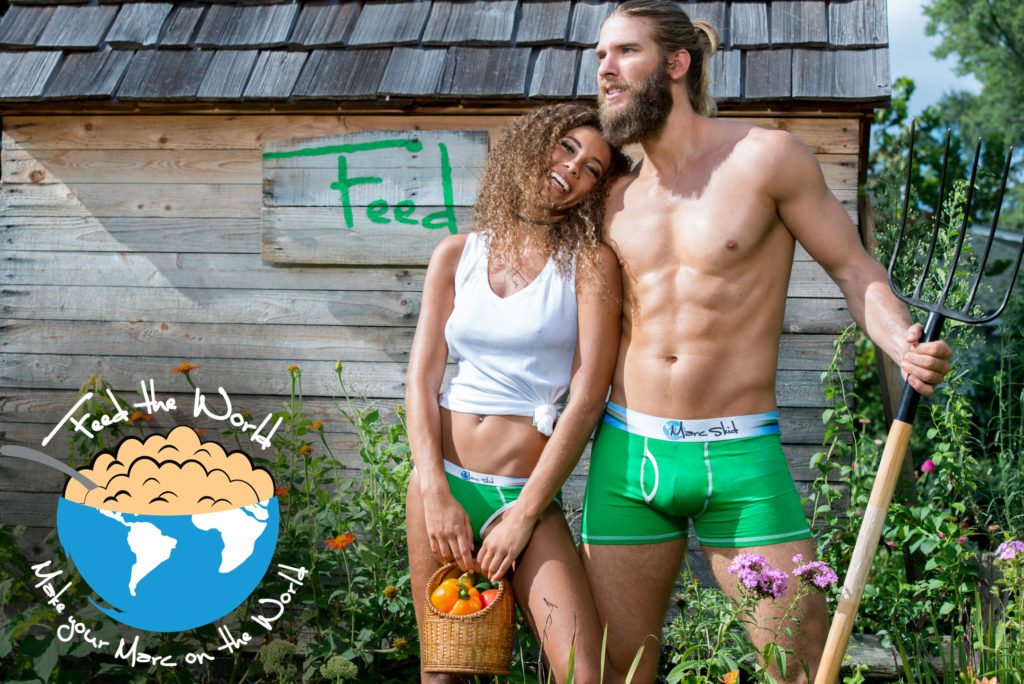 Giving back has never felt so good.With Marc Skid eco-friendly underwear, you can better the world one pair of undies at a time. It's all about everyday people helping everyday people, because anyone can make a difference across the globe – just by wearing undies.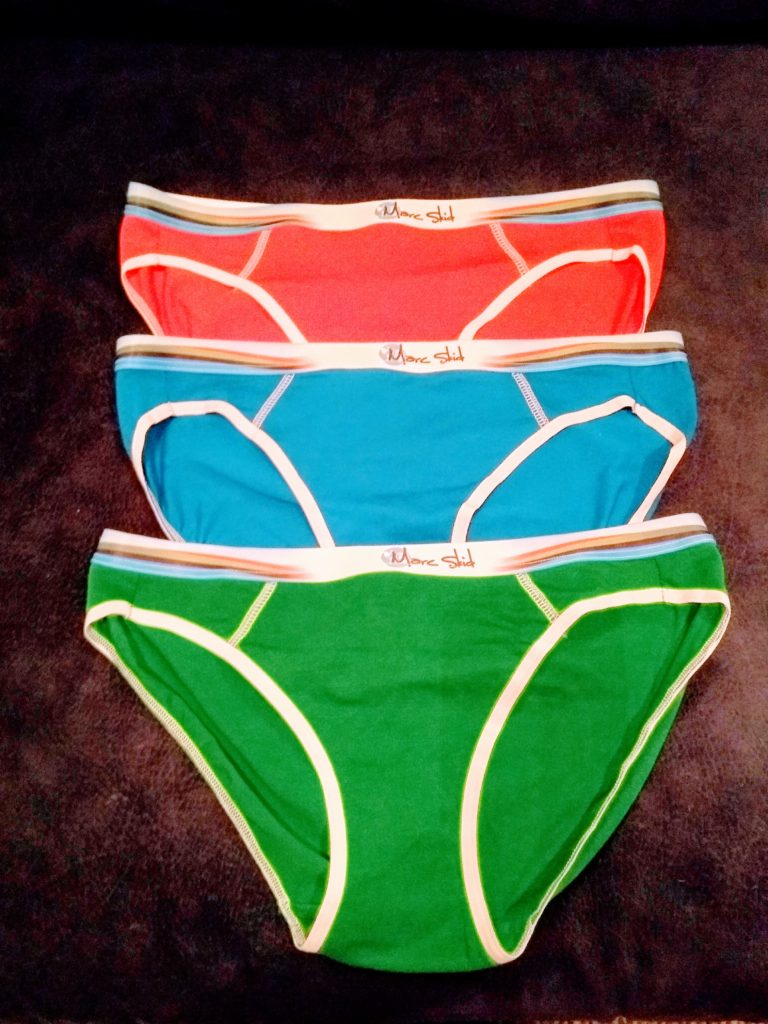 The belief is that brands should have attributes like people we admire, so Marc Skid was created to be a brand that could laugh at itself, but display strong character and live with purpose.
The cheekily named brand teamed up with nine top-rated Charity Navigator charities that support the brand's mantra to feed the world, save the world and cure the world. With the purchase of each pair of underwear, Marc Skid donates $4 to a partnered charity.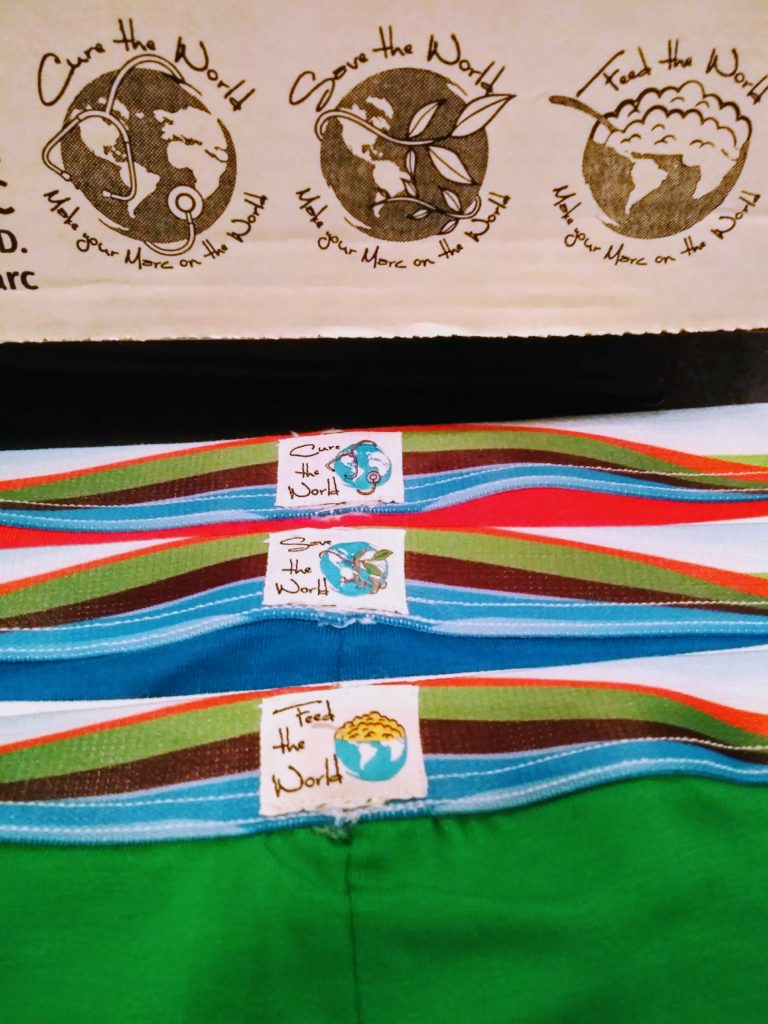 The premium, organic pima cotton underwear is offered in both men and women's styles in four colors – blue, green, red and white. Each color supports a branch of Marc Skid's platform – green underwear funds feeding the world, buying blue supports saving the world and wearing red gives to charities that cure the world. Choosing basic whities gives you the option to choose any of the nine charities.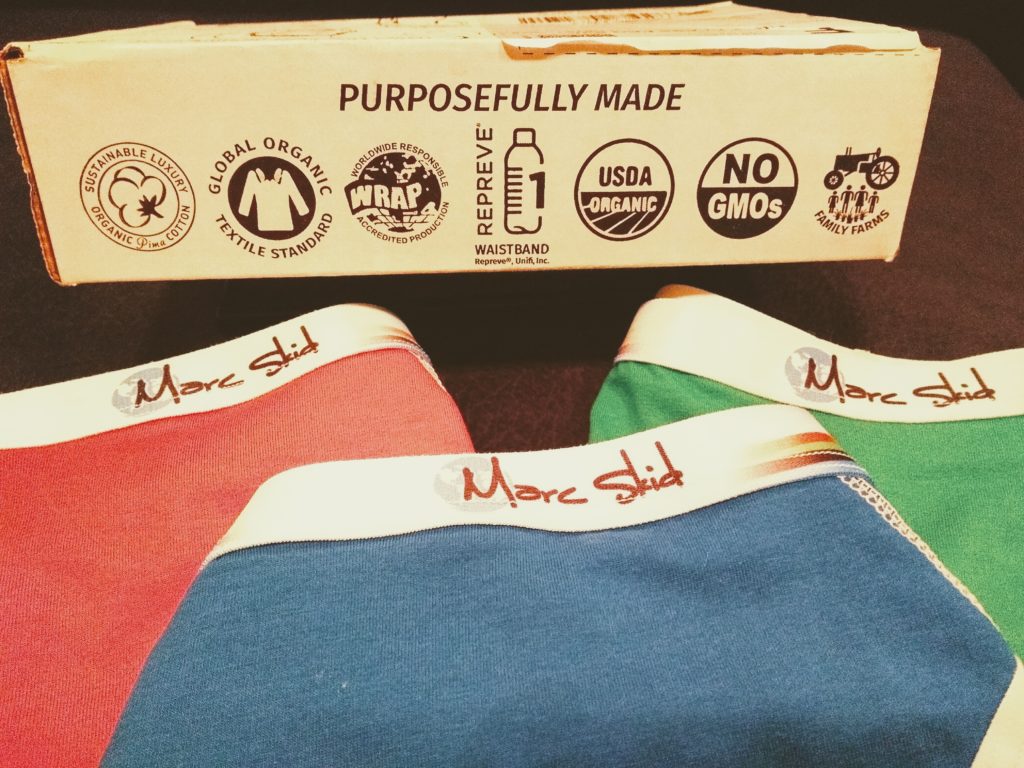 People want choices in their life, and Marc Skid gets that. By handpicking the partnered charity you want to donate to, customers are in the driver's seat and get to pick a cause that stands out to them specifically.
As an added bonus, each pair of underwear is made with organic pima cotton, which is GMO-free and hand picked in Peru. Marc Skid also paired up with REPREVE® to use recycled polyester made from recycled water bottles – incorporating one water bottle in each waistband.
So get on out there and "Make Your Marc" on the world, then let them know by hashtagging #MadeMyMarc on social media.
(Partnered charities include Action Against Hunger, Amazon Conservation Association, Carbon Fund, Catholic Medical Mission Board, Concern Foundation, feedONE, Project C.U.R.E., The Hunger Project and Water.org.)
For more information, go to https://marcskid.com.
SKINNYbits®, a product of ENERGYbits, made from 100% organic NON GMO spirulina algae 
 
Summer is just around the corner–and who doesn't want to look good for summer!
SKINNYbits®  (a product by ENERGYbits) are tiny tablets of 100% organically grown spirulina algae. They contain only one ingredient (algae), have just one calorie per tablet and more than 40 vitamins and minerals!
Here are three of the beauty and fitness benefits of SKINNYbits®:
Chlorophyll keeps the skin clear:   Algae is very high in chlorophyll, an alkaline pigment that brings oxygen rich nutrients to your cells, including your skin cells. Bacteria can't live in an alkaline environment so when you take SKINNYbits®  every day, you are helping protect your skin from bacteria and acne.  Spirulina also contains high concentrations of 40 other important nutrients including Omega-3, iron and Vitamin A (as beta-carotene) all of which help keep your skin fresh and youthful.
Algae keeps your energy levels up:  SKINNYbits®  benefit of increased energy levels is largely attributed to the impressive nutrient profile of spirulina algae, with high concentration of protein (64% protein) and 40 vitamins and minerals. This nutrient rich snack gives you all the energy and nutrition you need to fight fatigue without any of the caffeine, chemicals, calories or sugar that are typically found in energy drinks, bars or coffee.
Bits help maintain a healthy weight:  SKINNYbits® are your answer for healthy snacking. These tiny Bits® with just ONE calorie per tab and their high protein composition, are packed with a satisfying punch! Made from 100% organic NON-GMO spirulina algae, these tiny tabs of algae can help stop cravings, slay hunger and give a steady stream of energy, protein and greens all day.
More information, go to www.energybits.com/skinnybits.html.
photo credit: V. Sweeten
Magpies & Peacocks On NBC's Emmy Winning 'Naturally, Danny Seo' 
Magpies & Peacocks had the amazing opportunity to hang out with Emmy award winning Danny Seo and the team of NBC's Naturally, Danny Seo at their EaDo non-profit design house to chat about how they are truly making strides for a better environment here in Houston.
Dedicated to the collection and sustainable reuse of post-consumer clothing, scrap textiles and accessories, Magpies & Peacocks are doing everything they can to disrupt the cycle of waste in the fashion industry and educate designers and artists on ethical sustainability in design.
Check out their first national TV segment at www.nbc.com/naturally-danny-seo/video/magpies-and-peacocks/3708565. #magpiesandpeacocks #nonprofitdesignhouse #sustainablefashion #naturallydannyseo #NBC #KPRC
Dressed to Kilt in Houston Wows Enthusiastic Crowd
Considered the largest and most prestigious Scottish Fashion Event in the world, Dressed to Kilt once again lured decorated military men, celebrities and world-class athletes from both sides of the Atlantic on Tartan Day celebrating all that is Scottish. 
The event honored Houston's Man of the Year, Mr. Jim "Mattress Mack" McIngvale during a celebrity filled runway show celebrating country cool looks "From the Scottish Highlands to Houston," that was followed by an evening of dancing and cocktails. Models and attendees ranged from Reality TV Stars to real life military heroes.
The City of Houston boasts the most expatriate Scots than any other US city making it the perfect backdrop for the event. Notable attendees included Trae Tha Truth [rapper], Marcus Lutrell [war hero and founder of The Lone Survivor Foundation], Viscount William Garnock [Scottish Royalty and 'most eligible bachelor'], Eve Muirhead [Olympic Champion, curling], Carl Lewis [Olympic Champion, track and field], Lea Gabrielle [Fox News Correspondent], Karen Bell [British Counsul General].
The event was held at the brand new Million Air facility at Hobby Airport, Houston, and the largest private jet hangar in the US complete with a private jet parked inside for the festivities. Guests decked in their finest kilts, ball gowns and black tie garbs began the evening with Scottish highland dancing following by a full fashion show featuring some of Scotland's hottest designers modeled by a mix of celebrities, professional models and military heroes.
The fashion show showcased the latest designs from Calzeat, Judy Clark, Edinburgh Castle, Kevin's Catalog, Harris Tweed Hebrides, GlenIsla Kilts, House of Bruar, House of Cheviot, Kiltane, Knockando Woolmill Scotland, Slanj, Totty Rocks, and Walker Slater.For the first time outside of Scotland the new Edinburgh Castle Tweed debuted on the runway.
For more information, visit www.dressedtokilt.com.
FEATURED DESIGNER–SIMRAN RIHAL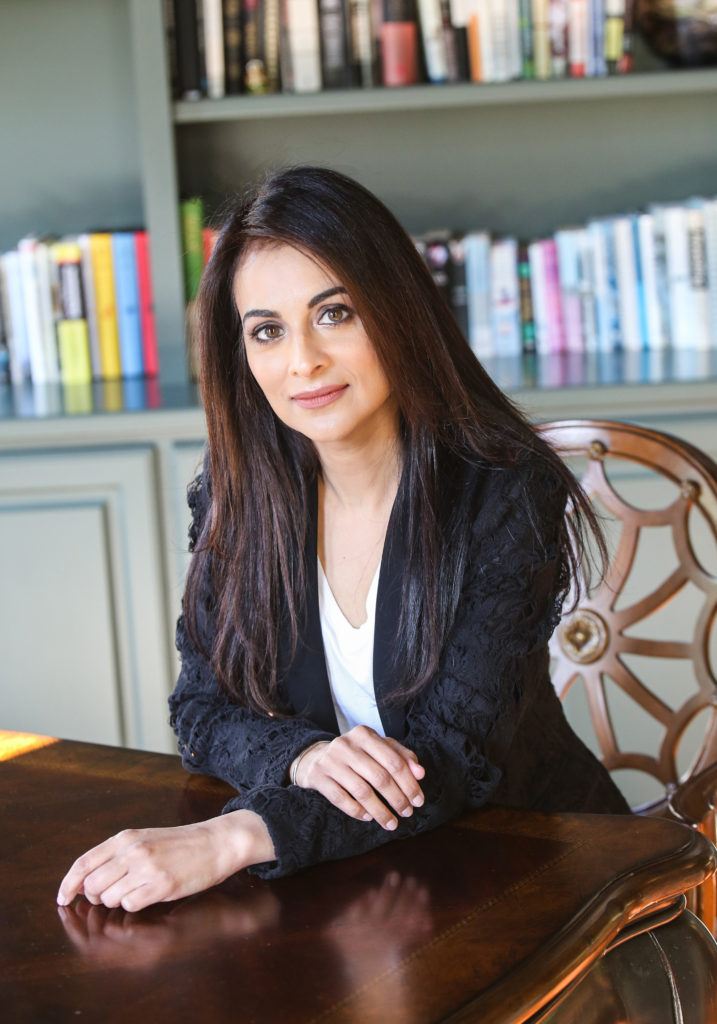 Meet Simran Rihal, one of Houston's fastest up and coming designers, who is taking Hollywood by storm with her luxurious clutches. Celebrities, Jennifer Hudson, Blake Lively, Tamara Mowry, Nikki Reed, Petra Nemcova and Malin Akerman, have been seen with her gorgeous premiere bags.
Read about her commitment to these timeless, inspired pieces, which are  created in a socially responsible and eco-friendly manner with an innovative approach to beauty and function.
How did you choose handbags as the art form to express yourself?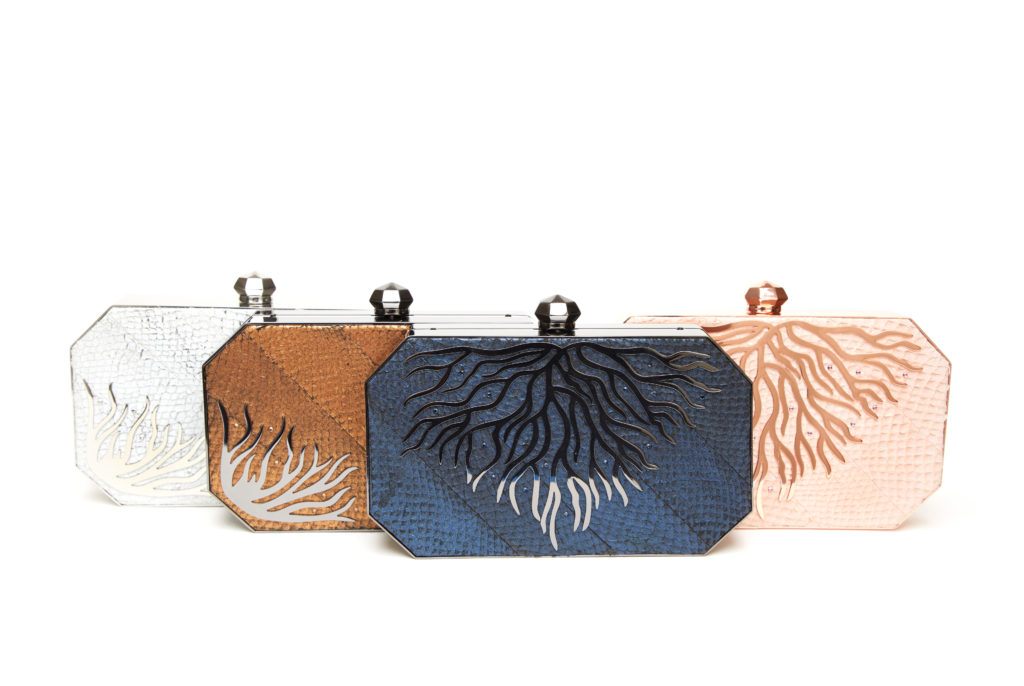 ​I love accessories in general but I especially love unique handbags. A beautiful clutch is such a great accessory that makes it easy (and fun!) to change up or elevate your overall look. Two years ago I was looking for something with sparkle that would fit my large smartphone. It was nearly impossible to find one! I constantly saw pictures of friends holding an expensive clutch with a phone sticking out of it because it wouldn't close or awkwardly holding a phone in addition to the bag. I decided to create something that would be beautiful, solve a problem and help me give back to causes I am passionate about. We women are different sizes with different styles and preferences but I love that a clutch transcends all that.
How did you learn about using salmon skin for the collection & why did you choose it?
'Unique' is a big word for me in terms of design and creating products. Keeping that in mind it was essential for me to source materials that weren't already out there. I did a lot of research, visited trade shows and spoke to experts and in that process came across salmon skin. I instantly fell in love with the look and texture of it. The fact that it was sustainable and that the Iceland tannery used eco-friendly means to tan the skins was icing on the cake!
Explain your design process
​Inspiration is everywhere and at times it is quite overwhelming! I have a list of a few words that define my aesthetic and brand. I start by creating a mood board, and do tons of sketching! I sketch anything and everything, not limiting myself and sometimes I'll edit the mood board when I see the concept or theme taking a certain direction. Ultimately I go back to those keywords. This helps me in editing the final designs and is a way of making sure each design fits within the overall vision.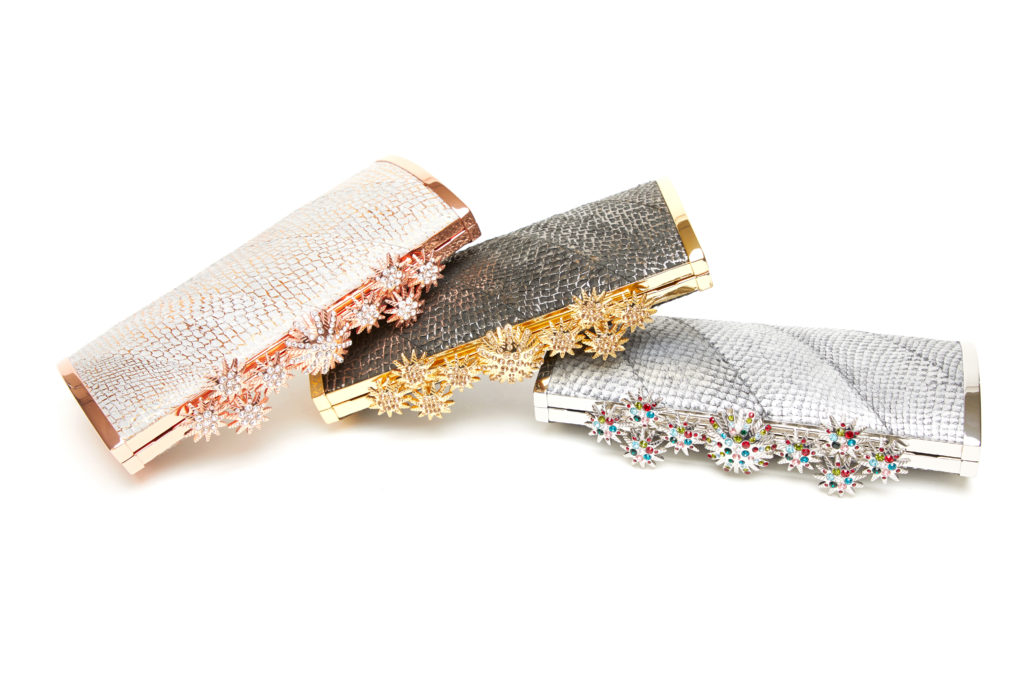 What does it mean to you to create pieces that are practical, sustainable and a fashionable accessory?
​I want to create pieces that are visually appealing but also serve a purpose. It probably comes from me being a very practical person. I don't need to clutter the world with another clutch you can't carry your phone and other essentials in! ​The sustainable and eco-friendly part of it comes from a place of gratitude.
So often we are told we should be empathetic to other people, but we don't always remember to be empathetic to our environment.  When someone loans you a beautiful item for a period of time you feel you need to take great care of it while you're using it. It is the same with this beautiful world we're temporarily on. It is only right we take care of it as best we can.  Besides, it is not difficult to do small things like recycle or use something responsibly so why not choose to do it?
Future plans?
​I ​am currently working on a private label for another brand that liked my designs. I also have a collaboration in the works to design a one of a kind evening clutch using precious stones! Besides these two exciting opportunities I am of course also working on designs and colors for my next collection.
Please feel add anything else you'd like to mention
​2017 was such an inspiring year for women, bringing to light many issues we deal with. Often women are portrayed as jealous or catty but in the last couple of years I have met countless women who are incredibly supportive and genuinely happy for others, including me and my business. That realization has been an eye opener for me and has made me want to be more proactive in supporting others.
​Besides 'unique' the word 'gratitude' is one I often find myself using or thinking about. Starting a business is expensive! There are so many creative people out there but not all have the opportunity or the means to be able to do it. I always keep that in mind and make sure that proceeds from every sale go to a do something good in the world.
For more information, go to https://simranrihal.com.
photos courtesy of Simran Rihal
Meet LAUNCH's First Chapter of 2018 Designers: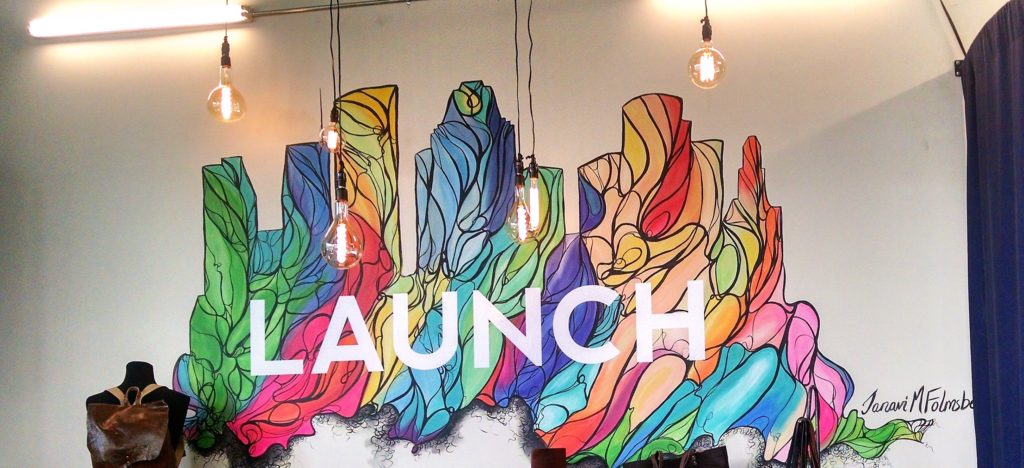 CHAUNCEY AND COCO
CARLA SUE
BEAR CUB LEATHER GOODS
STATE LINE DESIGNS
MIRADELA
THREE HEARTS APPAREL
CROWNS COLORING BOOK
SI CREATIVE PHOTOGRAPHY
TWISTED TANTRA
OOBY DOOBY BABY
SUGAR LAND CANDLE CO.
NON

NEW HIGH HEEL ACCESSORY AIMS TO DISRUPT FOOTWEAR INDUSTRY
Announcing National Launch of KICKSTANDS™
        New fashion start-up Kickstands™ has launched with a collection of reversible high heel straps, which add both style and stability to virtually any high heel. Over a dozen different styles of the breakthrough accessory are now available exclusively at Kickstands.com. 
        Founder and CEO, Michelle Johnson, is the visionary entrepreneur behind Kickstands, a product in development and testing for over five years. A successful corporate consultant by day, Johnson saw a need for a product that would prevent her heels from slipping while traveling for work and chasing connections at airports across North America.
          "It started as a very simple idea," explained Johnson. "I needed to get from point A to point B without tripping, but I simply couldn't find the right product." But, after being inspired to create her initial prototypes, she quickly realized that the heel straps were not only functional, but also had the ability to add style and versatility to a woman's shoe collection – not to mention, disrupt a multi-billion dollar industry along the way.
          The initial collection of reversible high heel straps now features a range of patterns and colors designed to go from "purse to pumps in seconds." A rubber eyelet on each strap allows a pump's heel to slide through, while the elastic fabric strap comfortably conforms to the foot.
          All the products, available exclusively at Kickstands.com, are 100% designed and manufactured in the U.S. The launch of the new brand in December 2017 includes the new e-commerce website, along with a social media presence on Facebook and Instagram at @kickstandsforheels.
BUZZ GENERATING PRODUCTS–Just in from Vivant Skin Care
Find at Memorial Laser & Skin in Houston as well as online and through Aestheticians, Spas and Dermatologists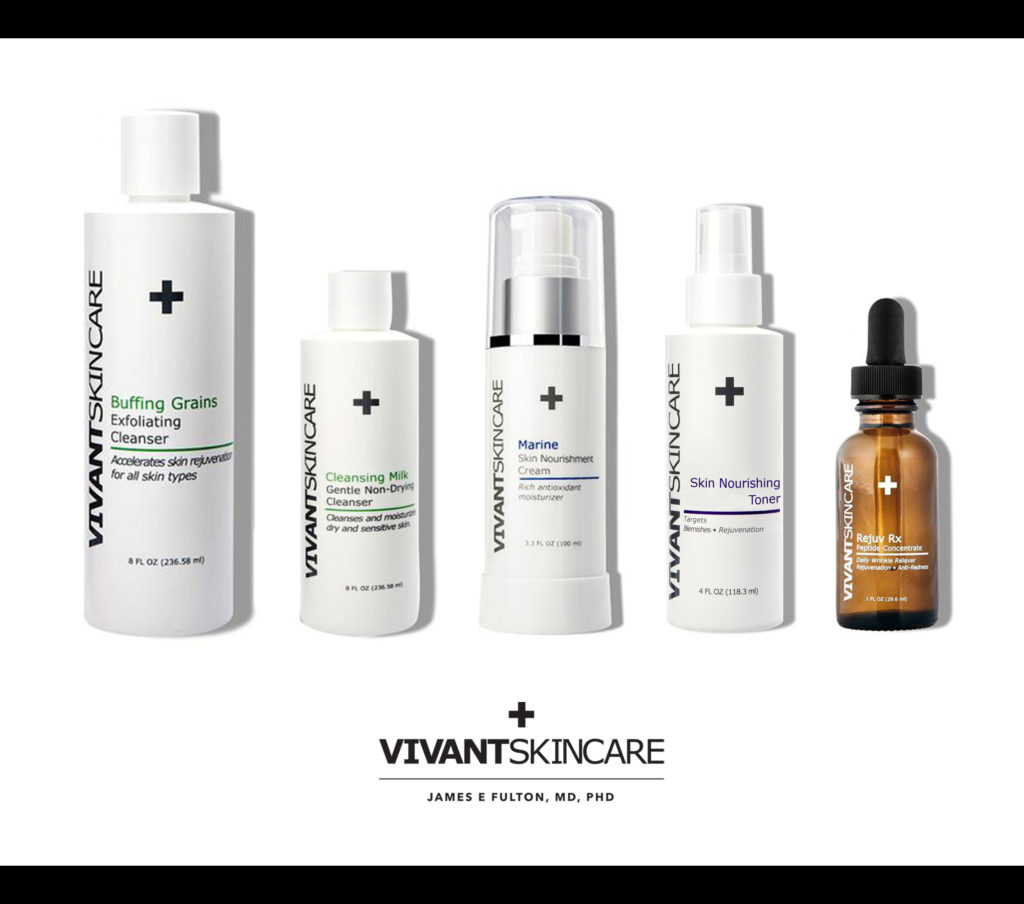 Derm-A-Gel® Daily Vitamin A: A transformative, targeted corrector serum for skin new to Vitamin A treatment. This patented, lightweight formula works to boost cellular metabolism, reduce fine lines, promote a more even skin tone, and clear blemishes, all while nourishing skin with anti-inflammatory and moisturizing ingredients.
THE LUXfoliator: Target three common skin issues—acne, aging, and hyperipigmentation—with one high-performance, multi-tasking scrub. The award-winning formula combines antioxidant, anti-bacterial, and naturally brightening mandelic acid with polyphenol-rich green tea extract and nourishing grape seed oil to cleanse, repair, and protect with unparalleled results. Bio-degradable, luxfoliating microbeads are a bonus.
This patented, lightweight formula works to boost cellular metabolism, reduce fine lines, promote a more even skin tone, and clear blemishes, all while nourishing skin with anti-inflammatory and moisturizing ingredients. Ideal for targeting acne, sun damage, dull or uneven skin tone, age spots, and wrinkles. Add this radiance boosting skin resurfacer to your essentials list.
More information at www.vivantskincare.com.
FEATURED DESIGNER–BETH YOUNGER PURPICH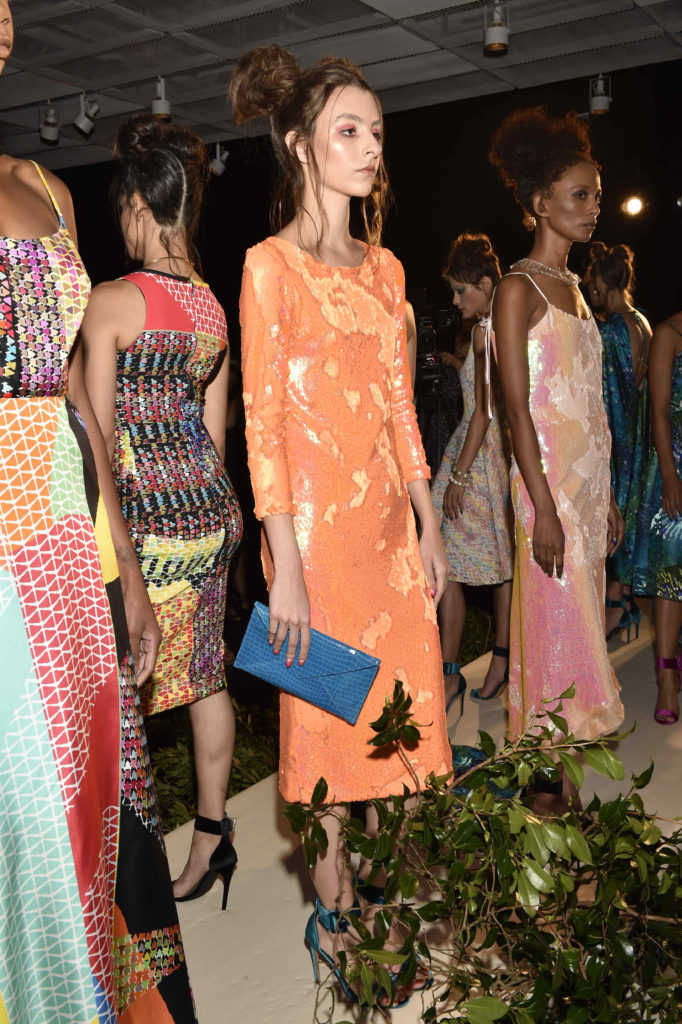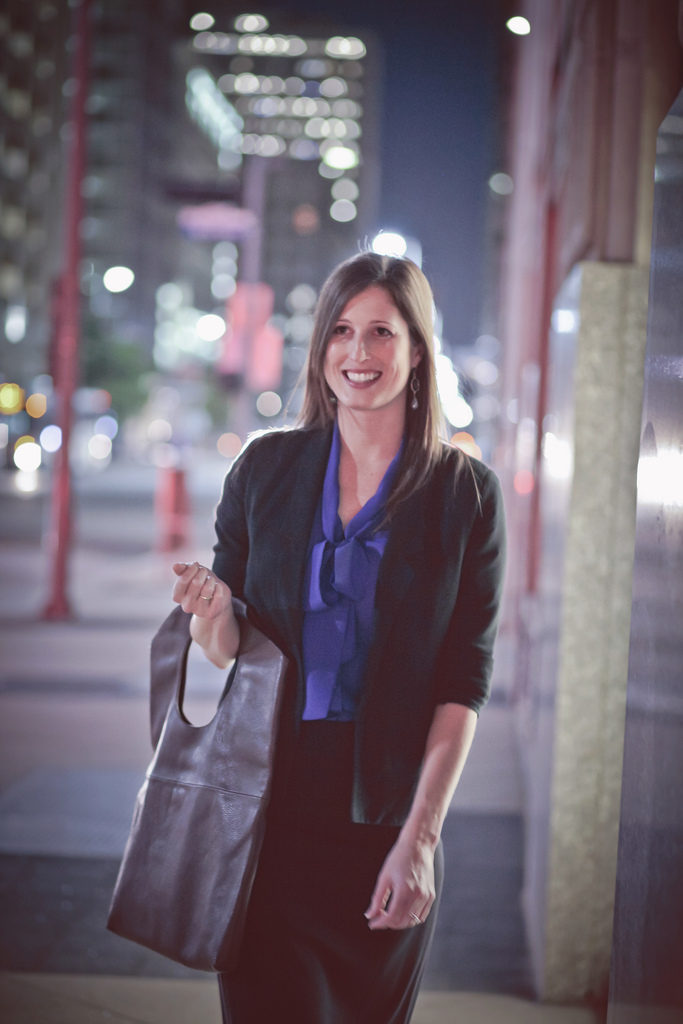 Elizabeth Purpich, a Houston native, is partnering with designer, Cesar Galindo, also a Houston native, to present their Spring/Summer 2018 collections at New York Fashion Week to an elite fashion audience comprised of media, retailers, fashion and social influencers, sponsors and industry VIPs.
Their Texas Takeover event will be held on September 9th at Punto Space in the Garment District of New York City.
Please share a little bit about yourself and how you got interested in your craft.   

As a handbag designer, I've always been interested in design and the way things are put together. It started at a young age watching my grandmother make clothes, paint, do ceramics and pottery. I also grew up learning the family business of cattle and spent many summers of my childhood on the farm. Hides and leather were part of the culture, and I've always loved working with it.
Tell us about your products & materials you're using.  For the upcoming New York Fashion Week, I am using some really great textiles from Spain. They are kind of like a heavy silk with bright, bold colors and patterns. I am also introducing a new woven straw fabric, kind of like a raffia almost, in the collection. It's the first time using either of these materials for the outside of the bag, and I'm really excited. Hopefully, everyone will be excited too.
3. Inspiration for your  designs?  My classic designs stem from being a Texan and the cattle industry which I grew up in. I use neutral, earthy colors with materials  like hair-on hide, suede and all types of leather. My best selling bag is the Longhorn bag which is a homage to the Lone Star State and our heritage.
What's new in your world with your products?  

I just introduced a new design of credit card holders which have been very popular at shows, but now they are available on our website, too. I wanted to test them out first and made sure people liked them and they performed like they were supposed to. I think the design is good and the leathers we now have are perfect! It's also a great gift for under $100. 
Biggest accomplishment you're most proud of in your career to date.  

My biggest accomplishment is probably the Superbowl event I did. I was asked by Lisa Holthouse of CityBook to make something unique for her guests at the Big Game Big Give charitable event hosted at her home the day before Superbowl. It was a huge event, and I was honored to be asked to do it. I hand-cut 450 leather wristbands and metallic embossed them for the VIPs to wear on their wrists at the event. Michael Phelps wore one of the designs as he was the host of the VIP poker tournament. It was such an amazing rush!                                                                                                                                                                 More info on the Texas Takeover can be found here: www.eventbrite.com/e/new-york-fashion-week-vip-experience-with-cesar-galindo-elizabeth-purpich-tickets-36207344141. Also check out www.elizabethpurpich.com for more details.                                                                                 photos courtesy of Beth Younger Purpich
PARRY BOTANICALS ADDS HYDROSTORATIVE FACE CREAM TO PRODUCT LINE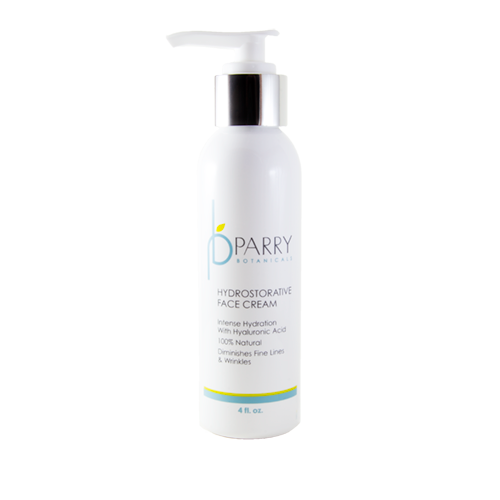 Parry Botanicals, the Houston based all-natural skincare company, announced the release of their much anticipated Hydrostorative Face Cream ($60), which is a rich blend of five oils and exotic Mango ease dryness while increasing skin's elasticity with natural anti-oxidents.
The Parry Botanicals line has experienced steady growth since their launch in 2015 with their original trio of lotions – the Restorative Cream, Body Cream, and Pure Botanical Lotion. In 2016, they expanded their offerings to include a Botanical Cleanser, a Vitamin C Serum, and a 3-piece gift set.  
Parry Botanicals products can be purchased on Amazon, via their website at www.parrybotanicals.com and in select Texas, Louisiana, and North Carolina retailers including Bering's Hardware, Lemon Peel Facial and West University Wellness.
FEATURED DESIGNER–
TROPICOUTURE BY SUZANNE B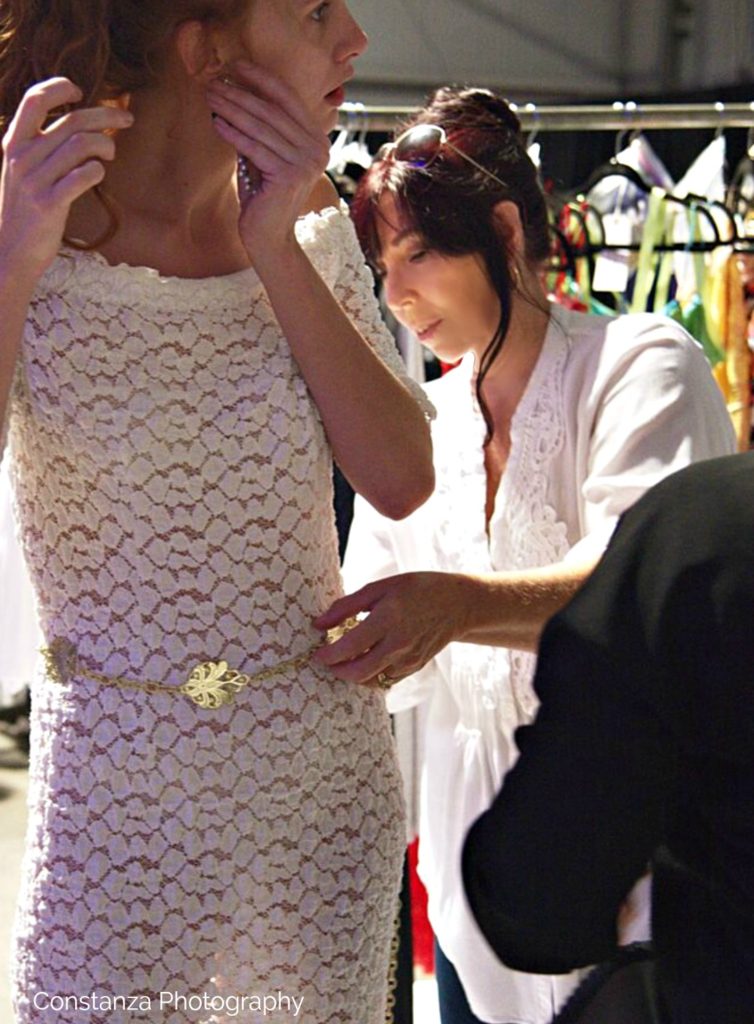 1. Share a little bit about yourself and how you got started in the business.  
Originally from California…I grew up near the beaches…so…resort wear is in my DNA. 
 I'm a beach girl…so that greatly influences my creativity. 
Even as a child I was fascinated by clothing and fabrics and what I could do with them.  
In my 20's, I studied fashion design,
 tailoring and pattern making to further my natural skills. And soon after that…I began my career as an independent fashion designer. 
As a young aspiring designer in southern California…I began marketing my designs by consigning them to a couple of beachside boutiques. One of which was on Catalina Island. One day I received a call from the very excited boutique owner…who wanted to let me know that "Princess Grace of Monaco"had come into the store and purchased one of my dresses!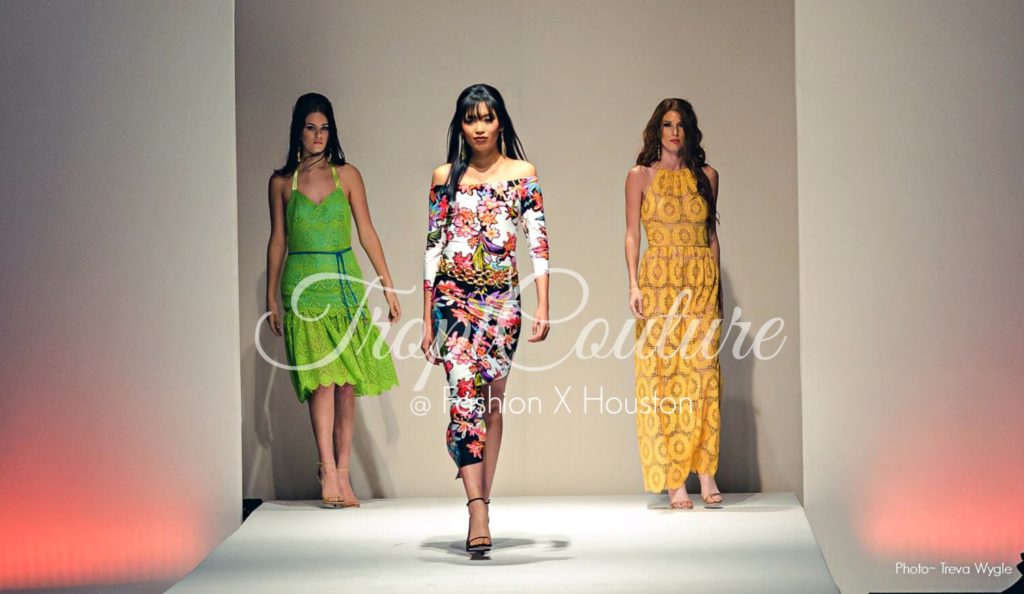 Well…that was it! From that day on….designing became my lifelong passion/obsession.
I've traveled the world gathering inspiration and knowledge for the creation of my line….TropiCouture.  
In my 30's, I went to live in England and there I went on to study couture design in London 
and eventually Paris. This experience changed my life and the way I created clothing.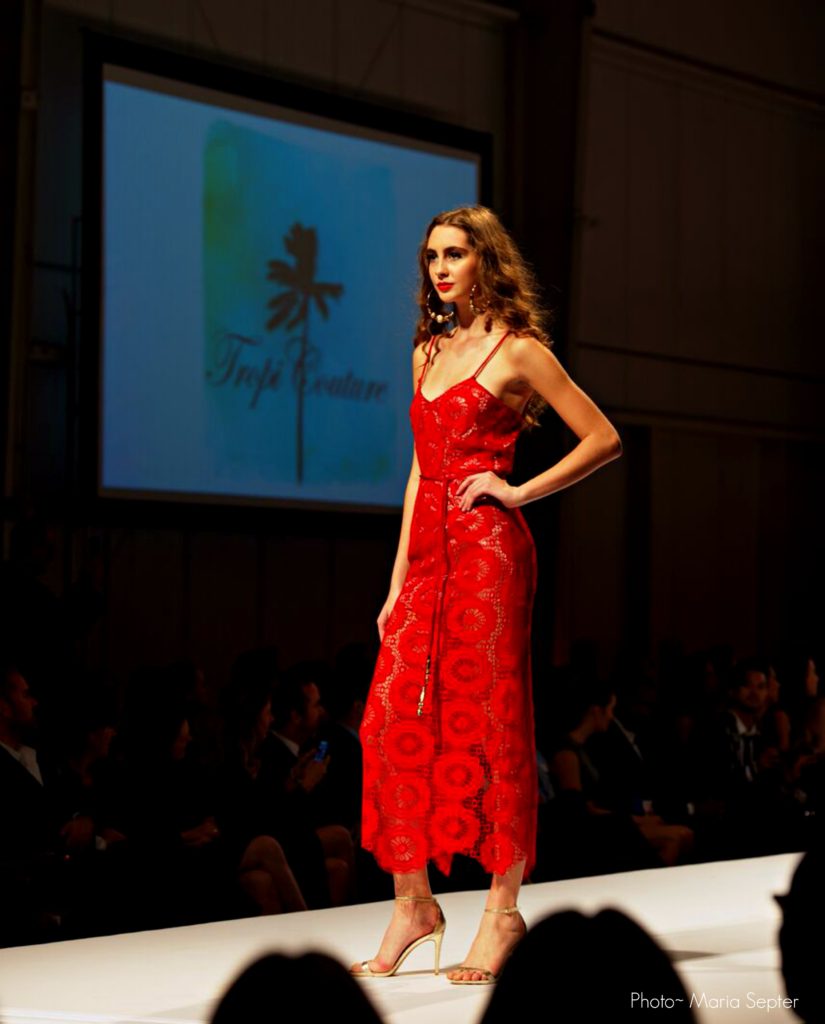 2.  Describe your current customer:      
The TropiCouture woman…She's fun…smart and in control of her own life. She's 18 to 80 yrs. young and has a style all her own. She prefers lasting style over trendy fast fashion. She's every size and shape and loves the body she's in. 
TropiCouture is for real women who want style that lasts a lifetime.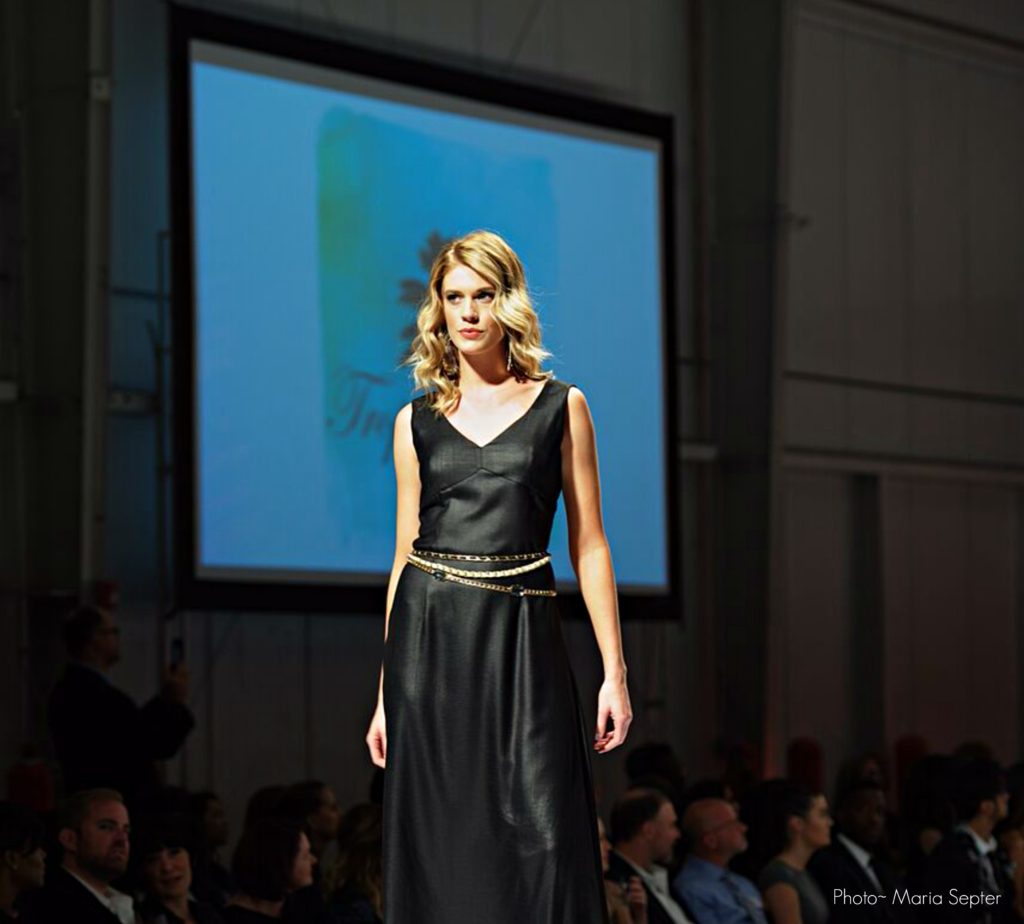 3.  Inspiration for your designs?
I'm inspired by nature and in particular the exotic nature of the tropical islands. The colors of the sand and sea…the lush beauty of the rain forests and the birds and animals that call it home. I'm also inspired by the women who wear TropiCouture. 
They're all so unique and amazing.
4. Tell us about materials you're using: I use everything… silks… cottons… jerseys… rayons…I choose by feel and color. I want my garments to feel like you're wearing your pajamas or nothing at all.  Comfort…beauty and longevity are key.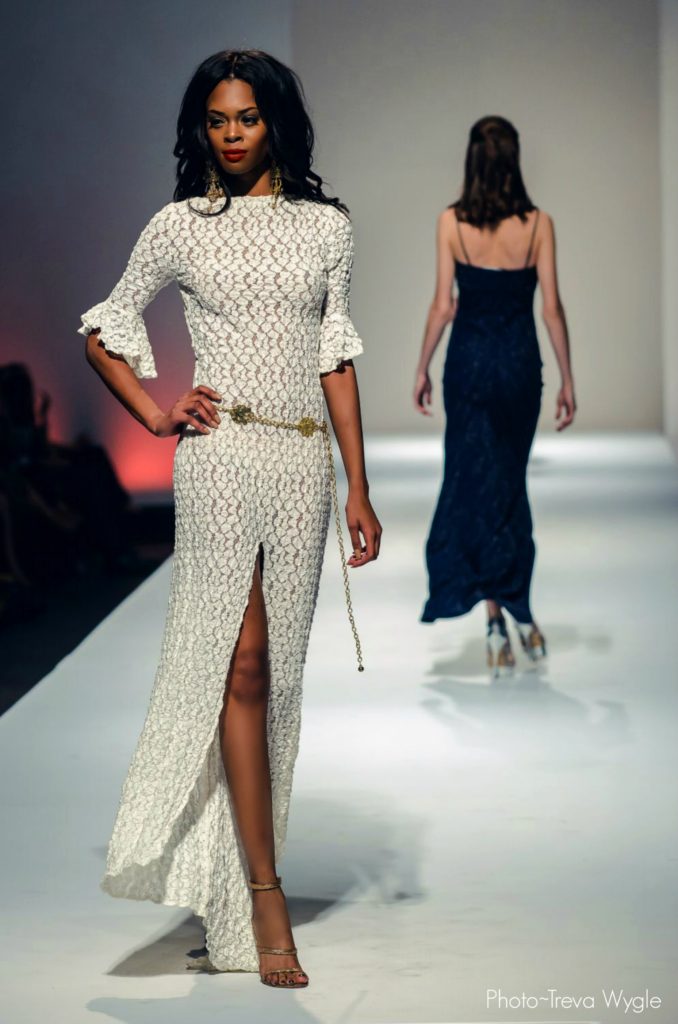 5. What's new in your product development?
I've had a long career…so "new" is irrelevant…there is nothing new to develop in fashion. The TropiCouture silhouette is always being brought forward. By that I mean…each new collection is being built upon the last. It's a continuing Collection. Timeless.
      I AM however bringing back my "No Ties for Guys" Classic Aloha shirts. I put them on the back burner for a couple of years. But my clients want them to come back. And what they want…they get!  They're colorful…comfortable…eye catching and a whole lotta fun.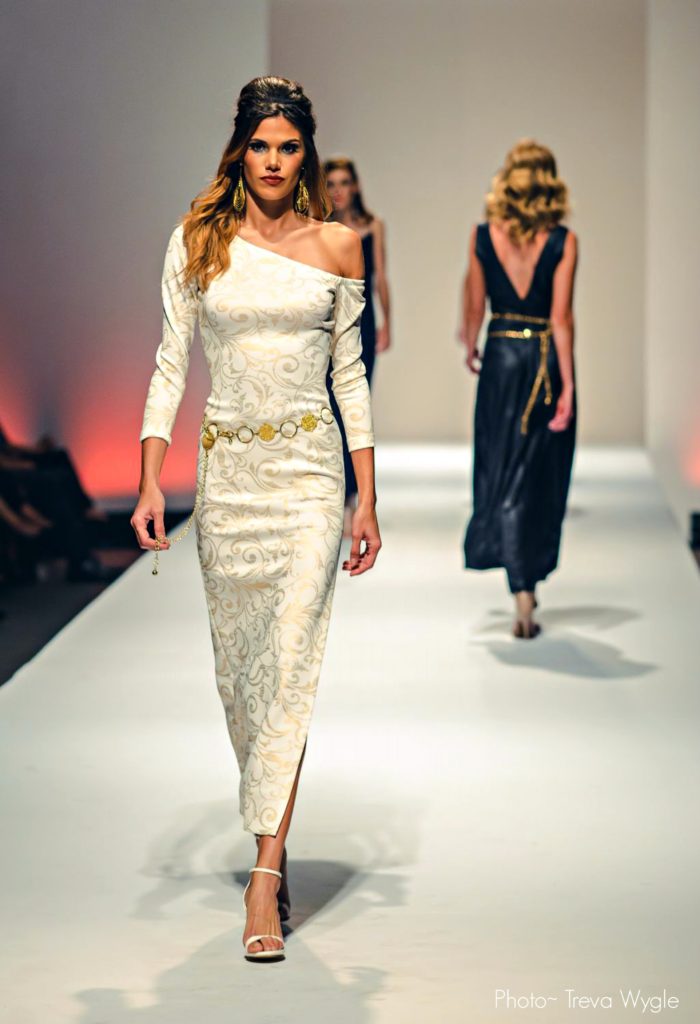 6. Biggest accomplishment you're most proud of in your career to date.
I didn't sell my soul for the love of money. My biggest accomplishment is that I've been in business for as long as I have. And that I have people who have been wearing TropiCouture for as long as I've been creating affordable couture. It's not about the money…it's about the happiness I bring to them and myself.
                                       Anything you'd like readers to know: 
I strive to design pieces that are stand-out timeless pieces for your wardrobe. Pieces you can wear for years to come. 
Each piece is made in the couture tradition…with attention to detail and beautiful quality materials.
     Pieces are cut and created as they're ordered. And sold direct to you…the clientele…no middle man here to inflate prices! I call it 'affordable couture'.
 I create The TropiCouture Collection as a playfully classic brand…beautifully handmade with a look that's effortless…
playful
 and timelessly stylish.  At TropiCouture it's about creating style that outlasts trends.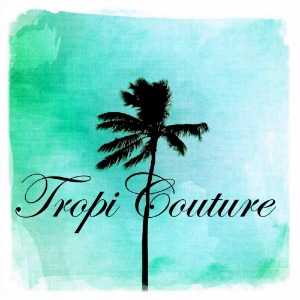 TED BAKER LIFTS OFF IN HOUSTON'S GALLERIA MALL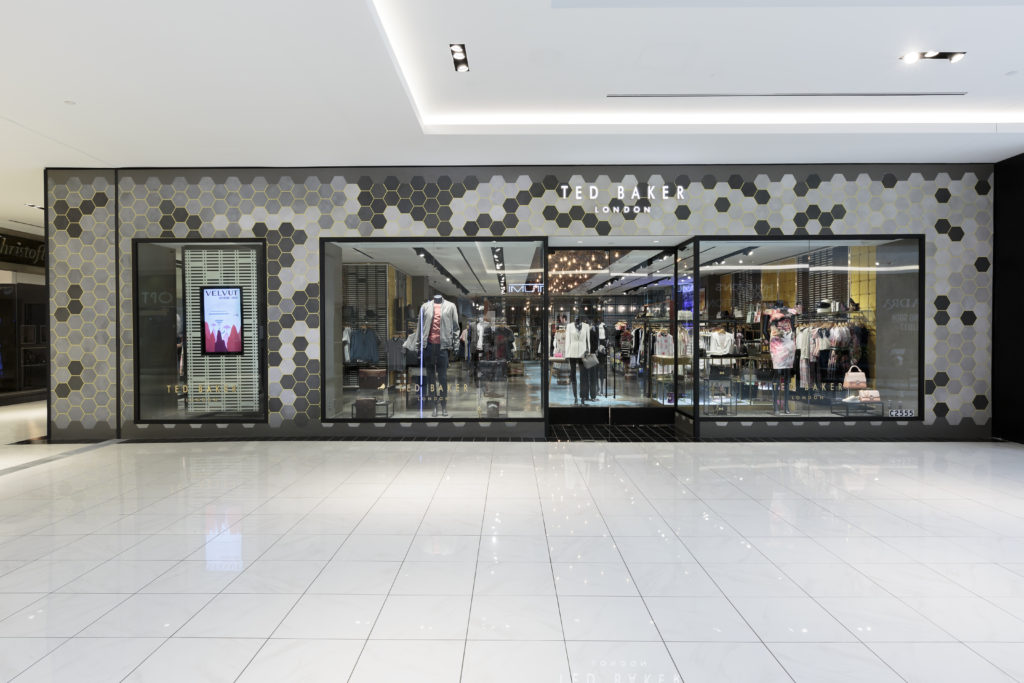 British lifestyle brand Ted Baker London is launching into orbit with its new store located at The Galleria, Houston's prestigious shopping center.
This stellar store is inspired by local Houston heritage and the National Space age of the 1950s, a time renowned for rapid developments of technology and design.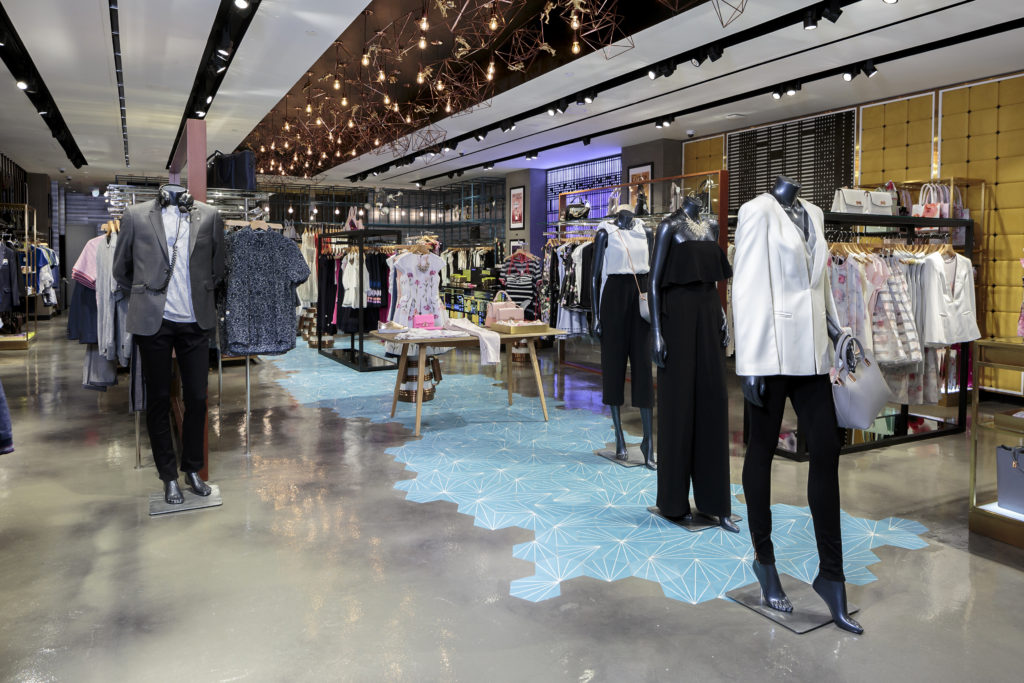 Ted's latest location boasts 1,898 square feet of retail space and includes nods to Britain's role in the space race era with a modern twist. A bespoke light display featuring small hanging astronauts will illuminate the celestial details of the space. Intergalactic wallpaper transports customers into the cosmos while clever light boxes replicate a launch pad for Ted's very own space vessel.
Additional spaceship facets are integrated uniquely throughout, which serve to make shoppers and passersby feel as though they have entered Ted's quintessentially British galaxy.
The store emerges with Ted's immaculate Spring Summer 2017 womenswear, menswear and accessories collections. During opening weekend customers will enjoy galactic giveaways, treats and a bespoke gift with threshold purchases while visiting the new store.
photos courtesy of Ted Baker
FEATURED DESIGNER–DAMARI RUBIO
Meet Native Houstonian, Damari Rubio, whose designs have been influenced by her travels and the essences of a modern women mixed with old school fashion. She has collaborated with designers, Merus Merus and Steve Guthrie.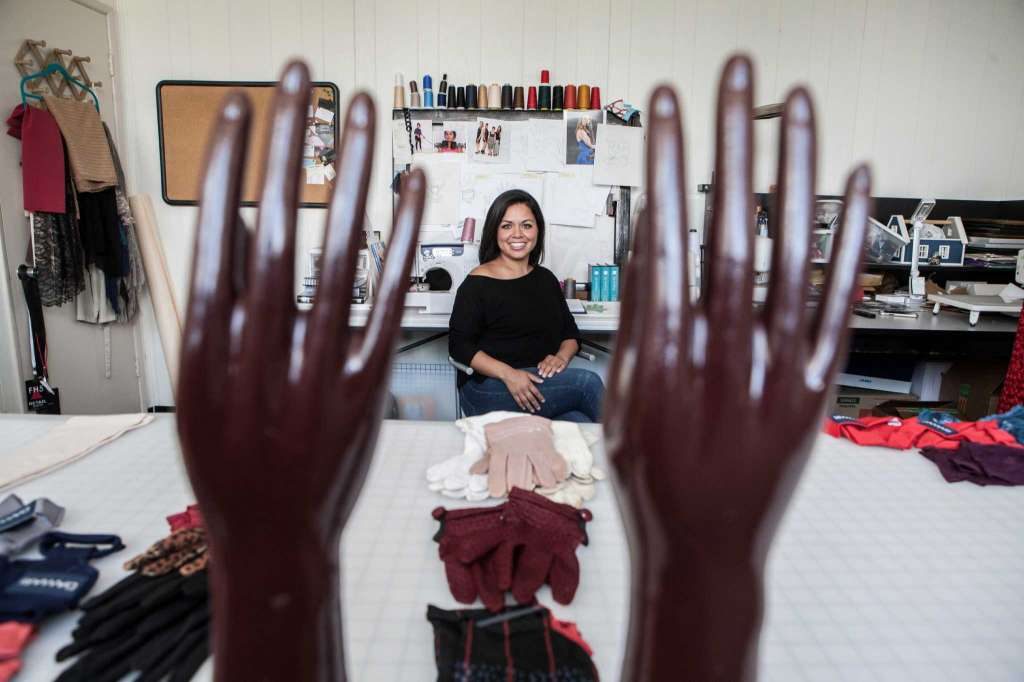 photo credit: Houston Chronicle
Tell me a little history & how you came to be in design. I use to be in the hospitality world representing an amazing hotel. In my travels, I would being back gifts to my sisters and as a result of vintage shopping, the love of gloves became part of me. I've always loved fashion. My amazing mother taught me how to sew at a young age. I also took some leisure classes at HCC fashion department.
What's your approach when it comes to working with a new concept or client? New concepts are always exciting. It's either going to challenge me or open a market that I didn't know about. My clients are the reason I continue to do what I love. It's all about their needs and their suggestions.
Biggest accomplishment to date: Being approached by major stores. Building those relationships will come in handy pretty soon.
Favorite moment of designing in 2016: Testing out my redesigned workout glove. It's my favorite part because they look better, and most importantly, they are well-designed for its purpose.
Plans for 2017: Cleaning up my social media and finally my product being available in Houston boutiques.
FEATURED DESIGNER:
STEVE GUTHRIE

What happened in 2016 that you're particularly proud of?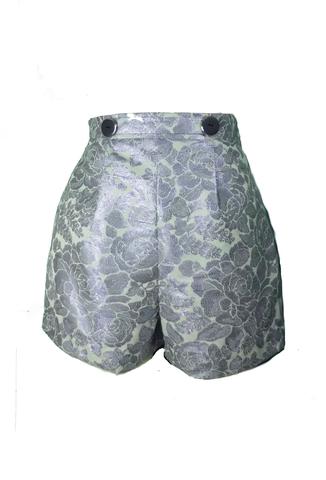 We had a successful year after launching on Black Friday 2015.  It was particularly successful because I broke my right leg (think standing, driving, AND sewing).  I was out of commission for four months.  As a small business, just starting it was a very scary event, but we popped right back into full play in June of 2016 and enjoyed some great support from the media, art and retail communities.  
Describe your approach when working on a new piece?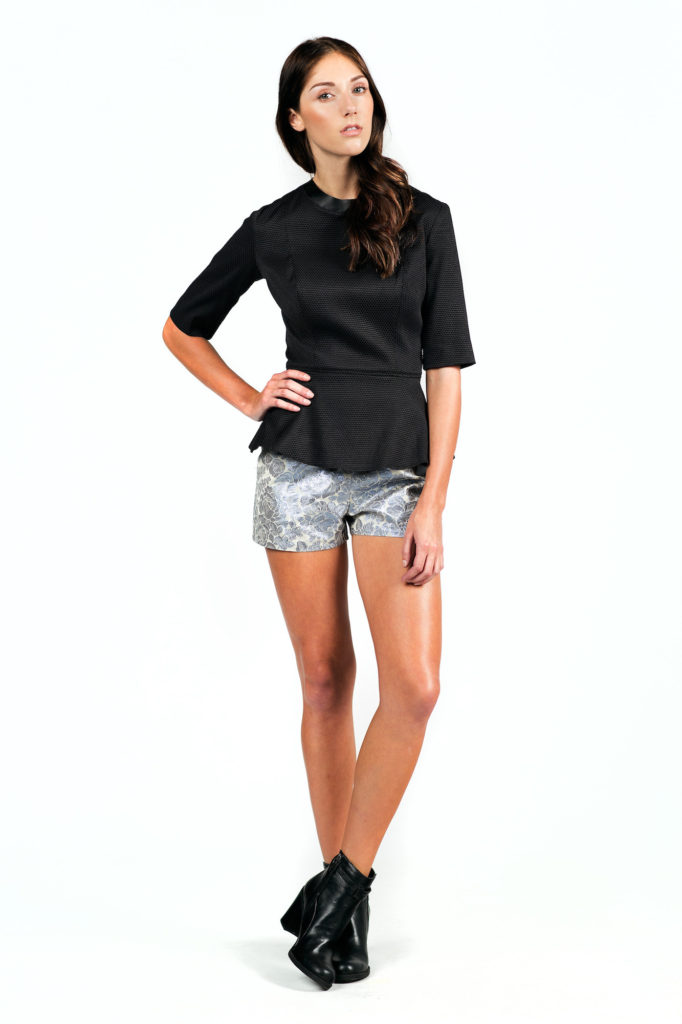 I'm an educator so I'm pretty linear in my design effort.  Plus as a fashion design graduate student, they drill into you a process for creating designs.  I collect inspiration all the time.  Whether it's a silhouette that I keep thinking about that I love (men's or women's), a textile that I am drawn to at a certain point in time, or even genre-based influences such as movies, art or music. 
When I get to the sketching table, I tend to have more than enough foundation to start creating, but I also study trend forecasts and reports.  Even though I teach this at Houston Community College (HCC), I can't express how important this is for any designers.  Doing this allows me to streamline the collection or how the pieces might work together to be successful on a retail level. Design is nothing if you can't sell it (at least if you are doing it for a living).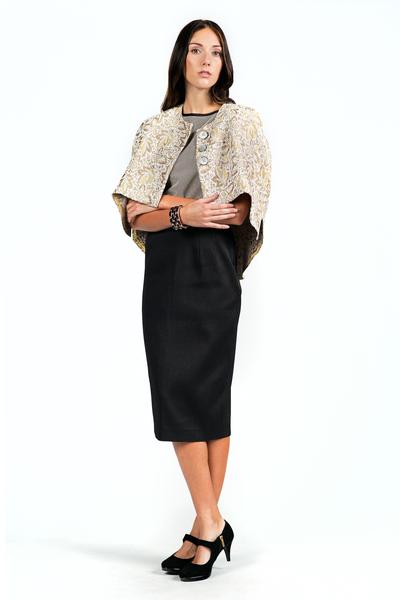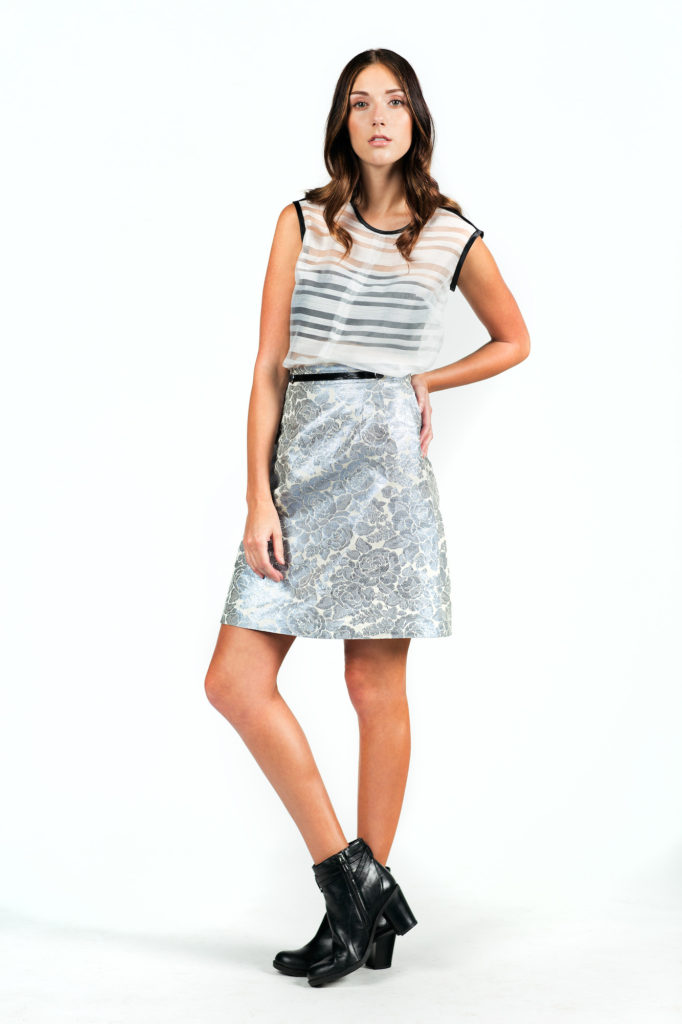 Favorite textiles/ materials to work with & why?  
I love working with texture.  So jacquards, chenille – wovens in general are my favorite to work with.  For me, texture helps make the garment 3D without a person wearing it.  Fashion is 3D art and I think it's important to explore that.  In school, I always loved draping, in particular ruching and pleating because it allowed the garment to take a shape of its own.  The same applies to woven textiles at times.
Describe your client you design for?  
I try to design silhouettes that are for any woman.  Though not all clothes look good on all people, women should have the option of choosing items that are not just made for models.  This past year we spanned the age range – meaning we had very young women shopping with us.
The woman I envision when I create is an independent, creative type who likes to travel, is philanthropic, and loves art and fashion.  She lives in a metropolitan area such as New York, Dallas, Houston or San Francisco.  It's important to note that this line was specifically started to meet the needs of Houstonians.  The textiles are purposely chosen because they look robust, but are actually thin and breathable.  I want women in Houston to be able to wear items that look like they are in New York (cooler climate) but that don't create the heat that we definitely don't need here in Houston.  So the jacquards you see from Fall 2016 are actually wearable for Fall and Spring here in Texas.
Talk about your work at HCC:
I've been in the HCC fashion department for about 5 years.  It has been one of the most wonderful experiences for me.  My students are from both the fashion design and fashion merchandising programs since I teach in both arenas.  And to be honest, they keep me excited about fashion, culture and Houston.  Each semester is new.  Meaning, that the group, including their backgrounds, goals, personalities, and skill change.  So each semester I get to learn as much from them and what they are seeing and experiencing in the fashion world or just even in their own lives, as they learn the basics from me.  It's inspiring and humbling.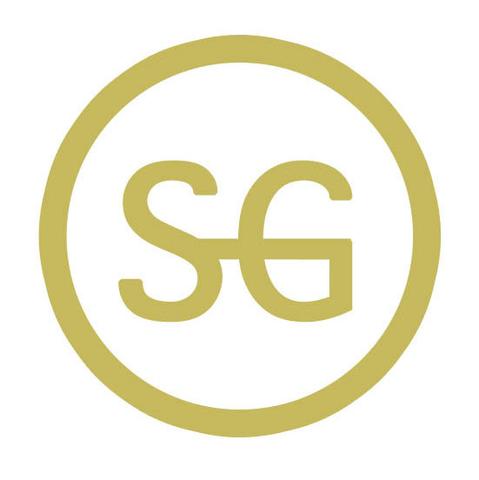 Plans for 2017: 
I have signed on with SpaceHTX and am looking forward to growing the brand and its reach this year.  I'm also looking at continuing to refine the collection from the feedback we got in the previous season.  As well, I am continuing to partner with local artists,  designers and retailers to show that Houston is a formidable city for the arts in general. 
For more information on Steve Guthrie, go to www.steveguthrie.com.
photos courtesy of Steve Guthrie
GET YOUR TRENDS ON FOR 2017
Finding your style for 2017's Spring/Summer fashion is easy to do by embracing a new approach where a jump back to previous decades from the '70s through the '90s is possible to even a futuristic edge.  Comfort, fluidity and pops of color with florals and stripes are evident along with lace, draping and acceptance of a wide variety of dresses.
Must-haves include pantsuits, Logos, Messages, high-rise pants, White shirts, AthLuxury wear, bare shoulders, florals, stripes, denim, gingham, leather. Accessories range from a Summer Bootie to ankle strap shoes, oversized earrings and the pendant necklace.
Parry Botanicals Announces the Release of Three New Products to Their Popular All-Natural Skin Care Line 
The popular all-natural skincare company, Parry Botanicals, announced three new products to their line. They will now offer a Botanical Cleanser, a Vitamin C Serum and a 3-piece gift set.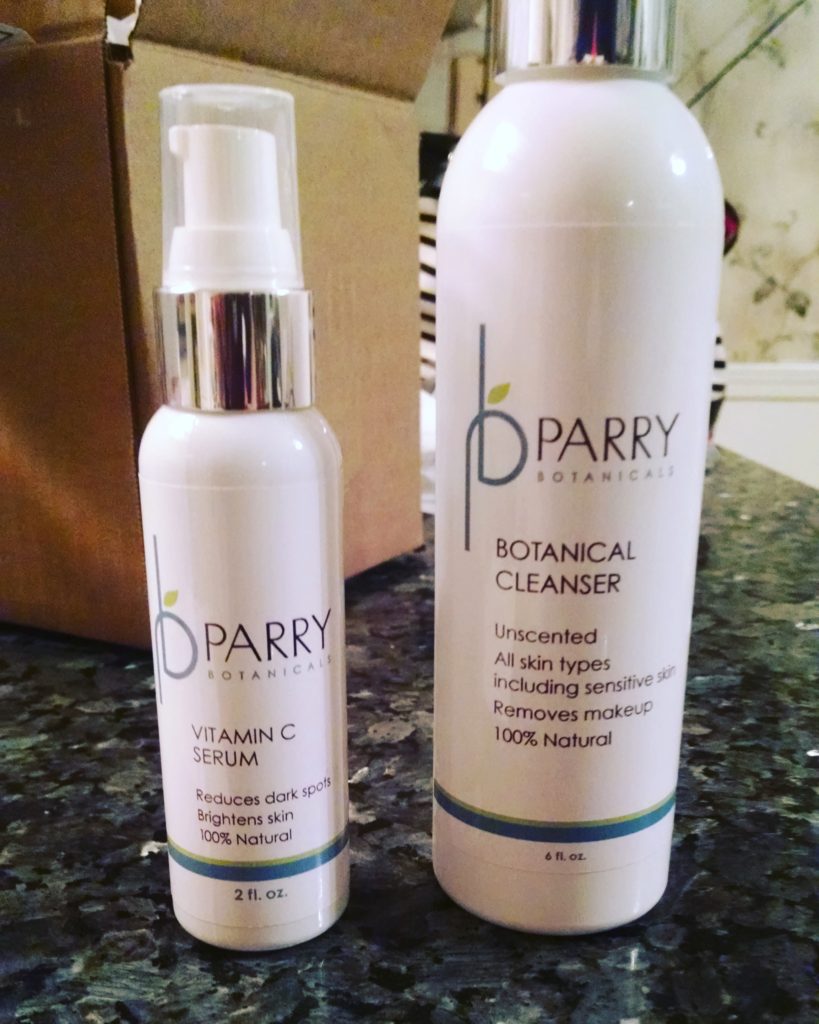 The new additions will join the already successful Parry Botanicals' trio of lotions – the Restorative Cream, Body Cream and Pure Botanical Lotion.
Parry Botanicals got its start over a decade ago when owner/founder, Elizabeth Parry, was diagnosed with a number of food and environmental allergies that forced her to reevaluate everything she was consuming and applying to her body.
Armed with her own personal experience, Parry decided to create her own line to help others with similar skin allergy issues or searching for truly all-natural products. Parry Botanicals prides itself on developing products are gentle enough for anyone, including babies' sensitive skin. The line is fragrance-free, environmentally friendly and uses only natural ingredients.
"Our lotions have been met with such a positive response that we wanted to add more all-natural products to the line. One of the most frequent questions we get is, "Where's the cleanser!" explained owner/founder Elizabeth Parry. "Formulating a cleanser tricky because you want people to feel fresh and clean, but don't want to use harsh chemicals that strip your skin. Ultimately, I think we struck the perfect balance of effective yet all-natural. I also love the soothing effect it has on my skin."
With the Vitamin C Serum, Parry wanted to provide an anti-aging product that went beyond regular use of the Restorative Cream. "What I love most about the serum is how high of a concentration we have all the while being extremely gentle and non-irritating. Also the antioxidants! I love knowing I'm stimulating new collagen with every application. I find my skin to be brighter and dark spots have faded. In fact, I am no longer using foundation at all thanks to the Vitamin C Serum."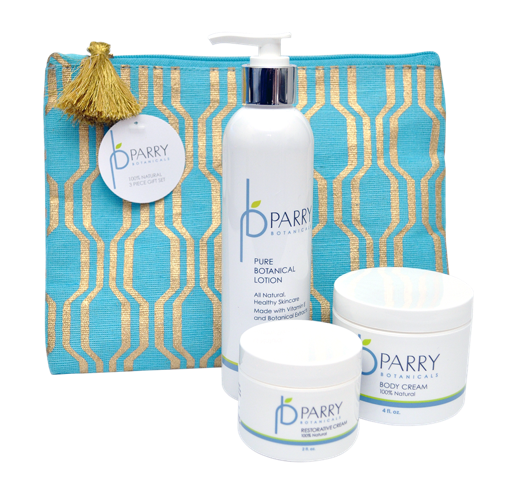 The gift set was a "no brainer" stated Parry.
"Since our different lotions are at various levels of viscosity, we noticed people were buying all three to create their own complete moisturizing tool kit. Putting all three together in a stylish bag not only saves our clients a bit of time and money, but it also makes a fantastic gift for friends and family. Plus, they are full-size lotions, not small samples you'll run out of quickly," added Parry.
Parry Botanicals products can be purchased at www.parrybotanicals.com and in select Texas and North Carolina retailers including Bering's Hardware, Lemon Peel Facial and West University Wellness.