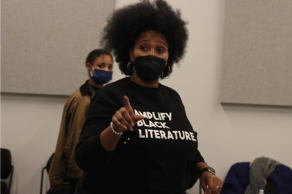 Houston Talent Comes Together to Tell Story of Nation's First Black Prima Ballerina
Plumshuga: The Rise of Lauren Anderson at Stages Theatre on Oct. 13 through Nov. 13, 2022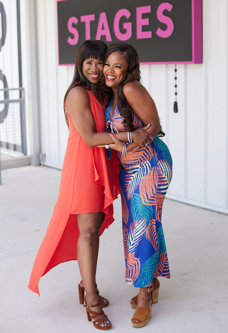 Houston is an incubator for some of the world's most notable talent, so it's no surprise the powerful and personal story of the first Black prima ballerina in a major ballet company connects three of H-town's accomplished female artists.
Lauren Anderson's unprecedented advancement to principal dancer with the Houston Ballet is the subject of a new play, Plumshuga: The Rise of Lauren Anderson.
The play was written by Houston Poet Laureate Emeritus and master storyteller Deborah D.E.E.P. Mouton, while accomplished actress and songstress DeQuina Moore brings the story alive as she transforms herself into Lauren.
Plumshuga offers a compelling account of Lauren's struggles and triumphs with lots of music, dance, powerful poetry and superb acting. Through her portrayal, DeQuina takes the audience through some of Lauren's darkest moments and toughest battles while honoring the dancer's phenomenal talent and indomitable spirit.
DeQuina Moore has appeared on Broadway in Legally Blonde, Little Shop of Horrors, Two Gentlemen of Verona, and Hair, and has toured nationally in Summer, The Bodyguard, Flashdance, Things Your Man Won't Do, Madea's Big Happy Family, and Happy Days. Film, movies, and TV appearances include: One Crazy Christmas, Joyful Noise, The Last New Yorker, Law & Order: SVU, Third Watch and many more. She is a graduate of HSPVA and the NYU/Tisch School of the Arts.
BIO BACKGROUNDS
LAUREN ANDERSON, ADVISOR Native Houstonian Lauren Anderson danced with Houston Ballet from 1983 to 2006, performing leading roles in all the great classical ballets, appearing across the world to critical acclaim, and in the process, becoming one of Houston Ballet's most beloved stars. In January 2007, Anderson assumed her new role in Houston Ballet's education department where she teaches ballet classes at Houston Ballet's Ben Stevenson Academy, conducts master classes at area schools, and lectures to students on dance and her historic career as one of America's most distinguished African-American ballerinas.
She trained exclusively at Houston Ballet's Ben Stevenson Academy from the age of seven. She joined Houston Ballet in 1983 and in 1990 became the first African-American to be promoted to principal dancer at Houston Ballet – and one of the few African-American ballerinas at the head of a major ballet company anywhere in the world. In addition, Anderson received the Special Jury Award at the 1990 International Ballet Competition as well as the International Critics Award in Chile. Ms. Anderson has performed across the globe as a guest artist. For more information visit www.laurenandersonofficial.com.
DEBORAH D.E.E.P. MOUTON, PLAYWRIGHT Deborah D.E.E.P. Mouton is an internationally-known writer, educator, activist, performer, and the first Black Poet Laureate of Houston, Texas. Formerly ranked the #2 Best Female Performance Poet in the World, Her recent poetry collection, Newsworthy, garnered her a Pushcart nomination, was named a finalist for the 2019 Writer's League of Texas Book Award, and received honorable mention for the Summerlee Book Prize. The opera, Marian's Song, for which she wrote the libretto, debuted in 2020 to roaring reviews.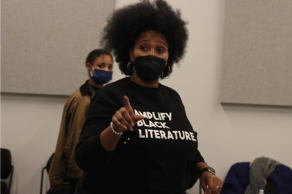 Honored by Houston Business Journal as a part of their 2021 40 Under 40 class, D.E.E.P. has been a finalist for Texas State Poet Laureate, a Kennedy Center Citizen fellowship, and the prestigious Breadloaf Retreat, her work has been highlighted and studied in Canada, England, New Zealand, and Germany. She recently performed as a part of the Kennedy Center's Arts Across America, virtual performance and was named a Houston Artist Commissioning Project award winner by the Society for the Performing Arts Houston. Her second book, Black Chameleon is set to release in 2023 by Henry Holt & Co. A storybook opera, entitled "Lula, the Mighty Griot", which reinterprets one of the stories from Black Chameleon is set to debut in Fall 2021 with the Houston Grand Opera. She lives and creates in Houston, TX. For more information visit www.LiveLifedeep.com
STANTON WELCH, CHOREOGRAPHER In July 2003, Australian Stanton Welch assumed leadership of Houston Ballet, America's fifth largest classical ballet company. Since he took the helm of the company, Mr. Welch has revitalized Houston Ballet, bringing in new dancers, commissioning new works, and attracting a top-flight artistic staff. Mr. Welch has created works for such prestigious international companies as Houston Ballet, San Francisco Ballet, American Ballet Theatre, The Australian Ballet, Birmingham Royal Ballet and The Royal Danish Ballet.
Mr. Welch was born in Melbourne to Marilyn Jones, O.B.E., and Garth Welch, A.M., two of Australia's most gifted dancers of the 1960s and 1970s. In 1989 he was engaged as a dancer with The Australian Ballet, where he rose to the rank of leading soloist, performing various principal roles. He has also worked with internationally acclaimed choreogra­phers such as Jiří Kylían, Nacho Duato, and Maurice Béjart. In 1995, Mr. Welch was named
resident choreographer of The Australian Ballet. For his contributions to the world of dance, he was awarded the Order of Australia (AM) in June 2015. For Houston Ballet, he has choreographed more than twenty works including a new full-length narrative ballet Marie (2009), inspired by the life of the legendary Marie Antoinette and spectacular stagings of Swan Lake (2006), La Bayadère (2010), Romeo and Juliet (2015), and Giselle (2016), and most recently premiered his opulent new production of The Nutcracker.
HARRISON GUY, CHOREOGRAPHER Harrison Guy has captivated audiences across the nation through his inspirational and unique works of passion, beauty, and activism that are rooted in African American history & culture. He began his dance journey in the small town of La Marque, TX, and building on his love for social dance and Hip-Hop he affirmed his purpose and calling by studying dance at Prairie View A&M University. He continued his studies at the Houston Metropolitan Dance Center, Sam Houston State University, Deeply Rooted Productions in Chicago, Dallas Black Dance Theater, and The Ailey School in New York.
He was a founding member of both Exclamation Dance Company and Dorrel Martin's Dance Fusion in Houston. In 2004, he debuted his dance company Urban Souls Dance Company at the city-wide dance festival, Dance Houston. Harrison has gained a reputation for creating soul-stirring works that shift the consciousness of the audience and inspire response. He has facilitated a cultural exchange in Kigali, Rwanda, and was commissioned to create a work at Vanderbilt University in the Spring of 2015 to honor one of America's most prominent composers, John Harbison. In 2016 he launched Houston's first African American Dance Festival and he has also founded Black Arts Movement Houston, a gathering space for local creatives and Brave Bodies a space dedicated to Black dancers.
Harrison is the inaugural Artist in residence at Rice University through the CERCL Department where he is presenting a project for Black students and community called Black Bodies in White Spaces. He has won numerous awards which include Best Choreography for his work as Movement Director with Rec Room's presentation of The Royale. He is the Founder of the Charles Law Community Archive through the Black LGBTQ History & Heritage Project with the African American Library at The Gregory School. Guy has been teaching dance for 18 years and serves as the Director of Arts and Culture at the Fifth Ward Community Redevelopment Corporation.
JASMINE BARNES, COMPOSER Jasmine Arielle Barnes is a promising composer/vocalist who has performed and has had her music performed all over the world. She is a multifaceted composer who embraces any writing style of music using a variety of instrumentation and specializes in writing for the voice. A full time composer, Barnes has held residencies as a composer fellow at Chautauqua Opera 2021 season, as well as a residency with All Classical Portland. She has held the privilege of being commissioned by numerous organizations such as The Washington National Opera (in celebration of the Kennedy Center's 50th year anniversary), Bare Opera, Resonance Ensemble, Tapestry Choir, City Works Cleveland, LyricFest Philadelphia, Baltimore Choral Arts, Burleigh Music Festival, Symphony Number One, Baltimore Musicales, The Voic(ed) Project , amongst others.
Jasmine is beginning to be noticed for her work. Her 10 minute opera entitled "The Late Walk" commissioned by Bare Opera as a part of the Decameron Opera Coalition has been archived in the Library of Congress. She was named a winner of the Black Brilliance award by The Pleiades Project , recognized as the Gwendolyn J Brinkley Fine Arts First Place Award Winner of Alpha Kappa Alpha Sorority, Inc. South Central Region 2021, and named a finalist of All Classical Portland's Recording Inclusivity Initiative. Outside of commissions, her work has been performed by numerous High Performing Artists and Organizations such as Fresno Philharmonic Orchestra, Portland Opera, Tulsa Opera, Hampsong Foundation ( at the Elbphilharmonie), Tennessee State University Meistersingers, University of North Iowa, University of Memphis, Indiana University (graduate song literature class), Karen Slack, Leah Hawkins, Leonna Mitchell, Marquita Lister, Gabrielle Gilliam, Alexandria Crichlow, Christian Simmons, among other established artists and organizations. Jasmine is not only a composer/vocalist, but an educator. She is the Head of Compositional Studies and Jazz Voice Studies at Booker T Washington High School for the Performing and Visual Arts in Dallas, TX.
DEQUINA MOORE, ACTOR PLAYING POET LAUREN DeQuina Moore is a renowned actress, vocalist and dancer from Houston, Texas. She has appeared on Broadway in Legally Blonde, Little Shop of Horrors, Two Gentlemen of Verona, and Hair, and has toured nationally in Summer, The Bodyguard, Flashdance, Things Your Man Won't Do, Madea's Big Happy Family, and Happy Days. She has also been in the film version of Madea's Big Happy Family, as well as One Crazy Christmas, Joyful Noise, Ghost Town, The Last New Yorker, Rachel Getting Married, Camp,and Broadway: The Movie. TV roles include O'Shea, 5th Ward, Law & Order: SVU, Racing For Time, Third Watch, and All Falls Down. Some favorite regional and NY theatre credits include: The Color Purple, Single Black Females, Lady Day At Emerson's Bar And Grill, Josephine Tonight, Chasing the Song, Charlie & The Chocolate Factory, The Me Nobody Knows, Beehive, and Tina Girlstar. DeQuina has made special performances at the Tony Awards, NASDAQ, The View, The David Letterman Show, The Today Show, for the KC & The Sunshine Band Tour, and sang the national anthem at several NBA, NHL, and MLB games, as well as the Houston Livestock Show & Rodeo. She is a graduate of HSPVA and the NYU/Tisch School of the Arts.
ABOUT STAGES
In January 2020, Stages opened their new $35.4 million home, The Gordy, ushering in a new era for this iconic Houston institution. Founded in 1978, Stages presents a broad scope of plays and musicals in an intimate setting, generating critical acclaim and creating a devoted community of patrons and artists who share a true sense of engagement, inclusion and connection.
For more information visit www.stageshouston.com.