National Bobblehead Hall of Fame and Museum offers Houston Astros 2017 World Series Champions for Preorder
For the first time in franchise history, the Astros will be honored with the World Series Champions bobbleheads.
In what has become an annual tradition that has taken place for over 15 years, the 2017 World Series Champions will have limited edition bobbleheads made in their likeness.
The World Series Champion bobbleheads feature each player and team mascot, Orbit, holding a replica of the World Series Trophy.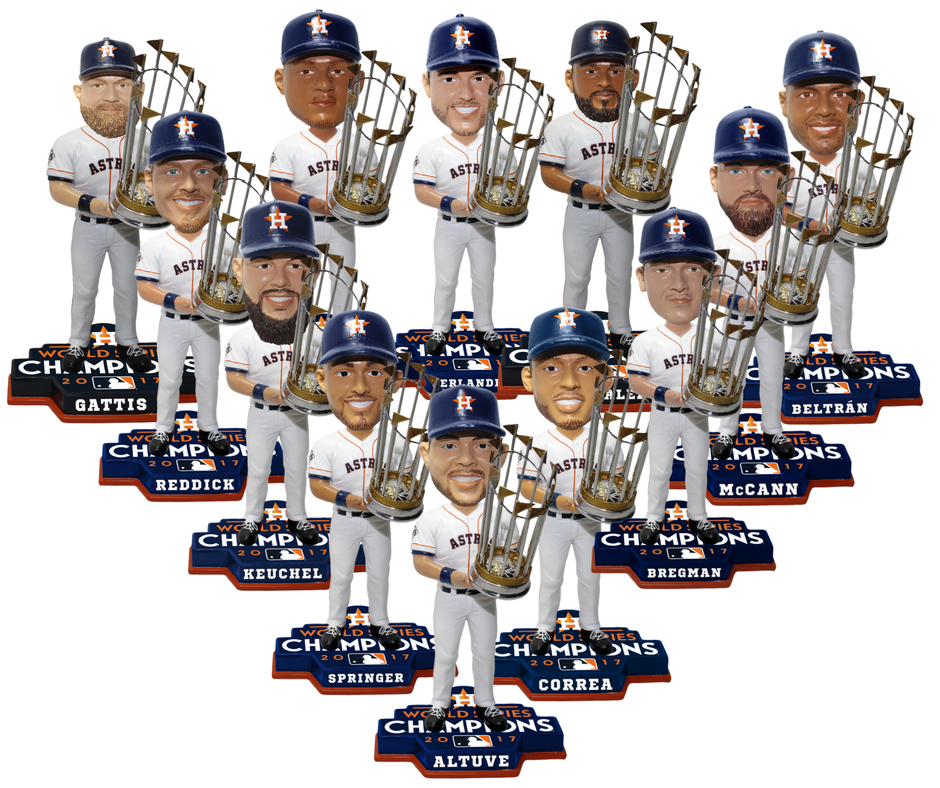 A bobblehead will also be produced of World Series MVP, George Springer, holding the MVP Trophy in addition to a set of mini bobbleheads featuring Carlos Correa, Jose Altuve, George Springer and Dallas Keuchel in action poses. Three-foot tall bobbleheads of Carlos Correa, Dallas Keuchel, George Springer, Jose Altuve and Orbit are being produced as well.
These will be the first World Series bobbleheads ever produced for the Houston Astros, who defeated the Los Angeles Dodgers in Game 7 to capture the 2017 World Series Championship.Keuchel) – approximately 3.5″ each.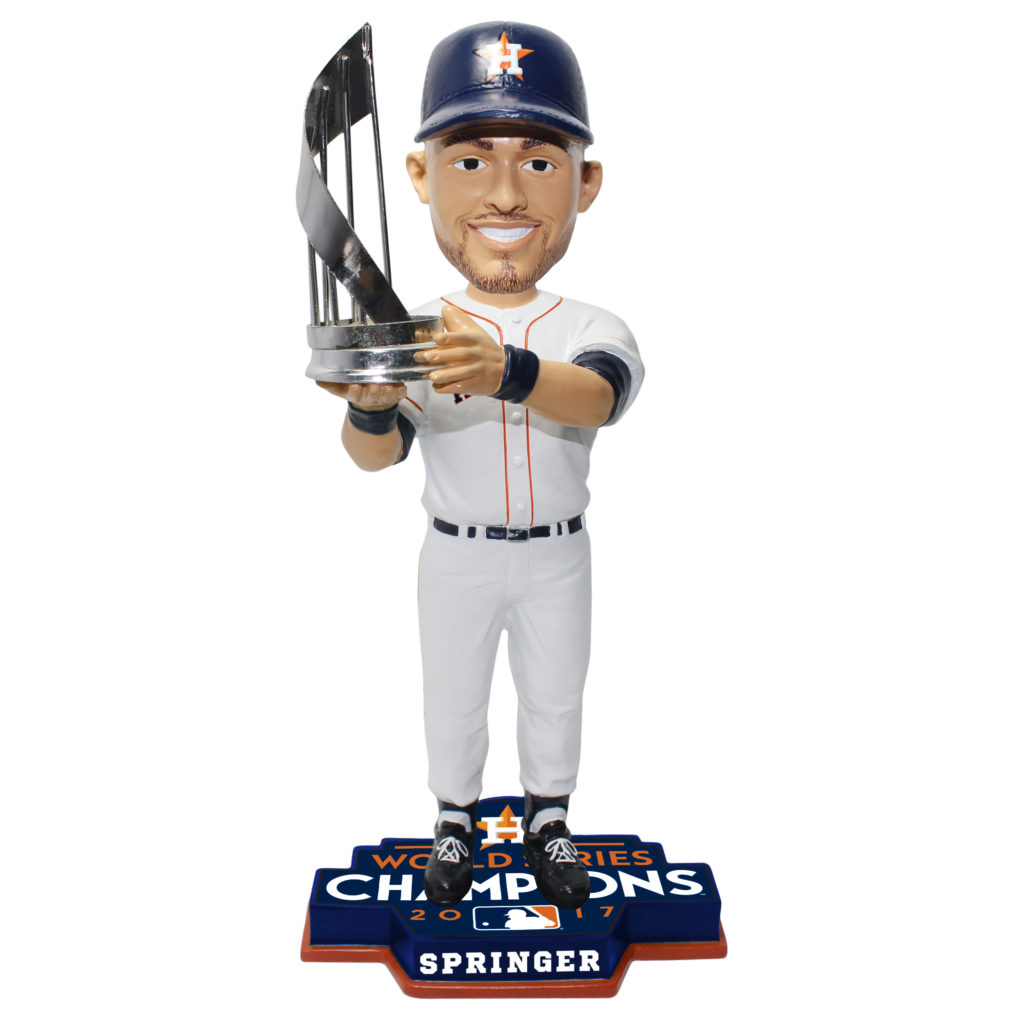 The bobbleheads are going into immediate production. The trophy bobbleheads and mini set of 4 are scheduled to ship in Mid-December, making them a perfect holiday present for any Astros' fan.
Bobbleheads with an asterisk as well as the 3-foot bobbleheads are expected to ship by April 2018.
"Bobbleheads are the perfect way for fans to commemorate a World Series Championship," said Phil Sklar, Co-Founder and CEO of the National Bobblehead Hall of Fame and Museum. "Astros fans will be able to relive this magical season forever with these bobbleheads, which will become cherished collectibles for Astros' fans of all ages."
The trophy bobbleheads are $30 each, the MVP bobblehead is $40, the mini set of 4 is $50 and the 3-foot bobbleheads are $800. Fans can order the complete set of regular sized and mini bobbleheads for $450. Shipping is a flat rate of $8 regardless of the number of bobbleheads purchased. All bobbleheads were produced by Forever Collectibles.
"We strongly encourage people to pre-order their Astros World Series bobbleheads during the presale to ensure they don't miss out," said Brad Novak, Co-Founder and President of the National Bobblehead Hall of Fame and Museum. "A limited number of each bobblehead will be produced, and fans who don't act now may miss out."
The National Bobblehead Hall of Fame and Museum also released an exclusive 2017 World Series Vintage Bobblehead in mid-October. That bobblehead, which is only available in the National Bobblehead HOF Online Store is in stock, limited to only 216 and costs $25.
DETAILS TO KNOW:
Expected to ship in December 2017 (unless noted)
Bobbleheads are high quality and produced by Forever Collectibles
Limited Edition
The standard bobbleheads are approximately 8″ tall and the mini bobbleheads are 3.5″ tall
The Set of 21 includes all 15 regular sized players, the George Springer MVP, Orbit the mascot and the Mini Set of 4 bobbleheads. You will receive two shipments—the first in December 2017 and the second in March 2018 when the final bobbleheads in the set arrive.
To order, go to https://store.bobbleheadhall.com/products/astros?variant=183203725319. 
About the National Bobblehead HOF and Museum:  The National Bobblehead Hall of Fame and Museum was announced in November 2014. The HOF and Museum hosted a Preview Exhibit in 2016, and is currently planning for a permanent location, which is expected to open by the end of the year. Visit at www.BobbleheadHall.com, www.facebook.com/BobbleheadHall or www.twitter.com/BobbleheadHall.