Houston Restaurant Weeks Presents Check for $ 1,240,811 to Houston Food Bank
Houston's most anticipated foodie event of the year, Houston Restaurant Weeks (HRW), produced by The Cleverley Stone Foundation, announced today that the 2022 donation to the Houston Food Bank is $1,240,811. Since its inception in 2003, HRW has donated more than $18.8 million to the Food Bank, which has allowed them to supply 56.4 million meals to those who are food insecure.
The 20th annual HRW is set for August 1st through Labor Day, September 4th, 2023.
"The Houston Food Bank is again honored to be the beneficiary of Houston Restaurants Weeks, and work with Katie Stone to help carry on the legacy of her cherished mother Cleverley Stone," says Brian Greene, President & CEO of the Houston Food Bank. "This unique event in many ways supports both restaurants and the communities we call home."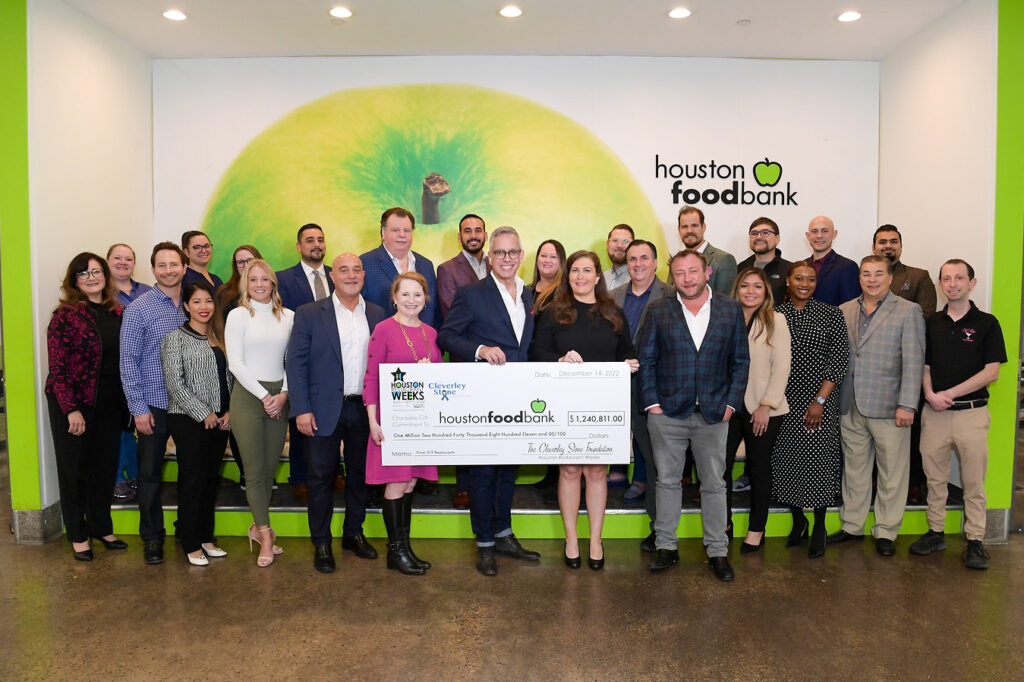 Benjamin Berg's B&B Butchers remains the top HRW contributor since they opened in 2015, with a notable donation this year of $61,940.
Additional top restaurant participants include:
B&B Butchers $61,940.00
Brennan's of Houston $35,850.00
Traveler's Table $25,908.00
MAD Houston $25,326.00
Trattoria Sofia $25,104.00
Eddie V's Prime Seafood – City Centre $22,032.00
Étoile Cuisine et Bar $19,222.00
Le Colonial $19,126.00
Mastros $18,036.00
Pappas Bros. Steakhouse – Downtown Houston $17,160.00
ABOUT THE FOUNDER & THE CLEVERLEY STONE FOUNDATION
Houston Restaurant Weeks (HRW) was established in 2003 by 26-year restaurant correspondent and philanthropist Cleverley Stone, former host of "The Cleverley Show," a talk show about food, wine and dining on CBS Sports Radio 650/KIKK-AM and former food segment contributor to Fox 26/KRIV Morning News in Houston.
To date, HRW has donated over $18.8 million to fight hunger in Houston, providing over 56.4 million meals for those who are food insecure. The Cleverley Stone Foundation now exists to continue her mission and legacy by supporting Houstonians in need by producing Houston Restaurant Weeks, benefiting the Houston Food Bank, and the second annual, Eat Drink HTX, benefiting the Houston Food Bank and Children at Risk.
Photo: Michelle Watson