HMNS reopens Lester & Sue Smith Gem Vault with New Treasures After Renovation
After a two-month renovation, the Lester & Sue Smith Gem Vault at the Houston Museum of Natural Science (HMNS) is now reopen with numerous new faceted gems, breathtaking jewels and astonishing clusters of gem crystals now on display.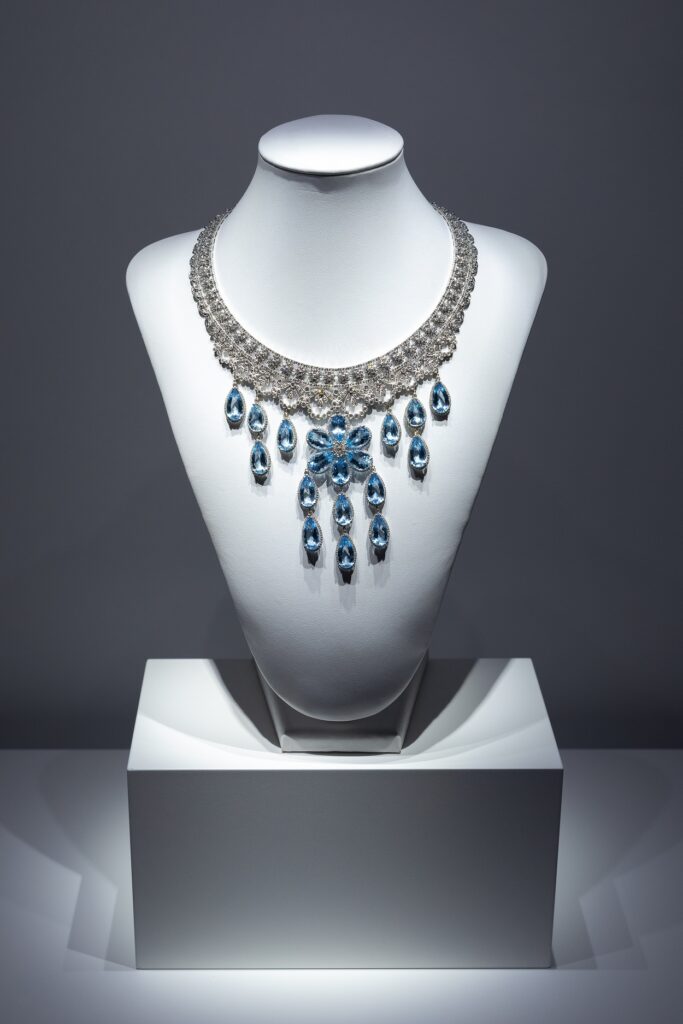 From the Kashmir region of northern Pakistan comes the recently acquired Ann Hamman Aquamarine, which weighs more than one million carats, accompanied by stunning aquamarine jewelry made from rough aquamarine gems (discovered concurrently). The gems were fashioned into an elaborate, magnificent necklace by Valobra Master Jewelers and donated to the Museum by Franco Valobra.
The multi-million carat Ann Hamman Aquamarine, also known as the "King of Kashmir," is a shimmering crystalline colossus and is widely regarded as the finest known natural mineral crystal group ever found. Because its discovery required several geochemical, natural, and logistical miracles, it is believed that a find of this magnitude is unlikely to occur again.
Discovered within the mountains of Kashmir, a prolific gemstone-producing region in northern Pakistan, the 440-pound beauty was discovered by intrepid mountain climbers, who traversed rocky cliff edges and braved forbidding mountain passages, in order to reach the remote crystal clefts that held the prized crystals for millions of years. Then began the arduous, months-long extraction process, executed in cramped conditions and in harsh climates necessary to retrieve the stunningly beautiful mineralogical masterpiece.
"We're thrilled to be able to unveil the Ann Hamman Aquamarine for the people of Houston," said Joel Bartsch, president and CEO, and curator of gems and minerals for HMNS. "It reinforces the fact that Mother Nature is the ultimate jeweler, and seeing its icy blue crystals in person will quite literally leave you speechless. The hardest thing for people to get their mind around is that the piece was formed and found just exactly as you see it here today. Because of the stunning blue color and the lustrous crystalline perfection, people often ask, 'who made it?'—which now that I think of it, is more of a theological question than a scientific one."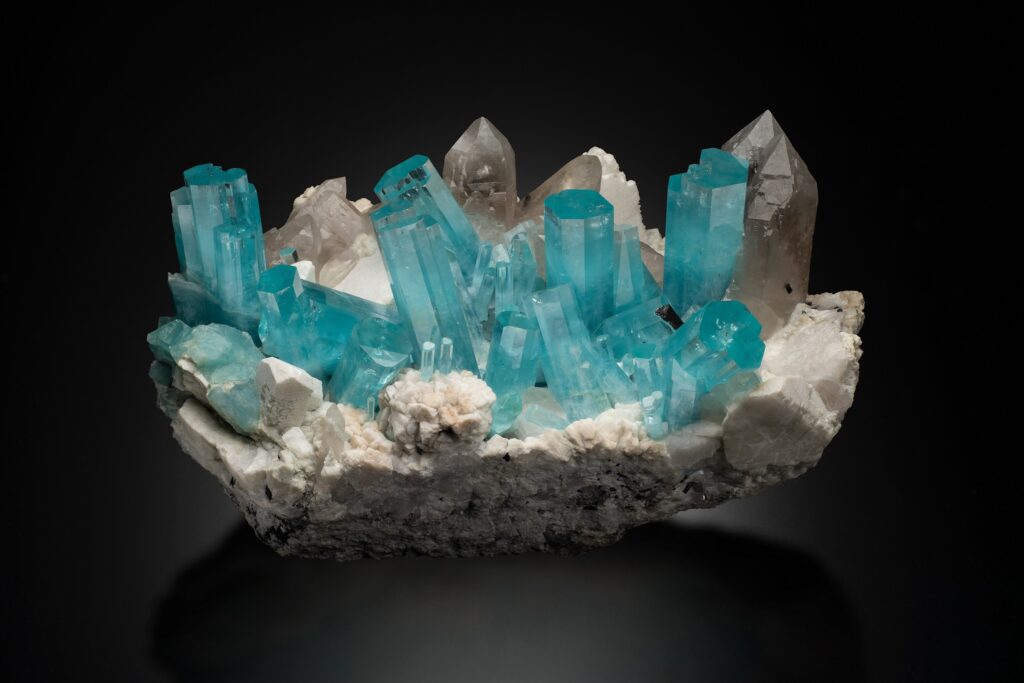 Other recent acquisitions on display in the revamped Lester & Sue Smith Gem Vault include an attractive array of bejeweled baubles, gigantic gemstones and colossal crystals that seemingly float delicately in space, radiating intense colors and a dazzling array of reflections. For example, the Siren of the Serendip entrances onlookers with its mesmerizing royal blue color. Hailing from an island of gemstones (Ceylon—now Sri Lanka), the Siren of Serendip weighs 422.66 carats and is the largest and finest blue sapphire in the world.
Another eye-popping piece, the regal, diamond studded Leuchtenberg Fabergé Tiara, has a rich history that accompanies it—the large diamonds that comprise it were presented to Empress Joséphine of France at her country estate by Tsar Alexander I of Russia, and were later fashioned into the present-day tiara by Fabergé.
Additional standout objets de lux featured in the newly re-opened Smith Gem Vault include three of the famed Fabergé Easter Eggs (from the McFerrin collection) and the Galaxy Opal, one of the world's largest and finest precious opals, originally found in the legendary opal fields of Australia.
Serving as a complement to the Cullen Hall of Gems and Minerals, which presents a collection of the rarest and most beautiful mineral crystals in the world, the Lester & Sue Smith Gem Vault will continue to showcase other jeweled masterpieces — including striking examples of diamonds, rubies, sapphires, emeralds, topazes, amethysts, alexandrite, and tourmalines — that forever glimmer and glow in gilded grandeur.
The Lester & Sue Smith Gem Vault reopens to the public on Friday, Nov. 11, with the Ann Hamman Aquamarine on display due to the generosity of several anonymous donors honoring Mrs. Ann H. Hamman. Entrance into the exhibition is included with general museum ticket hall purchase. Visit HMNS.org for tickets and information.
Photos courtesy of HMNS