Houston Foodies Can Celebrate World Series Fever
Find your favorite spot in Houston to eat, drink & honor our Houston Astros and their quest for the Ring!
Bagel Shop Bakery + New York Deli & Coffee Shop and New York Eatery: New York Deli & Coffee Shop and New York Eatery are offering some mouthwatering options for World Series celebrations! The hometown favorite is offering half-off Hebrew National Hot Dogs (full-price $6.50) throughout the series at their eatery and deli. Customers looking for something a little more on theme can stop into the bakery for their Instagrammable orange and blue dough swirled Astros Bagels! Bagel Shop Bakery's second location is at 5422 Bellaire Boulevard, Suite B, Bellaire, TX 77401. Photos by Bagel Shop Bakery & By Nicole Kestenbaum.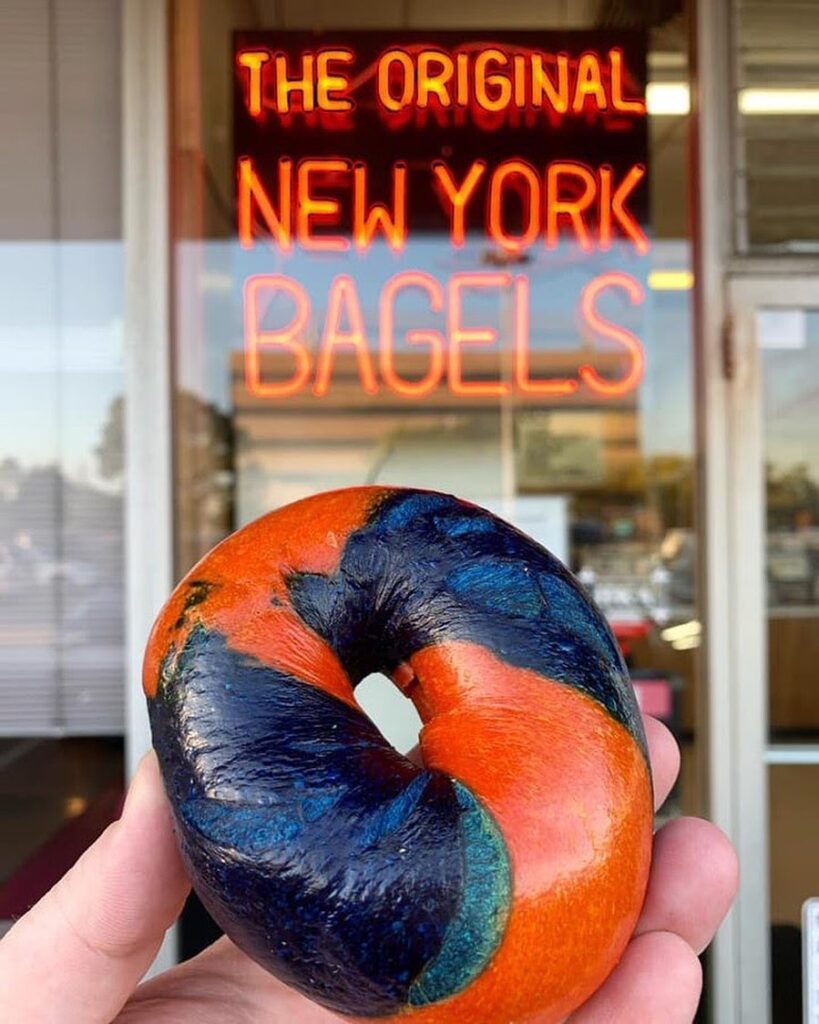 La Calle Tacos & Tortas: La Calle Tacos & Tortas is celebrating the Astros with themed cocktails and taco giveaways! The Mexican eatery will give away a free order of street tacos to the guest who guesses the final game score correctly for each game via the restaurant's scoreboard located at the Downtown and Bagby locations. Customers can choose to show their support with either the Astrorita, an orange Astros-themed margarita, or the Astrodoma, an orange Astros-themed Paloma made with mandarina Jarrito. Price for the Astrodoma cocktail is based on the tequila of choice, with house tequila starting at $8.99. Happy Hour prices will be offered during normal hours, Monday through Friday from 3 p.m. to 7 p.m. and when the Astros win, any dine-in customer wearing Astros gear will be offered one free street taco upon request—no purchase necessary! La Calle Tacos & Tortas will host a World Series Game 4 watch party alongside their inaugural Taco Eating Contest at their Midtown location on Tuesday, November 1 starting at 5:30 p.m. Competitors have a chance to win cash prizes, gift cards, and the title of the La Calle Taco Eating Contest Champion. La Calle has three locations: Bagby Park, at 401 Gray Street, Houston, TX 77002, Downtown, at 909 Franklin Street, Houston, TX 77002, and Greater Heights, at 3321 Ella Boulevard, Houston, TX 77018.
GJ Tavern, 737 Preston St .–Calling all Astros fans! GJ Tavern is offering their happy hour menu prices immediately following all Astros games. And if the game goes late, no worries! For late games, GJ Tavern will offer their happy hour prices from 9 until closing. This downtown hotspot is the perfect place to celebrate a big win! Photo by Michael Anthony.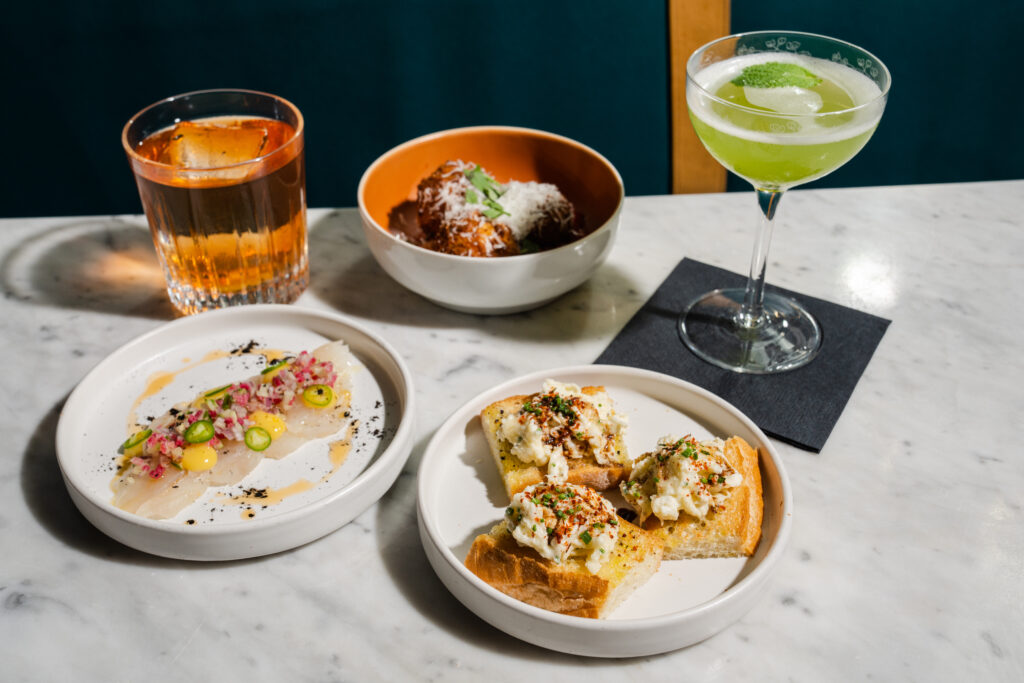 Gatlin's Fins & Feathers is spicing things up to root for the home team during the World Series! Stop in and try their H-Town Hot Sandwich (Crispy Chicken or Fish tossed in a Viet-Cajun hot sauce, topped with basil coleslaw and pickles) for $16. All sandwiches are served with fries and pair wonderfully with their assortment of draft beers available for $8 each. Gatlin's Fins & Feathers is located at 302 W Crosstimbers St, Houston, TX 77018. Hours of operation are Tuesday through Saturday: 4 p.m. – 9 p.m.; and Sunday from 10:30 a.m. – 3:30 p.m. For menus and more information, please visithttps://gatlinsfinsandfeathers.com.
Heights & Co., 1343 Yale St.–The popular patio and cocktail bar, Heights & Co. will be offering $5 draft (regularly $7/$8/$9) and $10 burgers (regularly $12) during game time only for the World Series. They have TVs and a 20-foot projector set up, perfect for catching the games.
Hilton Americas-Houston, 1600 Lamar St. , 713.577.6115 –Stop by the Hilton Americas to cheer on the Astros during the World Series and sip on the Astros Spritz ($16) – a refreshing pre and post-game cocktail made with Jameson Orange, Pineapple Juice, Soda Water and Prosecco.
Kin Dee, 1533 N Shepherd Dr Suite 160, 281.826.2655–Cheer on the Astros in style at Heights Thai hotspot, Kin Dee. The charming restaurant will offer half-off Thai Beer when seated at the bar during Houston Astros games. Guests can choose from two pale lagers, Singha and Chang – each only $3 after the Astros special is applied.
Maize is inviting customers to root for the home team with delicious food and an Astros-themed cocktail. Enjoy their delicious Fish Burger/Hamburguesa de pescado (Fried striped bass fillet, avocado, slaw, tomatoes, sweet potato fries) for $10 and wash it down with an Astrorita (Tequila blanco, blue curaçao, lime, orange, agave, chili lime salt) for $8. Guests can enjoy their Astros specials in Maize's bar while watching the game on their TV screens or groups looking to book one of Maize's private rooms to watch the game can make reservations (346) 409-2733. Maize is located at 14795 Memorial Drive, Houston, TX 77079. Maize is open Monday through Friday, 11 a.m. to 10 p.m.; Saturday, 4 p.m. to 10 p.m.; and Sunday, 10 a.m. to 10 p.m. For menus and more information, please visit maizehouston.com.
Roots, 3107 Leeland St. –If you're geared up for the Astros this post-season, make sure to stop by Roots! The EaDo self-serve wine bar and restaurant is offering 20% off all food and drink to customers who come in wearing Astros gear! What better way to support the 'stros?
Second Draught, 4201 Main St Suite 130–The Ion's Second Draught taproom invites Houstonians to watch the Astros' World Series run from its cozy confines inside the innovation and community hub at 4201 Main. To help fans cheer on the 'Stros, Second Draught is offering a rotating 'beer of the day' special on game days. Each day's beer of the day will be discounted $2. Additionally, the taproom will have the games on all of its TVs with the sound on. Second Draught, which opened in September, offers a variety of local craft brews across its 18 beer taps. It also has two wines on tap. It is open Monday through Thursday from 2 PM to 9 PM and Friday / Saturday from 12 PM to 9 PM.
The Lobby Bar at C. Baldwin Hotel, 400 Dallas St., 713.351.5790 –Located in downtown Houston, just blocks away from Minute Maid Park, Lobby Bar at C. Baldwin serves as the perfect destination to grab a pre-game drink during the World Series. Sip on the Juice Box Rita ($12) made with Tequila, Triple Sec, Orange Juice and Freshly Squeezed Lime.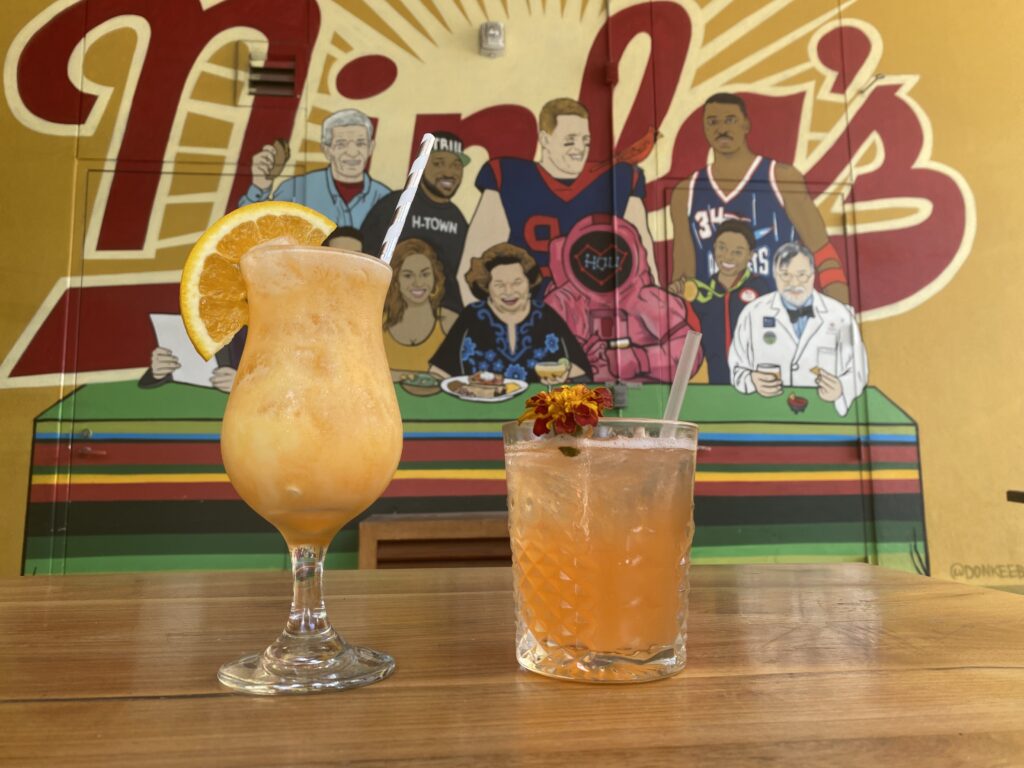 The Original Ninfa's (UPTOWN & NAVIGATION): The Original Ninfa's is ready to root for the Astros and has some delicious ways for their customers to join in the celebration. The local staple has concocted two World Series themed drinks perfect for cheering to the hometown heroes. The cocktails include For the H (ilegal mezcal, lime juice, splash of simple syrup, marigold or apricot garnish, El Jimador Silver, Aperol liqueur, apricot liqueur) and Crush City (Charanda [Mexican rum], orange juice, top off with orange soda, orange wedge garnish, Rompope, orgeat syrup) and will be available throughout the entirety of the World Series, for home and away games, during lunch and dinner at both restaurant locations. Chef Alex will also be grilling up Astro Dogs (hot dogs topped with jalapeno chow chow, mayo, and brown mustard) for $8 during home and away games at the Uptown location exclusively. Finally, guests of the Navigation location can enjoy a complimentary shuttle to the game from the Navigation location. The shuttle is free to ride with any purchase from The Original Ninfa's and will run continuously during every Astros home game, beginning one hour before the first pitch and concluding one hour after the game is over. Ninfa's on Navigation is located at 2704 Navigation Blvd., Houston, TX 77003. Ninfa's Uptown is located at 1700 Post Oak Blvd., #1-190, Houston, TX 77056. Photo courtesy of The Original Ninfa's.
Treebeards (BUNKER HILL): Treebeards is cheersing to the Astros with a World Series Crawford Bock beer special at their Bunker Hill location located at 9655 Katy Freeway Suite 3120, Houston, TX 77024. The southern comfort restaurant is selling pints of Crawford Bock starting at $4. With each Astros win, the number of games left to win the World Series decreases, and so does the price. After one win, the number of games left to win the World Series drops to 3 as does the price, with pints costing $3, and so on until the Astros are one game away from clinching a victory. For locations, hours, menus, and more information, visit www.treebeards.com.
Wild Oats, 2520 Airline Dr Suite C-315–Need a chill spot to park yourself for a baseball game? Visit Wild Oats, Underbelly Hospitality's Texas-inspired restaurant, where they're offering $3 Lonestar beers during every Astros play-off game! A Lonestar with Wild Oats' traditional Texas cuisine will make you feel right at home, but better!
Willie's Grill & Icehouse is offering an appetizing promotion to celebrate anytime the Astros win in their quest for World Series domination! Dine-in customers will enjoy free Chips & Queso the day following every Astros win with the purchase of an entrée. The offer is valid for dine-in customers only. The promotion is not valid with any other coupons or discounts, it has no cash value, and is valid for one order of chips & queso per table, with purchase of entrée. For locations, hours, menus, and more, visit https://williesgrillandicehouse.com/.
Featured photo: Courtesy of Roots