LAUNCH pop-up shop has Houston designers with a wide array of creativity
Located in Partnership Tower across from the George R. Brown Convention Center and stone's throw from the Marriott Marquis, LAUNCH showcases Houston designers and their fantastic blend of creativity for shoppers.
This carefully curated pop-up shop presents a collective of some of the best local design businesses offering goods made in Houston. Designers and artisans were selected based on quality and design. Houston's public relations expert, Sydney Dao of Squid Inc. partnered with Houston First Corporation to create LAUNCH.
Visitors and Houstonians get a hands-on experience with high-level of goods designed and/or produced in the Bayou City. Get acquainted with vendors who themselves are representative of the diverse communities that make up the Houston landscape. "Launch" is a nod to Houston as the "Space City" and references the "launch" of  emerging designers from Houston's growing creative community.
LAUNCH, located at 701 Avenida de las Americas, is open to the public with hours, Monday–Saturday from 10 a.m. to 6 p.m. and Sundays from noon to 5 p.m through Feb. 26.
MEET THE DESIGNERS:
RongRong DeVoe: 
Rongrong DeVoe is a professional fashion illustrator based in Houston, TX, US. Her fashion illustrations have been featured on Vogue, InStyle and Buzz Feed. Her clients include Chanel,Neiman Marcus, Armani, Maybelline etc. Originally from Qingdao, China, RongRong worked as a concept artist in Shanghai until 2009 when she decided to move to NYC to pursue my Masters in Illustration at the Fashion Institute of Technology.  She is currently pursuing her illustrator dream in Houston, TX. www.rongrongdevoe.com
Claire Drennan Knitwear: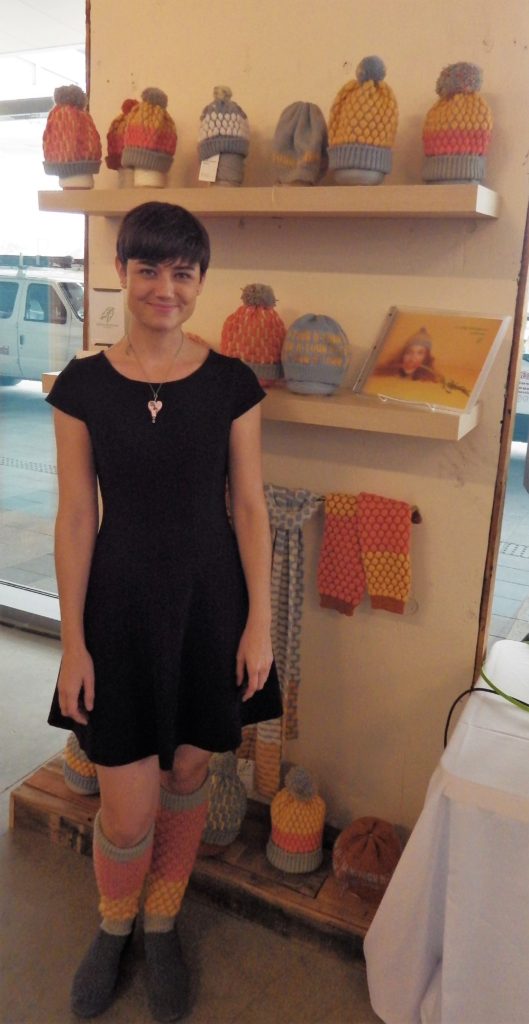 Originally from East Tennessee, Claire discovered her love for fashion design and knitwear working with artisans and designers to create custom pieces from local material. She studied Fashion Design at The Massachusetts College Of Art And Design In Boston. While there she co-founded and produced Massachusetts College Of Art And Design In Boston. In Houston, Claire works in her East End neighborhood finding inspiration in the diverse community. www.clairedrennan.com
Onyii & Co.: Since her launch of Onyii & Co., in 2013, Onyii Brown has incorporated Africa-inspired printed figure-flattering wrap dresses and skirts into each of her collections. The global textiles used to create these garments allow women to indulge in an indigenous and authentic sense of luxury that endues them with the confidence they need to strive for, seek and become more.  She has been featured in the British Vogue, Cadillac Shaping Houston recipient, Martha Stewart 2015 American Made Finalist. www.onyiiandco.com
A Leap of Style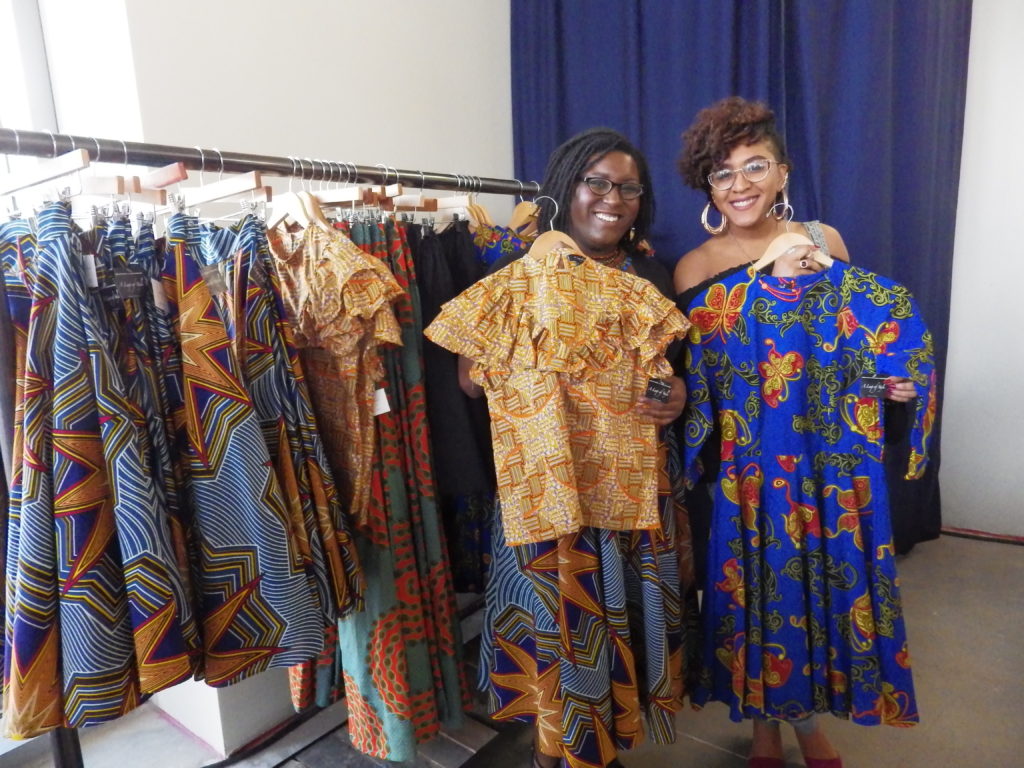 CEO & Lead Designer, Karissa Lindsay, started the company from her living room with a $50 sewing machine and a childhood dream. Honestly, she set out to design a dress for her birthday, without the intention of starting a company. "I was coming down off of a quarter life crisis, and I'd found a renewed faith in God. It brought out a new boldness; a new confidence in me, and I wanted to express that on the outside," Lindsay says of that first dress. A Leap of Style was born from a desire to stand out, while still remaining classy, comfortable, and stylish. www.aleapofstyle.com
Temple Street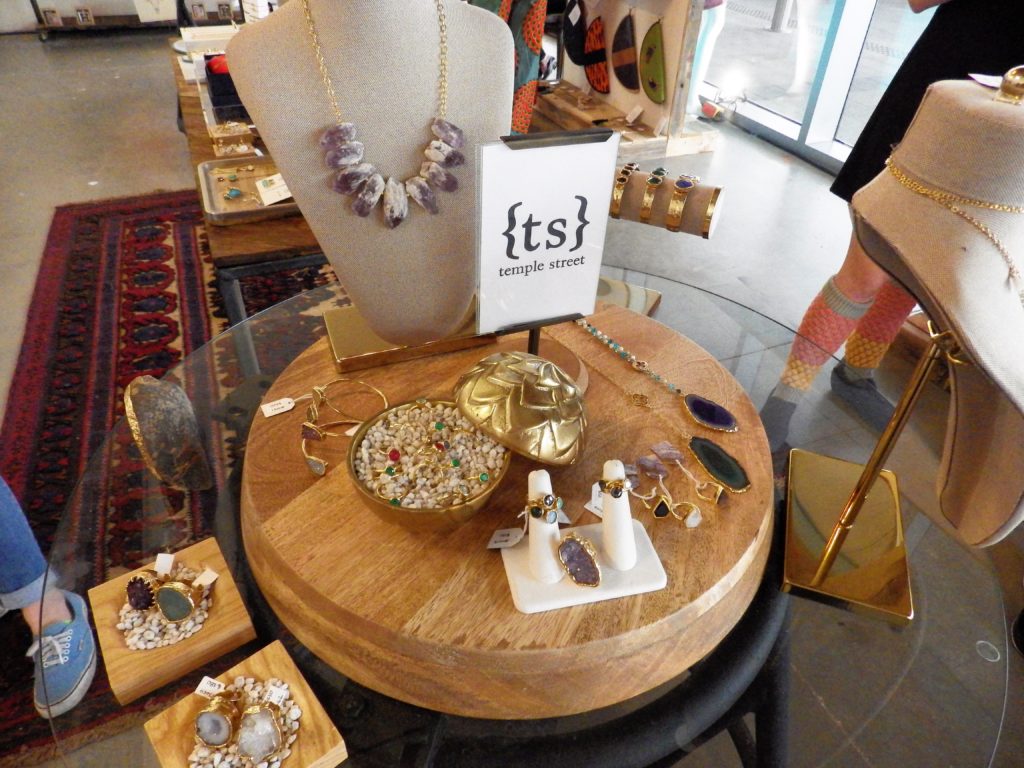 Ana Mae Holmes is the president and designer of Temple Street, a line of handcrafted, limited-edition jewelry. She's a publicist, jewelry designer and fashion enthusiast who works in Houston, Texas where she launched her fashion business in Fall 2011. Since its inception, Temple Street has been featured in fashion and lifestyle publications and on various TV segments. Designing jewelry offers Ana Mae creative expression in the industry that she loves— fashion. Describing her line as "playful" and "eclectic," she uses semi-precious stones to create her popular vibrant statement pieces that women love to wear. www.shoptemplestreet.com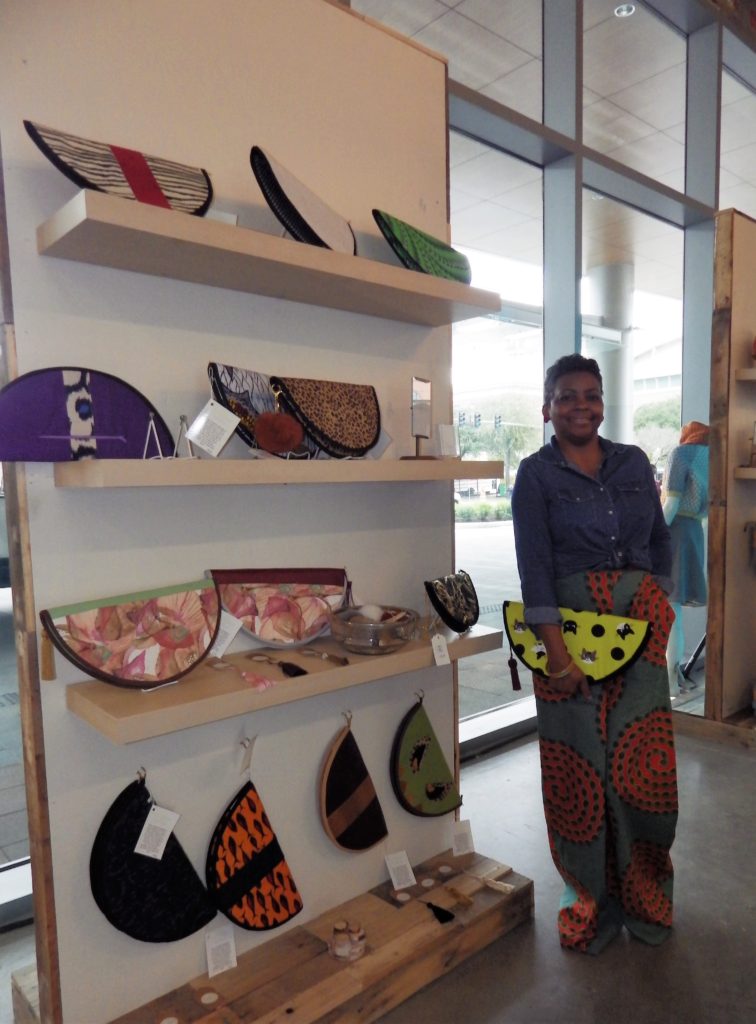 KisaKisa
Kisa William's designs are bold and fun. From her time studying fashion and design at both the Art Institute of Houston and Houston Community College, she learned how to choose what's timeless from the past, breathe new life into the look, and bring it to you.  Every physical aspect of a KisaKisa Fashion handbag is Houston made. The fabric, thread, tasselsyou name it, is local (and easy to clean! You have got to love cotton blends!). Even the tailors and seamstresses Kisa has hired to complete the rising demand for her handbags are local.  www.kisakisafashion.com
Brenda Grands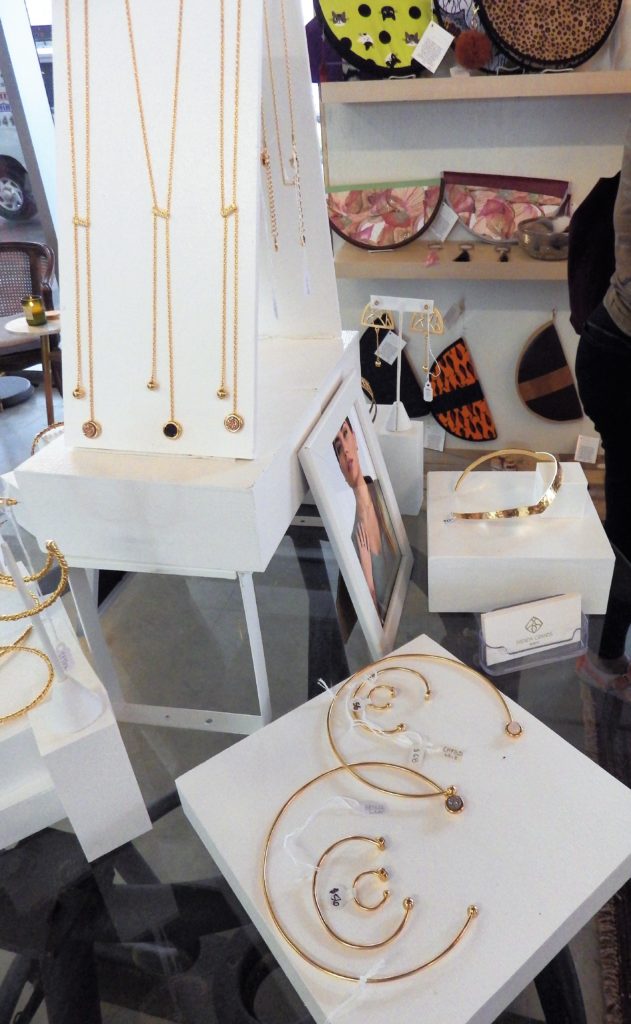 After several years designing and manufacturing jewelry with a passion for art, nature, travels, fashion, and trends; exploring with different metals and natural stones from around the world, and studying with local artisans from her home country Colombia; In 2014 Brenda Grands. submerged herself into the jewelry world. This year she created 'Nature' a new jewelry line that compiles everything she wanted to create. www.brendagrands.com 
Janavi M Folmsbee: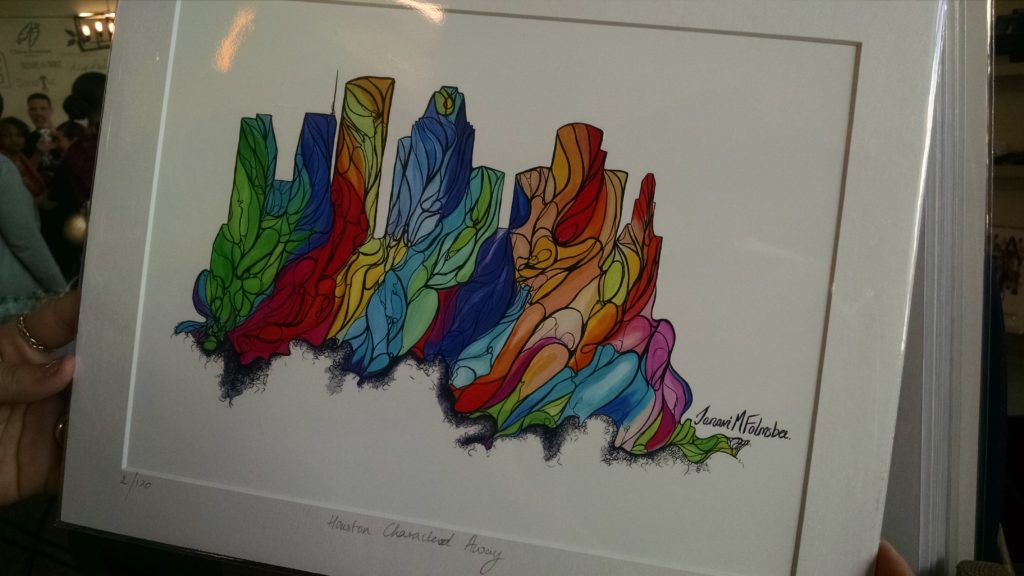 Up and coming artist Janavi M Folmsbee settled her roots in the beautifully diverse city of Houston, Texas.  The artist-writer-scuba diver draws inspiration from experiences through her scuba diving expeditions and is strongly influenced by marine life.  She creates ethereal, intricate shapes she calls characters that are meant to invite the public into something very private.  Her "Rail to the Sea" Mural located on Sawyer is Houston's 2nd largest outdoor mural.  Her art is featured in the logo, and she will create and exclusive mural for the shop.
Marilyn Biles: 
Artist Statement–Every vision of the world implies some sort of philosophy. My art is motivated by a spiritual force that compels a means of expression. It is the language by which I interpret the universal creative spirit as it becomes known to me. It is the means of expressing the passion for finding the truth that is me as I uncover the purposes, boundaries and directions of my mind.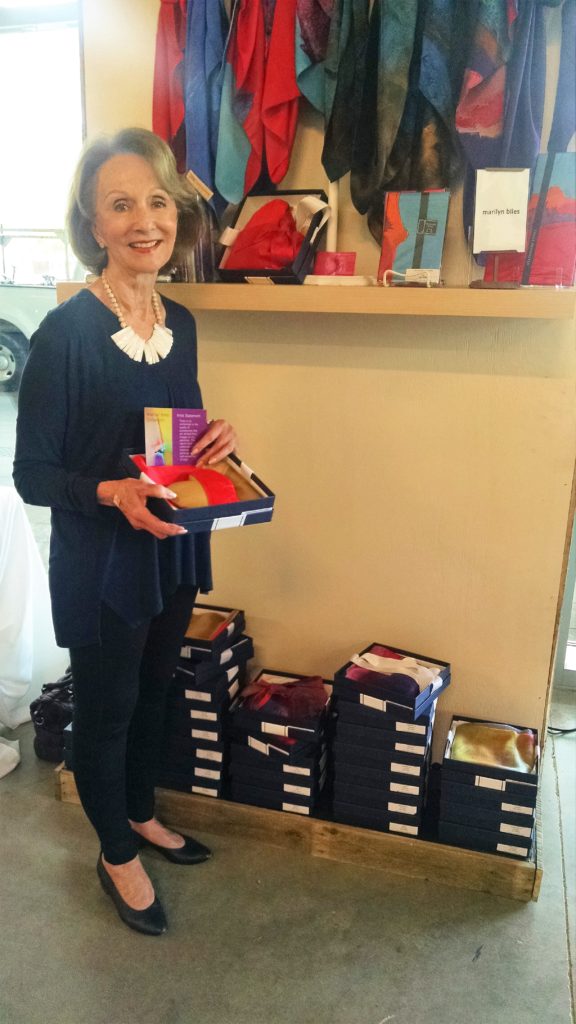 Every painting is a new research project done in the unproved present creating symbols from experiences that express myself as I contact and am inspired by the world. Unselfconsciously, I am exposing my inner life to others whose tastes and opinions are different but nevertheless are as valid as my own.  To the extent that I am able to think and see with a difference, others will in turn be enriched by my art. Ms. Biles is also the Co-founder of Edot Gallery and Curator through January 2011.
DAO Chloe DAO
Chloe Dao –  Winner of Project Runway, Season 2 and Houston's most celebrated fashion designer, Chloe Dao combines effortless sophistication with fashion forward style to produce unique evening wear and sportswear. Chloe's signature flair, as noted on Project Runway, demonstrates her expert understanding of women's bodies. Her garments are carefully constructed to flatter every body type and give every woman a wardrobe that's as one of a kind as she is. Her designs stand the test of time with ease as they are wearable year after year.   www.chloedao.com
La Mochi
As an artist and world traveler, Sarrah  Zadeh is inspired by life around her in particular human culture and behavior, finding all the contradictions, which make up who we are as people and societies, incredibly interesting. Sarrah works closely with the Colombian Wayuu women to create La Mochi's modern interpretation of the mochila blending tradition, fine arts, and contemporary design in each bag; developing new patterns, shapes, and bag designs with the Wayuu women.  In addition to the mochilas, Sarrah takes another artisanal tradition, the Persian Gabbeh rugs and turns them into delicate clutches. www.lamochi.com
Stateline Designs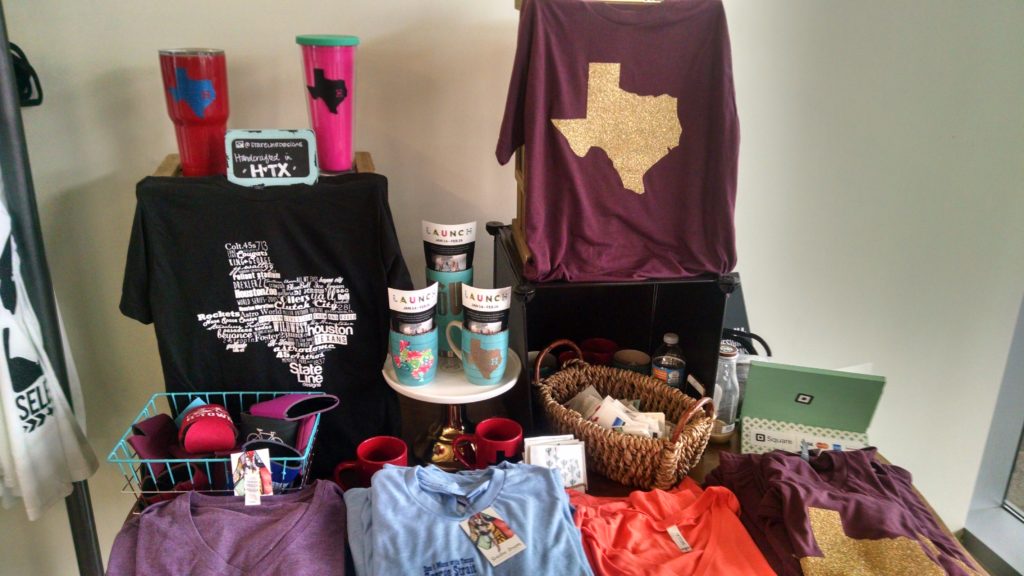 Stateline Designs started in 2014 with two best friends wanting to start a local brand with comfortable tees and tanks for all Texans to love. They started an Etsy site and quickly our brand took a life of its own. With hundreds of orders a month, it was hard to keep the orders in. Ellyse Espinoza, soon left her 9-5 job and took the brand by the horns. With more time to focus on the brand and keeping the quality to their standards, they started doing local shows and Stateline quickly turned into one of the most recognized brands in Houston. They now do shows almost every weekend and love seeing people wearing their tees.  www.mystatelinedesigns.com.
photo credit: V. Sweeten