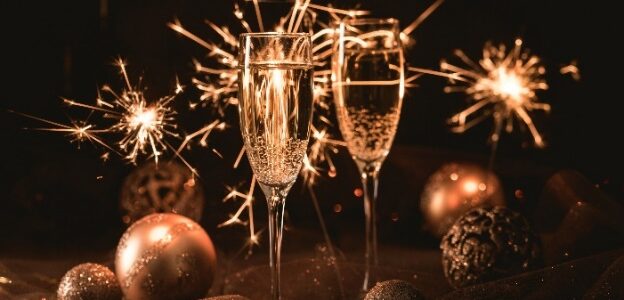 Celebrate New Year's Houston Style with Fantastic Experiences and Dining Options
CHOOSE FROM TWO FUN WAYS TO CELEBRATE AND WELCOME THE NEW YEAR AT MOODY GARDENS—New Year's Palooza or the Dinner Cruise on the Colonel Paddlewheel Boat: Foosball, air hockey, bounce houses, and a Beach Ball Drop are just a few of the activities to help ring in 2023 at New Year's Palooza, a fun-filled family celebration appropriate for all ages at the Moody Gardens Hotel, Dec. 31 – Jan. 1. The weekend-long event will begin with light bites and a fun-filled journey through the Moody Gardens attractions, followed by dinner with the spectacular Cirque Joyeux Holiday Show. After the show, guests can explore the Festival of Lights trail and enjoy a wide variety of different games, music, and activities inside the Convention Center. After exploring the holiday lights trail, families can stop to enjoy hot chocolate and warm cookies as they watch the fireworks light up the night sky. The evening ends with an early New Year's Countdown for the kids and the Beach Ball Drop as hundreds of balls cascade from the ceiling to welcome the new year. Sparkling cider and champagne will be provided for the adults. An adult lounge area is also available.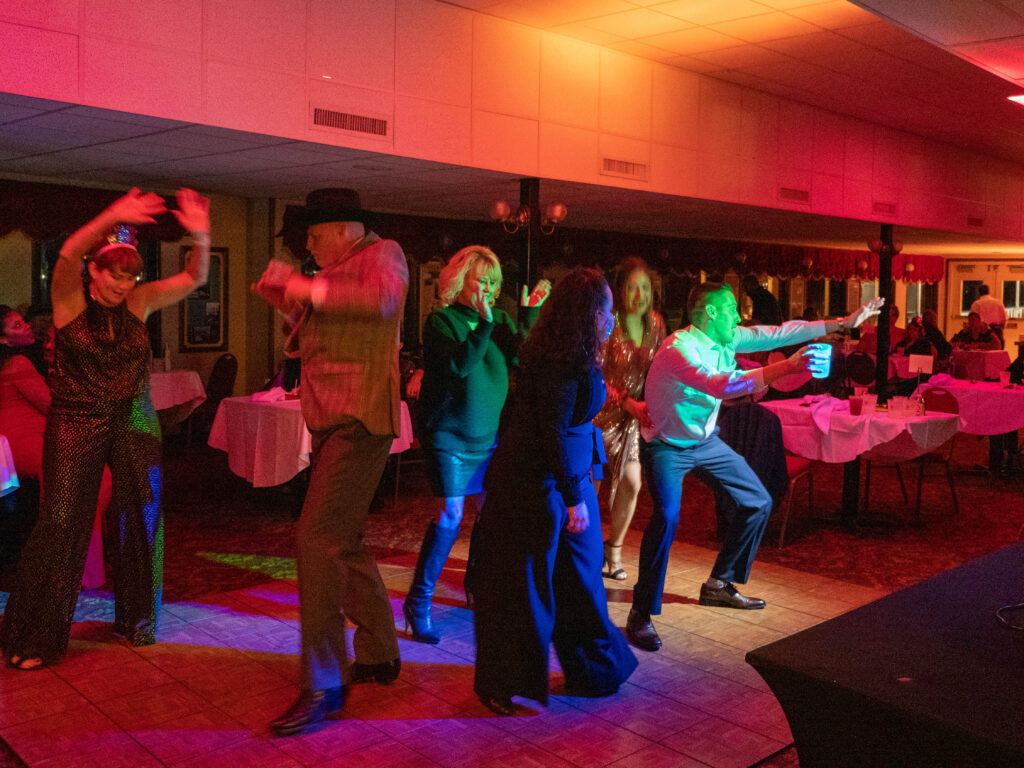 Wake up early on the first day of 2023 and enjoy a spectacular breakfast accompanied by games and activities, including a Mimosa and Bloody Mary Bar for the adults. The New Year Palooza hotel package includes two fun-filled nights of action-packed celebration. Guests will receive four two-day passes for Moody Gardens attractions, tickets to Cirque Joyeux Holiday Dinner & Show, and tickets to New Year Palooza. There will be plenty of family-friendly activities including air hockey, foosball, bounce houses, arcade games, a beach ball drop, and fireworks. This package is for two adults and two children. For more information call 409-744-4673 or visit www.moodygardens.org/newyears. Photo courtesy of Moody Gardens.
Ring in the New Year Margaritaville Style! Still looking for a fun and festive way to ring in 2023? Margaritaville Lake Resort, Lake Conroe | Houston has a variety of ways to celebrate the New Year. Margaritaville Lake Resort, Lake Conroe | Houston is the place to be as the calendar turns to 2023!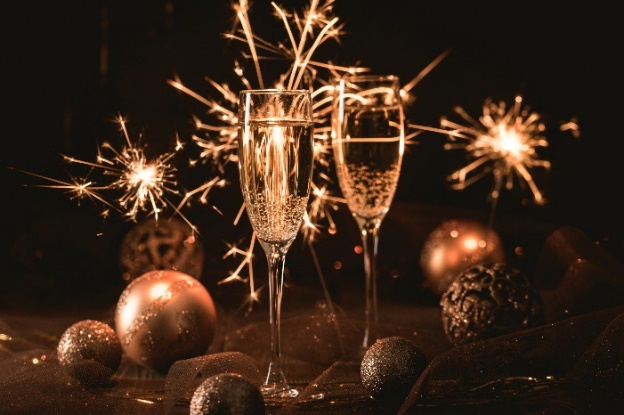 Enjoy live entertainment and a champagne bar in the Tower lobby, and then indulge in a special four-course New Year's Eve dinner at License to Chill Bar and Café. Palm Court will come alive with fire dancers, hand-rolled cigars, and tequila tastings. In addition, LandShark Bar & Grill will serve up New Year's themed food and drink specials with a DJ and dancing, while Boathouse Bar & Lounge will offer live music and a balloon drop at midnight. The resort is also offering a New Year's Eve Cruise on Einstein's Party Barge.
The best part? Taking the elevator home to relax in one of the resort's all-suite accommodations and enjoy complimentary champagne and New Year's Eve Party Favors. Take the celebration into New Year's Day with brunch in Waterside Cove and then gather around and watch all the football games on multiple screens at LandShark Bar & Grill.
Book now and take advantage of the resort's New Year Special Room Offer to get 30% off the standard room rate. For more details, visit the website. Photo courtesy of Margaritaville Lake Resort.
RESTAURANT SPECIALS:
Axelrad: Axelrad is treating their customers to brunch prices all day on New Year's Day. The expansive garden bar will open at 2 p.m. and offer $2 Mimosas, $3 Beer of the Day and $5 Frozens, Bloody Mary's and Michel-RAD-as. Axelrad is located at 1517 Alabama Street in Midtown. Axelrad is open Monday through Thursday, 2 p.m. – 12 a.m.; Friday and Saturday, 12 p.m. – 2 a.m.; and Sunday, 12 p.m. – 12 a.m. For more information, please visit https://www.axelradhouston.com.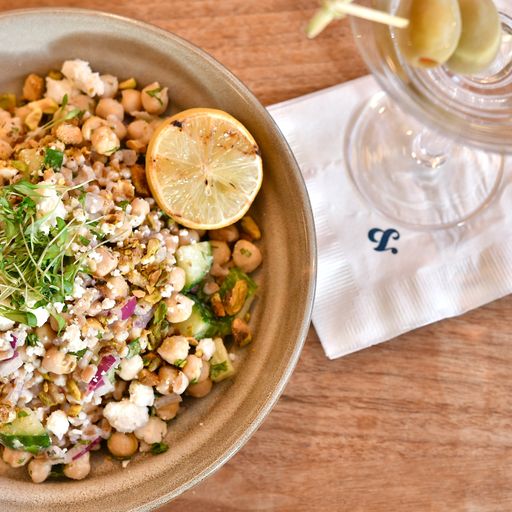 Eloise Nichols: Nestled between River Oaks District and the bustling Highland Village, the new all-day café is celebrating the start of 2023 with its weekend brunch menu featuring $5 mimosas (normally $7) on January 1 starting at 10 a.m. along with its signature brunch menu items like the Salmon Hoppin' John ($15) with sautéed rice, garbanzos, seared salmon, poached eggs, romesco and scallions, and the Biscuit Benedict ($14) pulled pork, poached eggs, smoked paprika, hollandaise, pickled green tomatoes and hash. Additional brunch cocktails- include the Spiced Peartini ($13) with absolut pear, dolin rouge, domaine de canton lychee juice, and the Wild Berry Fizz ($12) with wheatley, lemon, berries, and sparkling wine. The restaurant will be open from 9 a.m. to 10 p.m. on New Year's Eve and 10 a.m. to 9 p.m. on New Year's Day. Photo: Alex Montoya.
GJ Tavern: Looking for a delicious way to ring in the new year? GJ Tavern, the downtown Houston restaurant and bar from Underbelly Hospitality, will host an intimate six-course dinner and wine pairing experience to welcome 2023! Guests can choose from two seating times: the early seating from 5 pm – 8 pm ($100) and the second seating from 9 pm – 12 am ($150). Chef Tim Reading has curated a special menu with wine pairings to celebrate the occasion, including East coast oysters, gulf fish ceviche, truffle arancini, lobster ravioli, braised short rib and a medley of desserts. Guests will be gifted a sweet takeaway at the end of their meals, and the second seating will also enjoy a midnight champagne toast of Lallier NV and live music!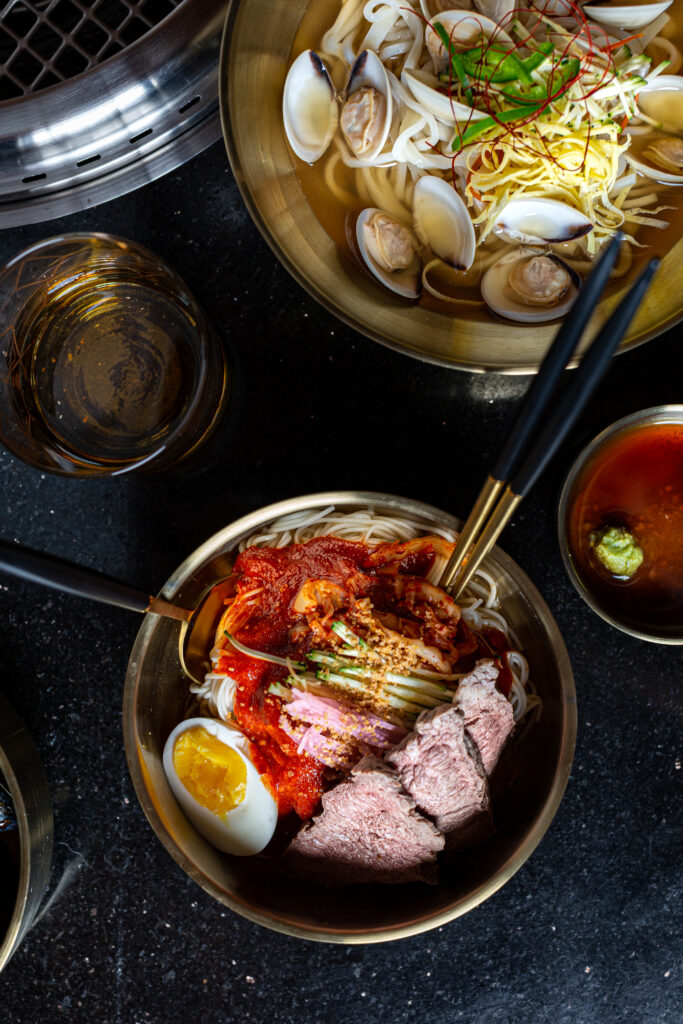 Karne: Celebrate the New Year in Karne fashion with a DJ Demo Cruz dropping the beats all evening from 5pm-11pm, a 6-course New Year's Eve prix fixe menu and complimentary champagne as you enter to toast to 2023! The prix fixe menu $150/person features items like a mascarpone bacon stuffed strawberry for an amuse-bouche, spicy cream noodle with braised pork and of course, the signature Karnivore board with a choice of 5 high-end cuts of meat ready to be cooked table-side! The regular dinner menu is available as well. Visit Resy to make reservations. Photo: Jenn Duncan.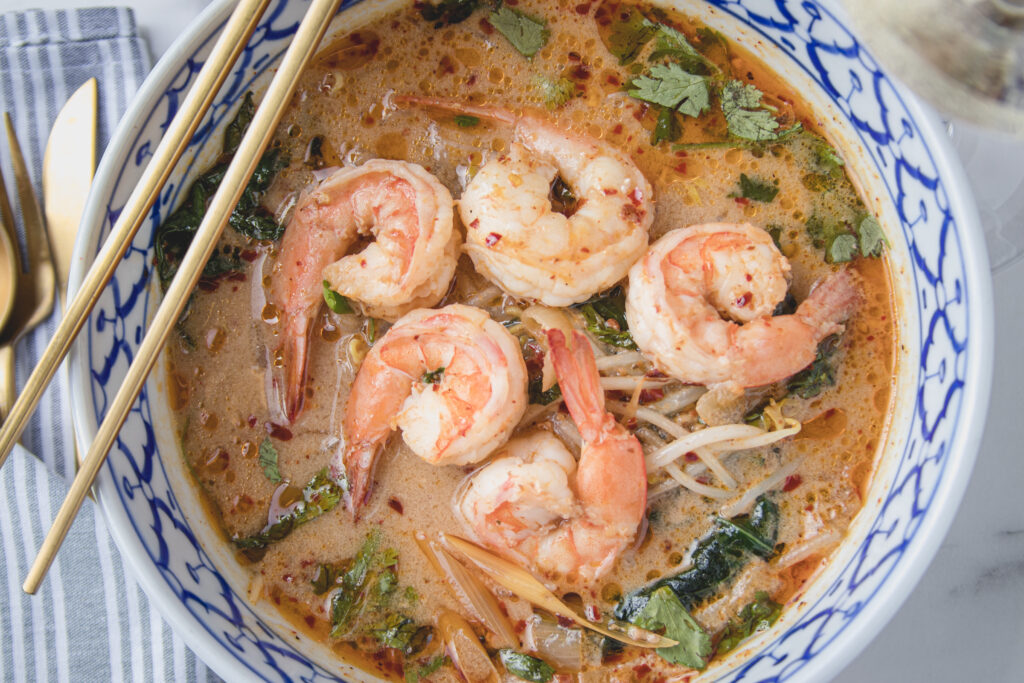 Kin Dee: The charming Thai eatery will offer each guest a complimentary glass of champagne at midnight on Sunday, December 31st. Indulge in authentic Thai staples such as Money Bags ($16) with deep fried minced chicken and shrimp and Pad Thai ($18) while enjoying the restaurant's live DJ and aerial performances. Kin Dee will be open from 11 a.m. to 12 a.m. on New Years Eve. Reservations are encouraged and can be made via Open Table. Photo: Kin Dee.
Le Colonial Houston: The famed French-Vietnamese eatery, located in the posh River Oaks District, will offer a three-course prix fixe menu priced at $95 per person on Sunday, December 31st. Ring in the new year while indulging in favorites such as Pan Seared Chicken Dumplings (Sui Cao Chien) with scallions, ginger, and black vinegar sauce; Sous Vide Short Ribs (Bo Nuong) with demiglacé, taro purée, and maitake mushrooms; Pan Seared Seabass (Ca Chien Dac Biet, supplement $10) with bok choy, shiitake mushrooms, and lobster coconut broth; and Duck Confit (Vit Confit) – Valley duck confit served with duck jus and 5-spiced fingerling potatoes. Le Colonial will serve lunch on New Years Eve from 11 a.m. to 2 p.m. and dinner will begin at 5 p.m. with the last reservation at 11:45 p.m. The restaurant's lounge, located upstairs, will be open until 1 a.m. with a live DJ. Reservations are required and can be made via Open Table.
Maize: Maize is helping their customers kick off 2023 with a warm and delicious Mexican classic. On New Year's Day the restaurant will open from 11 a.m. to 3 p.m. and offer their Pozole de Puerco (traditional pork pozole, cacahuazintle, guajillo pepper broth, accompaniments) for $10. Maize is located at 14795 Memorial Drive, Houston, TX 77079. Maize is open Monday through Friday, 11 a.m. to 10 p.m.; Saturday, 4 p.m. to 10 p.m.; and Sunday, 10 a.m. to 10 p.m. For menus and more information, please visit https://maizehouston.com. Photo: Sergio Trevino.
Marmo: Make your New Years Eve a celebration to remember at swanky Italian chophouse, Marmo, who features some of the city's most decadent hand-rolled pastas, house-made charcuterie, and hand-cut prime steaks. On Sunday, December 31st Marmo will offer a four-course prix fixe menu ($110 plus supplements) featuring five options per course along with featured wines and champagne. The restaurant will also have live music until 1 a.m. and a champagne toast at midnight. Reservations are required and can be made via Open Table (a credit card is required to book).
Numero28 Highland Village: Join Numero28 Highland Village to ring in the New Year – with a warm and friendly neighborhood ambiance, authentic Southern Italian cooking paired with classic Italian cocktails from 11:30am to 2:30pm for lunch and 4:30pm till 10pm for dinner. Walk-ins are welcome for all dining, for parties of 5+ call 713.485.5248 to reserve. Click here to view menus.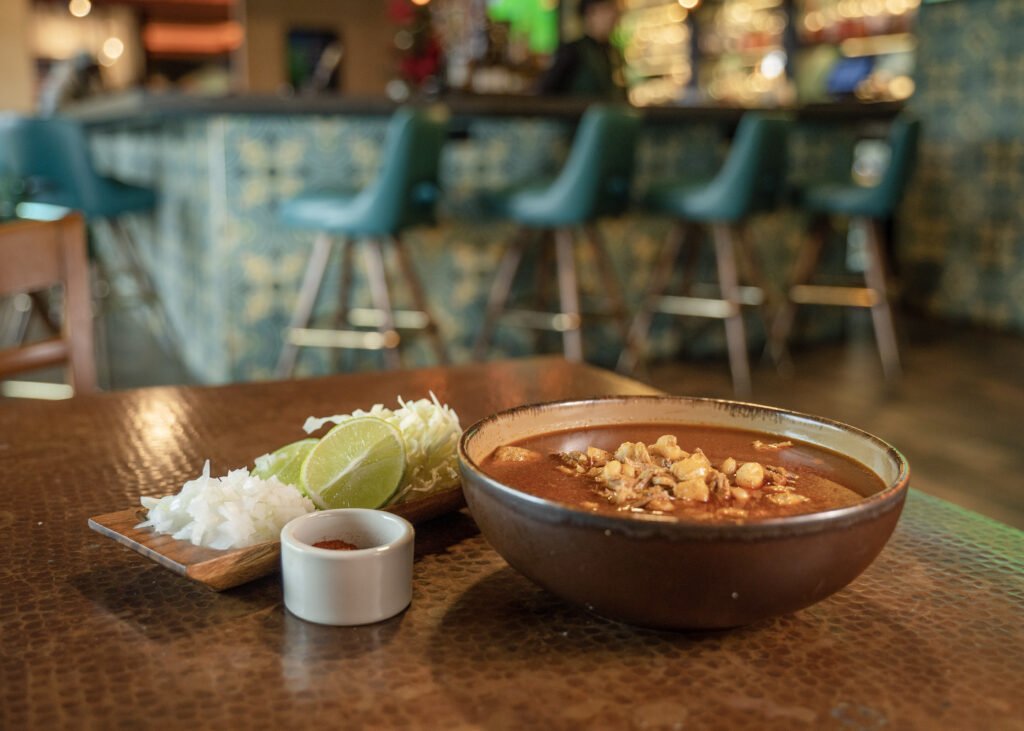 The Original Ninfa's (UPTOWN and NAVIGATION): The Original Ninfa's is ringing in the new year with their traditional Mexican hangover soup, available at both locations. The Red Chile Pork Posole (Served with Avocado, Sour Cream, Onions, and a Queso Fresco Tostada) for $18 is available New Year's Day 10 a.m. to 2 p.m. Ninfa's on Navigation is located at 2704 Navigation Blvd., Houston, TX 77003. Ninfa's Uptown is located at 1700 Post Oak Blvd., #1-190, Houston, TX 77056. Both locations' hours of operation are Monday through Thursday, 11 a.m. – 10 p.m.; Friday, 11 a.m. – 11 p.m.; Saturday, 10 a.m. – 11 p.m. (Brunch 10 a.m. – 2 p.m.); and Sunday, 10 a.m. – 10 p.m. (Brunch 10 a.m. – 2 p.m.). For more information, please visit https://ninfas.com.
Ouzo Bay: Say goodbye to 2022, and welcome 2023 in style at Ouzo Bay. The upscale Mediterranean eatery, located in the buzzy River Oaks District, will be open until 2 a.m. on New Years Eve featuring live music and a champagne toast at midnight. With fresh seafood flown in from around the world and one of the state's largest lists of Greek wines and liquors, there's no better place to ring in the new year! Reservations encouraged.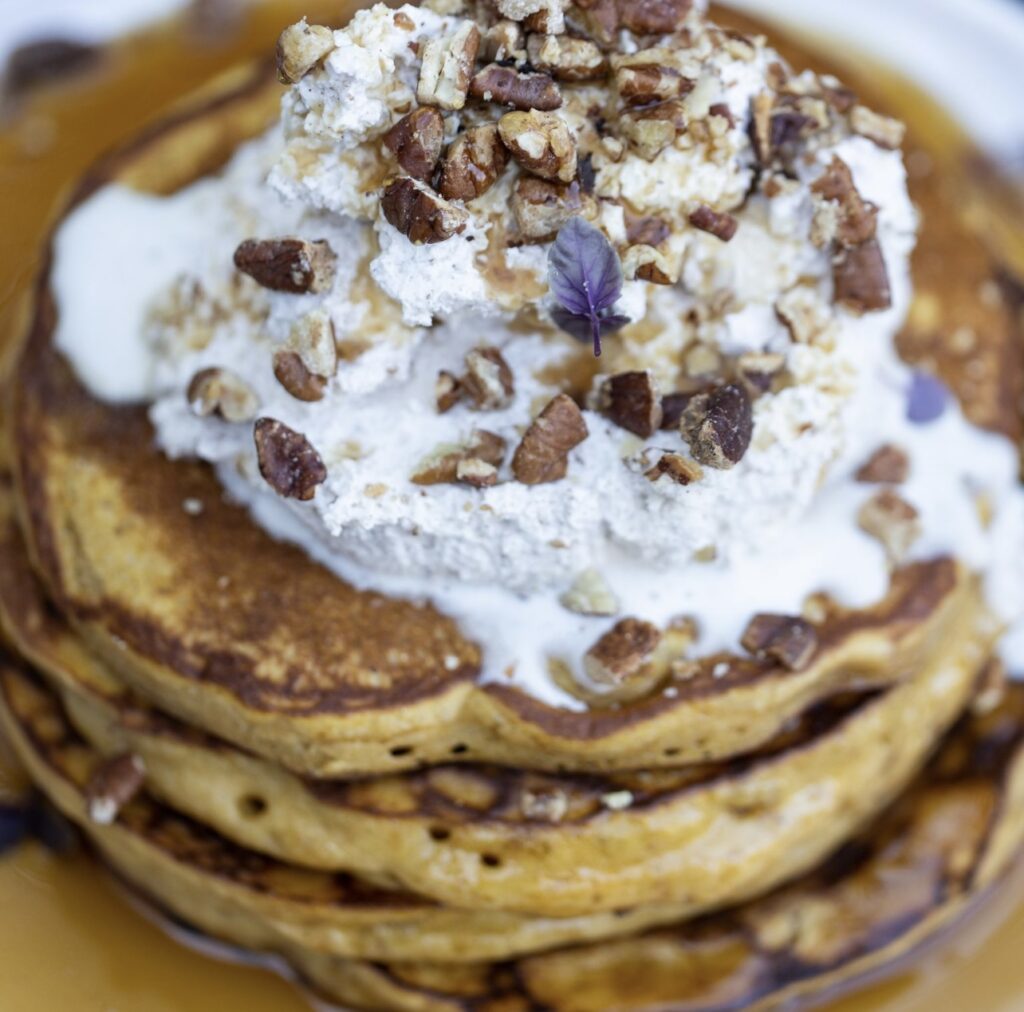 Savoir: The popular dining spot will be open from 10:30 am to 9:00 pm on New Year's Eve, where guests can expect seasonal off- the-menu items prepared by Chef Eric Johnson. On New Year's Day, Savoir will be open for brunch from 10:30 am until 2 pm, with standout brunch items including seasonal Pumpkin Pancakes ($17), PB+J Cronut Holes ($15), and the recently-added Honey Butter Chicken Biscuit, with holiday cocktails including Egg Nogg, a Peppermint Chocolate Martini and coffee cocktails. Photo: Courtesy of Savoir.
Treebeards on Bunker Hill is bubbling over with New Year's Eve celebrations! The restaurant known for classic southern cuisine is offering an all-day special on two sparkling wine cocktails. The Jolie's French 75(Gordon's London Dry Gin, Lemon, St. Germain, Sparkling Wine) and Cranberry-Ginger Mimosa (Cranberry Juice, Ginger Beer and Prosecco), or a glass of Prosecco are all available for $7, chosen based on the sum of 2+0+2+3. Bottles of Prosecco will also be available for $23 each, continuing the theme of ringing in the year 2023. For locations, hours, menus, and more information, visit https://treebeards.com.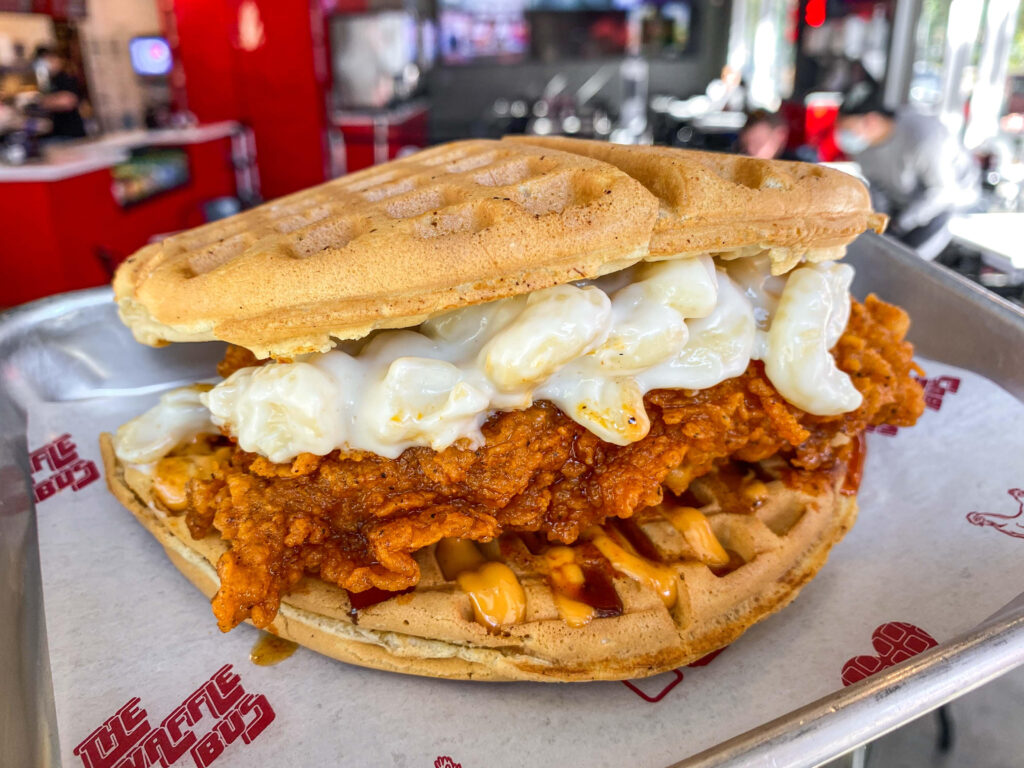 The Waffle Bus is welcoming 2023 in with a bang! Throughout the entire month of January, the Montrose location will exclusively offer all day Happy Hour, Monday through Friday. The happy hour menu includes Draft Beer for $4, Premium Shots for $7, Mimosas for $5, Chicken Tender Basket for $10, and more! Customers looking to beat their New Year's Eve hangover can find their cure at The Waffle Bus. Among recommendations for coping with post-party blues are the Fruity Pebbles Milkshake for $6.99, Hot Mess Fries (Seasoned Waffle Fries Topped With Spicy Buttermilk Fried Chicken Bites, white cheddar Mac and Cheese, spicy mayo, ancho chile honey butter and sriracha with pickles on the side) for $12.49, and the MacDaddy Waffle (Spicy Buttermilk Fried Chicken with white cheddar mac and cheese, spicy mayo and ancho chile honey butter on a fresh made waffle) for $12.99. The Waffle Bus has two brick and mortar locations open in Houston. The Heights restaurant is located at 1835 N Shepherd Dr., and the Montrose restaurant is located at 1540 W. Alabama St. Hours of operation for both locations are Sunday through Thursday, 11 a.m. to 10 p.m. and Friday through Saturday, 11 a.m. to 12 a.m. For menus and more information, please visit https://www.thewafflebus.com. Photo courtesy of The Waffle Bus.