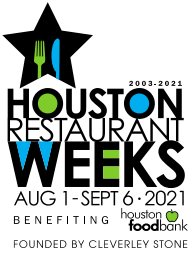 Houston Restaurant Weeks Raises $933,820 for Houston Food Bank
Houston's most anticipated food event of the year, Houston Restaurant Weeks (HRW), produced by The Cleverley Stone Foundation. announced today that the fundraiser raised $933,820 in 2021 to benefit Houston Food Bank. Since its inception in 2003 HRW has donated more than $17.5 million to the Food Bank, which has allowed them to supply 52.5 million meals to those who are food insecure.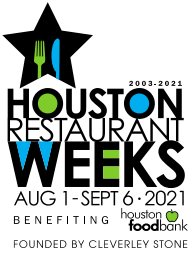 Benjamin Berg's B&B Butchers remains the top HRW contributor since they opened in 2015, with a notable donation this year of $55,943.
Additional top restaurant participants are as follows:
B&B Butchers $55,943.00
Brennan's of Houston $22,407.00
Eddie V's Prime Seafood – City Centre $19,815.00
Eddie V's Prime Seafood – Kirby $17,740.00
Traveler's Table $16,825.00
The Annie Café & Bar $16,620.00
Mastro's Steakhouse $16,320.00
Le Colonial $16,315.00
Étoile Cuisine et Bar $15,201.00
Rainbow Lodge $13,314.00
The 19th annual HRW is set for August 1st through Labor Day, September 5th, 2022.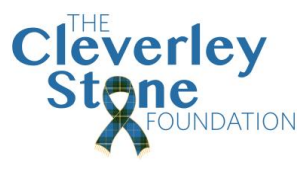 EAT DRINK HTX: The two-week-long Eat Drink HTX has been developed for the casual dining category, with a lower price point set for prix fixe brunch, lunch, and dinner menus, allowing more casual and fast-casual eateries the opportunity to participate. This event was one of Stone's final wishes as she saw a need for a boost in sales in restaurants during historically slow periods for area restaurants; specifically, weeks in February, after Valentine's Day and early spring. Proceeds will benefit the Houston Food Bank and Star of Hope, with funds going towards the organization's homeless men, women, and children.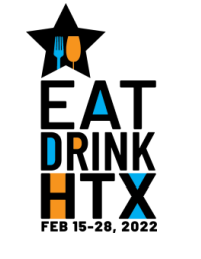 "My mother knew and supported the mission of Star of Hope for many years," said Katie Stone. "Scott Arthur, Star of Hope's Director of Public Relations, was one of her last in-studio radio show guests. We feel the work they do, specifically helping to feed and take care of women and children is so important and empowering."
Similar to HRW, participating restaurants will make donations based on their sales.

Early participants include, NoPo Café, Market & Bar; Prego; KP's Kitchen; Ciro's Italian Grill; all Thai Cottage locations; Rim Tanon; Osso & Kristalla; Fadi's; Buffalo Bayou Brewing Co.; Saigon Hustle; and Sunday Press.
Restaurants interested in participating in HRW, please email Katie Stone, katie@cleverley.com.
Follow HRW and Eat Drink HTX on social media:
Facebook: @HoustonRestaurantWeeks / @EatDrinkHTX
Instagram: @HoustonRestaurantWeeks / @EatDrinkHTX
Twitter: @HouRestaurantWk / @EatDrinkHTX