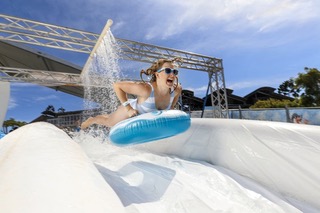 Slide the Slopes Tubing Adventure Splashes into Texas for the Summer
World's Largest Inflatable Slip 'N Slide Tubing Course Featuring Family-Friendly Outdoor Adventure Now in New Braunfels Through Labor Day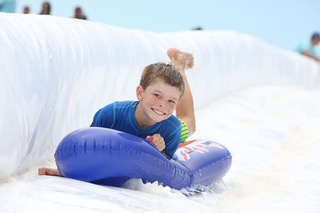 Get Ready for a Water Tubing Experience As Big As Texas! 
Slide The Slopes is in to New Braunfels, TX, and setting up over three miles of inflatable water tubing courses beginning Thursday, June 10 through Labor Day, Monday, September 6, 2021, at the Texas Ski Resort, a 70-acre action sports paradise offering a variety of outdoor experiences for adventure-seeking fans of all ages.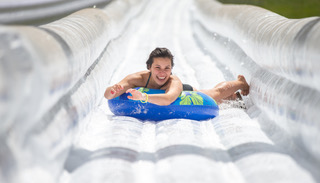 Adventure fans of all ages are invited to participate in one of the most unique and memorable water tubing experiences featuring a series of inflatable slides and courses set against backdrop of the Texas Hill Country. The family-friendly outdoor fun is open daily, Wednesday through Sunday from 12 p.m. to 6 p.m. Hours of operation may vary based on inclement weather.
"Slide The Slopes is the perfect event for those looking for memorable, fun and family-friendly summer activities. It's the ideal vacation or staycation experience offering a twist on traditional tubing and waterpark options," said owner Ryan Davis. "Our goal is to create a safe, fun environment where our guests can spend time in a beautiful outdoor setting, enjoying a variety of courses of various lengths, soaking up the sunshine and being able to reconnect with friends and family this summer."
TICKETS: $85 Family 4-Pack*, $185 Groups of 10, $24.99 Adults General Admission, $19.99 Children General Admission (ages 4-11 yrs.), $19.99 Active Military General Admission (must present military ID at check-in).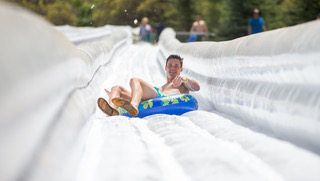 Summer Savings Available
Texans are ready to get outside and be active, but summer fun shouldn't break the bank! Tickets start at $24.99 for Adult General Admission. Slide The Slopes is offering family-sized fun with an $85 Family 4-Pack (15% savings off regular rates) as well as Groups of 10 ticket packages for $185 (25% savings); groups include adults & children admission. 
Discounted tickets are available for active Military members and children ages 4-11. Additional fees apply. All tickets are valid for 2-hours on the date of issue with timed arrival noted in each order to expedite check-in and assist with crowd management. Additional COVID protocols will be in place to ensure the health and safety of patrons and staff throughout the summer. 
Parking is FREE at Texas Ski Ranch Slide The Slopes dedicated entrance area located at 600 E. Watson Lane.
For more information and to purchase tickets, visit www.SlideTheSlopes.com.