Downtown District Announces Road to River Revival New Concert Series at Market Square Park
Monthly concerts leading up to popular New Braunfels music festival in September
The Houston Downtown Management District (Downtown District) is hosting the Road to River Revival Music Fest, a free monthly concert series at Market Square Park. "Doors" open at 6 p.m., music begins at 7:30 p.m. Concert dates are June 12, July 10, and August 14.
Presented in collaboration with Houston record label Splice Records and Saint Arnold Brewing Company, the monthly concerts will feature regional performers that showcase the wide variety of genres represented at Splice Records' popular River Revival Music Festival, taking place from September 23 to 26 in New Braunfels. Beginning in May and continuing through August, the concerts at Market Square Park will feature heavy-hitting headliners Sweet Crude, John Evans, Greyhounds and Money Chicha.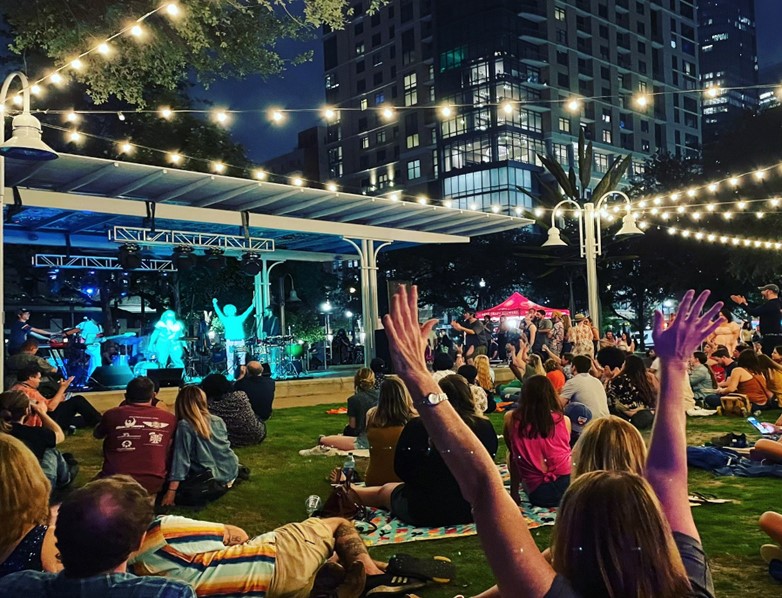 "We are excited to partner with our friends at Splice Records for this free outdoor concert series as they gear up for the annual River Revival Music Festival," said Angie Bertinot, Director of Marketing and Communications for the Downtown District. "Since reopening in 2010, Market Square Park has offered an amazing and intimate setting for regional talent, and this collaboration continues that tradition. We invite Houstonians to come out and enjoy good music, good times and good vibes throughout the spring and summer."
"For years we've been producing, staffing, and showcasing Houstonians at our independent camping festival in New Braunfels at summer's end," said founder of Splice Records, Shaun Brennan. "With the Road to River Revival, I get to share the magic we create on the river with my hometown in Downtown Houston at Market Square. From the Guadalupe River to the Buffalo Bayou."
Featured artists are:
Ancient Cat Society, a trio comprised of core band members Sergio Trevino, Haley Lynch and Austin Sepulvado. With elements of pop, Americana, indie rock and doo-wop, Ancient Cat Society delivers diverse music that sets them apart from the rest of the Houston soundscape.
John Evans, an award-winning producer and singer/songwriter who made a name for himself in the Houston music scene with the John Evans Band. His music, which can be described as southern elegance meets bluesy rock-n-roll, has been featured in films and TV shows including Country Strong and Friday Night Lights.
Two Tons of Steel, a San Antonio-based band that started rocking Texas stages as Dead Crickets. Since forming Two Tons in 1996, the band has played the Grand Ole Opry in Nashville, Tennessee, the National Theater in Havana, Cuba, and multiple European tours, greeting fans around the world who embraced their Texas-born sound.
Greyhounds, the Austin-based duo of Andrew Trube and Anthony Farrell. Featuring Trube on guitar and Farrell on the keys, Greyhounds delivers a unique sound that mixes R&B, soul, funk into a style that has been described as "Hall & Oates meets ZZ Top."
Maggie Bell Band, a New Orleans-based band that blends soul, R&B, funk and blues to create unique and dynamic music. The group has built a loyal fanbase, touring the east coast and playing big events such as the New Orleans Jazz & Heritage Festival, the Mid-City Bayou Boogaloo Music Festival and the River Revival Festival.
Money Chicha, an Austin-based group featuring members of the Grammy-award winning Latin orchestra Grupo Fantasma and its offshoot funk outfit Brownout. Inspired by the sounds of Peru and Columbia in the '60s and '70s, the group's style of music is percussion-heavy and reverb-drenched—sometimes called "chicha" music.
Mia Borders, a singer-songwriter from New Orleans whose powerful vocals have made her a standout figure in the regional music scene. Citing Bill Withers and Etta James as influences, Borders mixes soul, funk, R&B and electronic music to create a "lusciously sly and sultry" sound.
Guests are invited to bring blankets or lawn chairs and grab take-out from on-site cafe Niko Niko's or another Downtown restaurant. On-street parking is free after 6 p.m. Visit downtownhoustonparking.org for an interactive map with garages, surface lots and other parking options in the area.
COVID guidelines: Physical distancing is encouraged (at least six feet from others not in your group), and guests must wear masks when circulating within the park. Hand-washing stations and hand-sanitizer towers will be installed around the park for frequent hand sanitization.
Visit marketsquarepark.com for additional details and event updates.