Enjoy Fall in Downtown Houston with Patio Dining, Public Art and Free Outdoor Activities
This season, the Houston Downtown Management District (Downtown District) invites Houstonians and visitors to take advantage of the cooler weather and all the sights that come with fall in Downtown Houston. With outdoor dining options, new public art installations and a wide variety of physically distanced activities at Downtown green spaces, including Buffalo Bayou Park, Discovery Green and Market Square Park, this fall brings the opportunity for Houstonians to safely get out of the house and enjoy the fresh air.
"Downtown parks and restaurants have a wide range of offerings this fall that are both safe and fun," said Angie Bertinot, the Downtown District's Director of Marketing and Communications. "Everyone is looking for a change of scenery, and with the weather cooling down and the city continuing to open up, there is no better time to get out and enjoy what Downtown has to offer."
Fall is also a great time for those interested in a staycation. A number of hotels within walking distance from Downtown hot spots and events are offering special "safecation" packages for Houstonians ready to get out of the house but not out of the city. For more information and offers, visit www.downtownhouston.org/staycations.
Please find additional information about fall programming below, and visit www.downtownhouston.org for a full event calendar.
DOWNTOWN HOUSTON FALL EVENT CALENDAR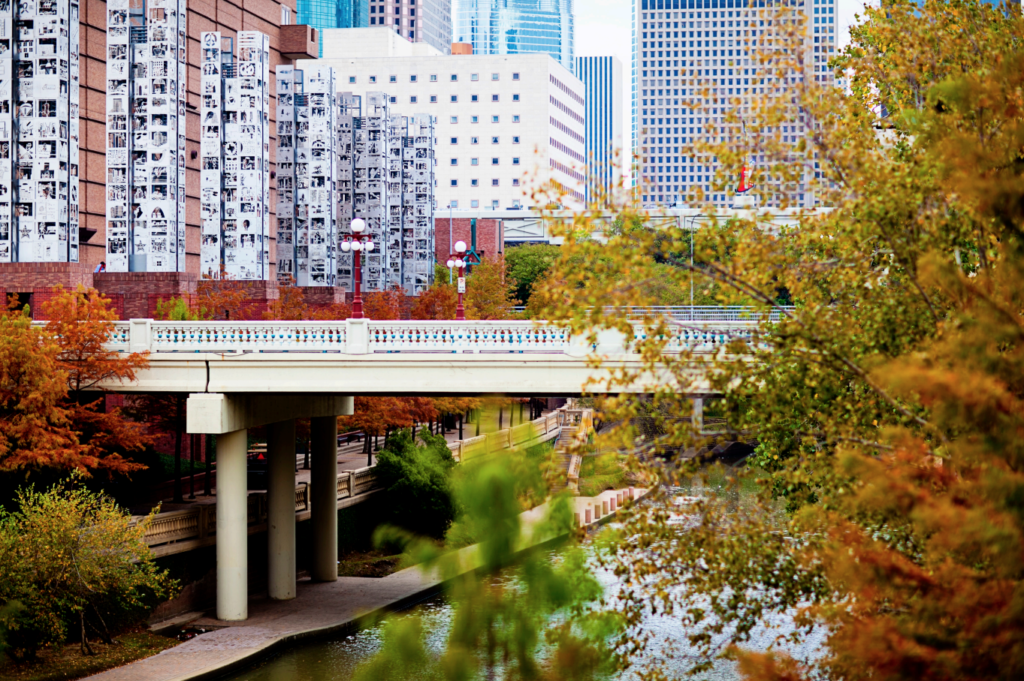 Shopping in Downtown
Bravery Chef Hall's Indoor Farmer's Market & Bazaar: Sundays, 11 a.m. to 4 p.m.–Located directly across from Market Square Park, Bravery Chef Hall is a 9,000-square-foot space offering diverse, chef-driven concepts including The Blind Goat, BOH Pasta & Pizza, Cherry Block Craft Butcher + Kitchen and Kokoro in a curated platform. Every Sunday, the food hall hosts an indoor market with vendors like local farms, ranches, artists and artisans of handcrafted goods. 409 Travis. www.braverychefhall.com
Outdoor Dining
El Big Bad: Open Monday through Thursday, 11 a.m. to 11 p.m.; Friday, 11 a.m. to 2 a.m.; Saturday, 4 p.m. to 2 a.m.; Sunday, 11 a.m. to 6 p.m.–Brought to you by the El Gran Malo crew, this casual Tex-Mex restaurant brings hand-crafted tequila infusions, specialty margaritas and craft beers to the table. The gastrocantina-inspired menu is chock full of tasty tacos with fresh toppings like pomegranate salsa, charred scallions, pumpkins seeds and more. 419 Travis. www.elbigbad.com
The Grove: Open Monday, 11 a.m. to 4 p.m.; Tuesday, Wednesday and Sunday, 11 a.m. to 10 p.m.; Thursday through Saturday, 11 a.m. to 11 p.m.–Located at Discovery Green across the street from the George R. Brown Convention Center, this two-story restaurant offers an expansive dining room overlooking the park's towering oak trees. The menu features rustic American cuisine such as Gulf Coast seafood, steaks and signature rotisserie dishes. The Treehouse roof deck bar features casual bar snacks and a see-and-be-seen atmosphere for cocktails. 1611 Lamar. www.thegrovehouston.com
Biggio's Sports Bar: Open Monday through Thursday, 12 p.m. to 11 p.m.; Friday, 12 p.m. to 12 a.m.; Saturday, 9 a.m. to 12 p.m.; Sunday, 9 a.m. to 11 p.m.–Offering unparalleled multimedia options, private rooms and a food and beverage menu to match, Biggio's creates a very recognizable yet unique eating and drinking experience with local and superior Texas ingredients prepared in expert and unexpected ways. The bi-level venue features interesting and ever-changing local draft beer selections and crafted cocktails using spirits from Texas distilleries. 1777 Walker. www.biggioshouston.com
Saint Arnold Beer Garden: Sunday through Thursday, 11 a.m. to 10 p.m.; Friday and Saturday, 11 a.m. to 11 p.m.–This sports season, Saint Arnold Brewing Company is giving Houstonians another reason to stop by: the Beer Garden Super Screen. Since we can't root for our home teams from the stadiums this year, Saint Arnold brought the big screen to the Beer Garden. Make your way to this Warehouse District brewery for a day of bocce ball, cornhole, H-Town sports and a breathtaking backdrop. 2000 Lyons. www.saintarnold.com
Phoenicia Specialty Foods/MKT Bar: Open Monday through Friday, 9 a.m. to 7:30 p.m.; Saturday, 9 a.m. to 7:30 p.m.; Sunday, 9 a.m. to 6 p.m.–Offering quality produce, fresh meats and seafood, boutique wines and beers, premium meats and cheeses, a signature coffee and gelato bar, floral and housewares sections, a comfortable dining area and a designated cooking demonstration kitchen, Phoenicia Specialty Foods Downtown is a one-of-a-kind destination for Houstonians and visitors alike. 1001 Austin. www.phoeniciafoods.com
Art Installations

WindowWorks: On display until further notice–Presented by the Downtown District and Up Art Studio, this public art initiative uses the works of 18 Texas-based visual artists to transform the windows of vacant and inactive storefronts in the heart of Downtown. Enjoy the outdoors by taking a self-guided walking tour. Share your adventure by tagging @ArtBlocksHouston and #WindowWorks. Along Main Street. www.artblockshouston.org
Artful Anniversary
Estructuras Monumentales: Through April 23, 2021—Estructuras Monumentales is a collection of abstract, outdoor sculptures created by the 105-year-old artist, Carmen Herrera. As Herrera's first public art exhibit in Houston, Estructuras Monumentales is organized in partnership with the New York City-based non-profit, Public Art Fund, and features four newly-created sculptures that were first envisioned nearly five decades ago. Fondren Foundation Meadow. www.buffalobayou.org
Meander: In October, the Houston Downtown Management District (Downtown District) is installing a new permanent public artwork in Market Square Park. Meander, a series of raised cast-concrete troughs filled with glossy pigmented resin, mimics Buffalo Bayou's physical form and route, giving park visitors a new view of the familiar body of water. The site-specific sculpture—part seating area, part play structure, part artwork—was conceived and created by Falon Mihalic, founder of Falon Land Studio. Meander will be permanently on view beginning October 27.

Outdoor Activities

Discovery Green Fitness Series: Dates and times vary, Through December–Discovery Green's fall Fitness in the Park series includes Tai Chi, Fusion Belly Dance and yoga. All classes require participants to wear masks before and after class, and circles are painted on the lawn to help ensure social distancing. 1500 McKinney. www.discoverygreen.com/
Yoga: Tuesdays, 6:30-7:30 p.m.–Stretch, breathe and reconnect with yourself in this virtual one-hour yoga session with Andria Dugas.
Fusion Belly Dance: Wednesdays, 6:30-7:30 p.m.–Professional movement artist and instructor, YET Torres teaches Fusion Belly Dance which combines dance movements with yoga to build flexibility and muscle tone.
Tai Chi: Saturdays 10:15-11:15 a.m.–Simone Oliver of Four Dragons Institute leads a virtual one-hour class on the fundamentals of Tai Chi.
Hatha Yoga: Saturdays, 9-10 a.m.–A basic vinyasa yoga class for enhanced awareness and a strong, healthy body led by Andria Dugas.
Sound Healing Meditation in the Cistern: Saturdays, 9–9:45 a.m. and 10:30–10:45 a.m.; Wednesdays, 6–6:45 p.m.–Find your center and practice meditation in the spacious and tranquil Buffalo Bayou Park Cistern. Offered in collaboration with Pralaya Yoga, this meditation series will feature the use of singing bowls and wind chimes to encourage mindfulness and connectivity. 105 Sabine Street. www.buffalobayou.org
Movies at Market Square Park: First and Third Wednesday, November through December–The Downtown District hosts free film screenings under the stars every other Wednesday through December. Blankets and lawn chairs are encouraged. Social distancing and face masks will be required at all times. Visit www.marketsquarepark.com to see a full list of social distancing guidelines.
Featured films are:
– The Campaign (R, 2012, 1h 25m) on Wednesday, Nov. 4 at 7 p.m.
– Ferris Bueller's Day Off (PG-13, 1986, 1h 43m) on Wednesday, Nov. 18 at 7 p.m.
– The Night Before (R, 2015, 1h 41m) on Wednesday, Dec. 2 at 7 p.m.
– The Muppet Christmas Carol (G, 1992, 1 h 35 m) on Wednesday, Dec. 16 at 7 p.m.
Parks

Buffalo Bayou Park: Open daily, 6 a.m. to 11 p.m.–Stretching 160-acres between Allen Parkway and Memorial Drive, Buffalo Bayou Park is an urban oasis that offers space to explore and discover the natural beauty of the Bayou, while also taking in the scenic sites. www.buffalobayou.org. With Downtown's skyline as its backdrop, Houston's premier greenbelt winds from Shepherd Drive on the west to Bagby Street on the East End. Eleanor Tinsley Park, located within this greenway, is the site of major Houston festivals and events, including the city's Fourth of July Fireworks. 500 Allen Parkway.

Discovery Green: Open daily, 6 a.m. to 11 p.m.–Downtown's premier green space, Discovery Green encompasses 12 acres and is surrounded by the George R. Brown Convention Center, hotels and Downtown sports arenas. The park was developed by the Houston Downtown Park Conservancy, a group of leading local foundations, philanthropists and civic officials. "Downtown's new backyard," this dynamic park includes two restaurants, kids play area, a man-made lake, two dog runs, a multiuse amphitheater, an event lawn and more. 1500 McKinney. wwww.discoverygreen.com

Market Square Park: Open daily, 6 a.m. to 11 p.m.–Market Square Park is the bustling center of Downtown Houston's Historic District. The park is a true neighborhood space, anchored by a central lawn where more than one City Hall once stood. A crescent-shaped dog run on the park's west side gives the canine contingent an attractive and active place to let loose. A beautifully lit fence and walkway arc through the park and provides insight to the history of the area. And if you're hungry, check out Houston classic Niko Niko's, where you'll find delightfully shady outdoor seating, a plaza for performances and classic Greek and American favorites. 301 Milam. www.marketsquarepark.com
Getting Around Downtown: Walk–Explore Downtown Houston the crisp fall air. Getting around Downtown on foot is easy, and one of the best ways to experience the weather. Maps are available at www.downtownhouston.org
Houston BCycle: Ditch your car and ride a bike to all of the Downtown destinations this fall. Monthly and annual memberships available with 16 convenient stations located throughout Downtown Houston. www.houston.bcycle.com
Parking: There are affordable parking options—garages, surface lots and on-street parking—convenient to any destination. For help finding surface lots, garage parking or on-street meters, visit www.downtownhoustonparking.org.
Photo courtesy of Houston Downtown Management District