Houston Museum of Natural Science's New Exhibit Blasts Museum Guests to Mars
Exhibit teaches Martian topographic features and details the history of Mars exploration with rovers and landers
Guests will also learn about scientists' search for water (and life) on the Red Planet and the future of human exploration of the planet
Since the 50th anniversary of the Lunar Landing in July 2019, the Houston Museum of Natural Science's Glassell Hall has been out of this world with planetary installations by British artist Luke Jerram. Guests who entered the HMNS were greeted by the phenomenal sight of gigantic internally lit sculptures of the Moon or Earth. Following those installations, the museum has now opened a new installation by the same artist, Mars by Luke Jerram.
Measuring 23 feet in diameter, the new sculpture blasts museum guests to the fourth planet from the Sun, humankind's next destination on its search for adventure in the Solar System.The centerpiece of the exhibit is an internally lit, 23-foot in diameter globe of Mars suspended above guest's heads.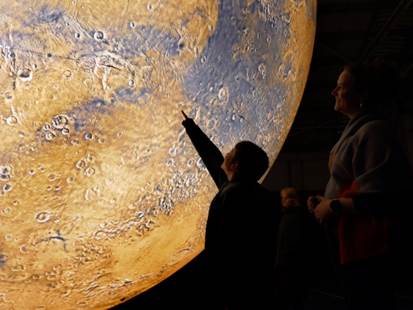 "Mars is a unique and magical world — close enough for the first telescopes to show surface features, but far enough away to deliver discoveries with each new image," Vice-president of Astronomy at HMNS and exhibit curator Dr. Carolyn Sumners said about having the new sculpture at the museum.
Humankind's potential future outpost might be millions of miles from Earth, but museum guests are able to glimpse Mars from the vantage point of a satellite. Mars features 120dpi detailed NASA imagery of the Martian surface compiled from Mars Reconnaissance Orbiter data – visible Earth series, NASA. The sculpture provides the opportunity to see our neighboring planet in exquisite detail, floating in three dimensions. At an approximate scale of 1:1 million, each centimeter of the internally lit spherical sculpture represents 10 kilometers of the Martian surface.
"Landers and rovers have made Mars a real world with hills, valleys, volcanoes and weather. We can imagine living there," Dr. Sumners said, remarking on the work scientists have done to make something like Mars a possibility. "On our Mars globe you can make your own discoveries and explore the most exciting destinations. A 3-dimensional fly through of Mars topography brings the most dramatic scenes alive and video stories of Mars put you on the planet." Guests can spot distinctive Martian features, like craters, canyons and rover landing sites and learn about the future of space exploration with this dynamic installation. The artwork transports viewers to this desert wasteland, to imagine what life is like on a planet with blue sunsets.
Like nearly everything at HMNS, Mars takes an interdisciplinary approach to reaching guests through science. A living Martian garden, featuring plants growing side-by-side in Earth and Martian soil, accompanies the installation. "Our Mars Farmers show the successes and failures of Earth plants growing in simulated Mars soil. We already have our first Mars tomato!" Dr. Sumners said of the team's progress. Artwork by technical illustrator and space artist Pat Rawlings is also on display in the hall to "capture NASA's dream for astronauts living and working on the Red Planet," according to Dr. Sumners. More programming is planned for February 2021 to coincide with NASA's landing of the Mars Perseverance Rover on the Red Planet.
The installation is suspended in the Alfred C. Glassell, Jr. Hall at HMNS at Hermann Park through October 7. It is included with regular admission to the permanent exhibit halls.
About the Artist
Luke Jerram's multidisciplinary practice involves the creation of sculptures, installations and live arts projects. Living in the UK but working internationally for 20 years, Jerram has created a number of extraordinary art projects which have excited and inspired people around the globe. In 2019 Luke Jerram was elected Fellow of the Royal Astronomical Society.
For more information
Visit www.hmns.org for more details on hours, admission and exhibits.
Photo courtesy of HMNS