It's a foodie holiday so get out to Houston restaurants and hotels for delicious options
It's the holidays, and there's so much to do! Don't want to cook, but want something delicious??  Check out these options:
STAYING IN & ENTERTAINING:

 Head over to La Madeline where they've introduced their Holiday Catering Menu featuring their new Country French Brunch available in both Catered or Take Home options.
The Country French Brunch features an Egg & Cheese Croissant Bake, Cheesy Potato Gratin, Mini Croissant Mix and Fresh Cut Fruit Salade. Catered and delivered hot to you prices range from $89 for small (serves 10), $169—medium (serves 20) and large (serves 30) for $239.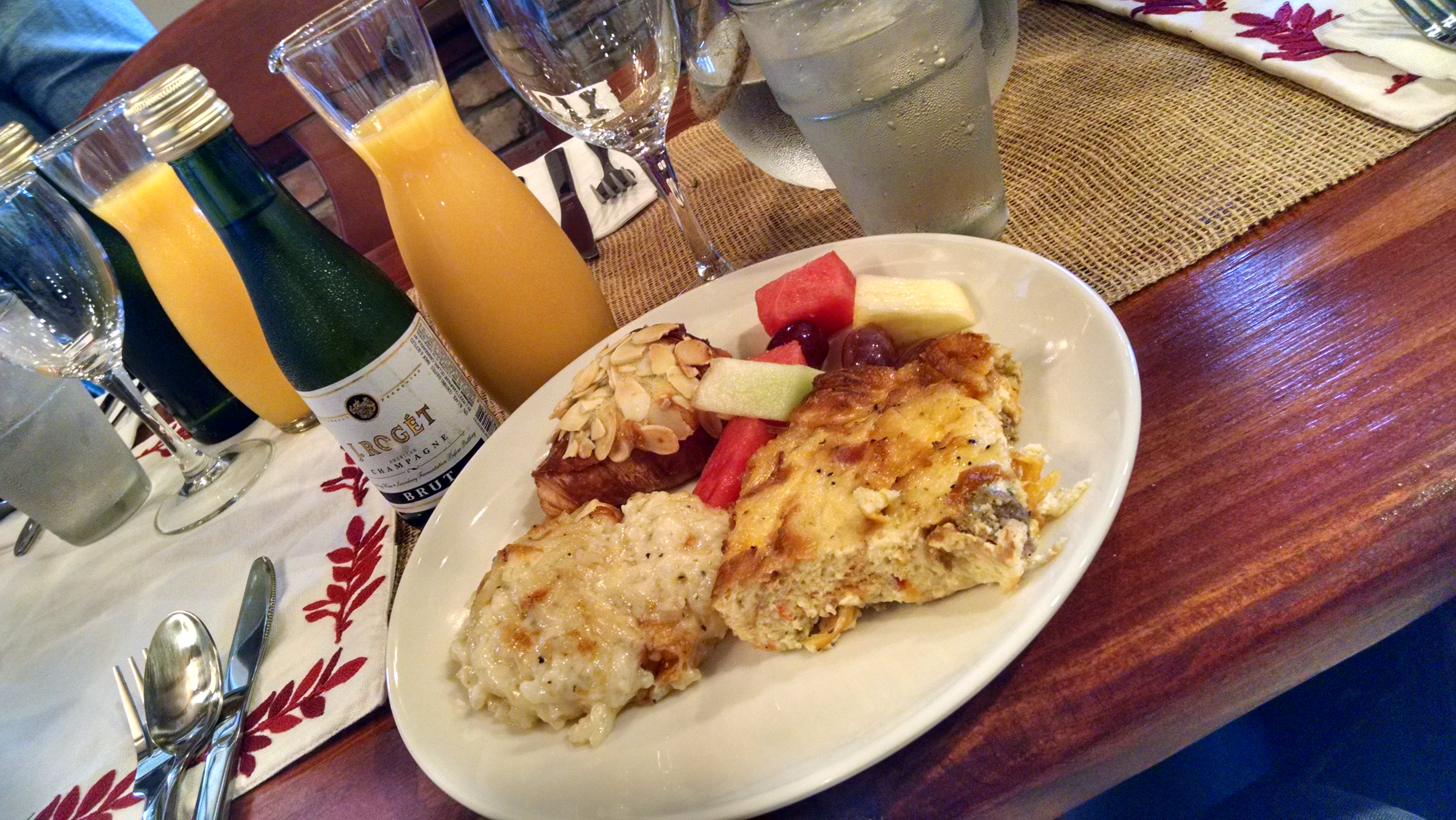 Lunch and Dinner options include hot entrees, Chicken La Madeline and Roasted Salmon & Dill Sauce, with two sides and La Madeline's famous baguettes. Additional options include pastas, salads and baguettes.
Choose also from their extensive dessert selections including Crème Brulee Cheesecake, fruit tarts, Sacher Torte, specialty croissants and a Traditional Buche de Noel.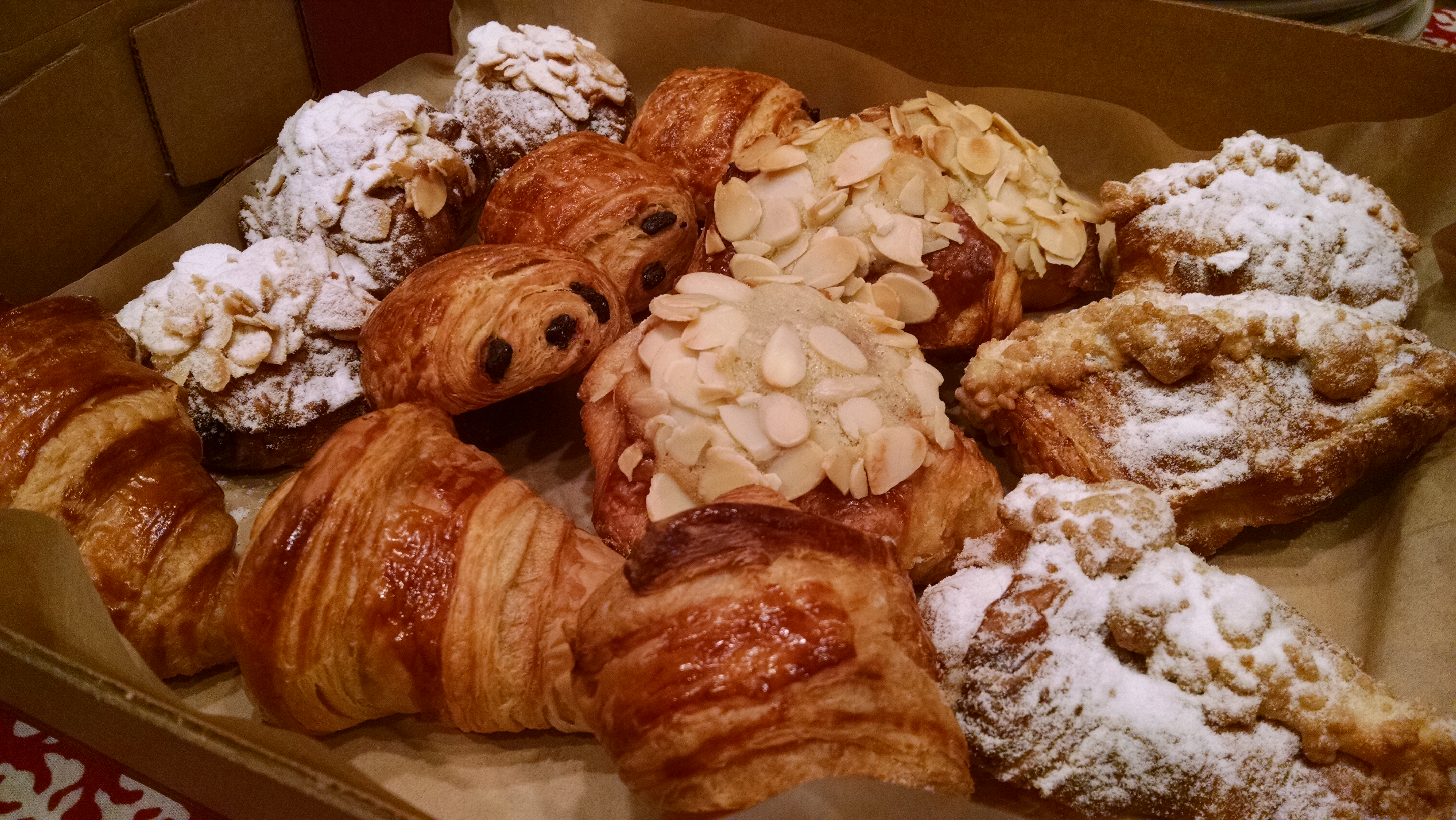 Details at order.lamadeline.com  or call 1-800-96-lamad. Orders can also be placed at your local La Madeline location. Gift selections are available for a quick hostess gifts.
photo credit: V. Sweeten
HOLIDAY DEALS & MEALS:
Hotel Sorella CITYCENTRE at 800 Sorella Court; 713.322.1321; hotelsorella-citycentre.com
Hotel Sorella CITYCENTRE is ushering in the holiday season with a Cyber Monday deal, starting on Monday, November 28. The special, online-only winter rate – valid into the New Year – provide your out of town family and holiday visitors a one-of-a-kind hotel surrounded by boutiques and Houston's best in dining and entertainment outside the loop. The Cyber Monday package offers up to 30% off of a Junior Suite in addition to complimentary continental breakfast, garage self-parking and Wi-Fi for stays between December 19, 2016 and March 31, 2017. Learn more and book Cyber Monday here.
Le Colonial at 4444 Westheimer; 713.629.4444; lecolonialhouston.com
Vietnamese restaurant Le Colonial in River Oaks District will open their doors on Thanksgiving Day, and welcome diners who don't have home cooking in their plans.  The new hot spot for authentic Vietnamese cuisine will offer guests a number of specials that day, along with their regular lunch and dinner menu.  Specials include Smoked Turkey Spring Rolls with a creamy basil dipping sauce; Roasted Duck with a cranberry ginger sauce and wok fried Brussel sprouts; and Pumpkin Cheesecake with a brandy cumquat sauce.
Le Mistral at 1400 Eldridge Parkway; 832.379.8322; lemistralhouston.com
At Chef David Denis' classic French restaurant, get a Thanksgiving meal with Gallic leanings. Sit back and relax as you let this Energy Corridor, tour-de-force take care of Thanksgiving for you and your loved ones. Priced at $55 per person, enjoy an impressive four-course feast, featuring starters like Veloute de Maos Aux Lardons, a velvety white corn soup, sour cream and crispy bacon julienne; followed by Strudel de Champignons Sauvages et Confit de Canard, a wild mushroom duck confit strudel with shaved brussels sprouts. Entrée options include La Dinde Rotie, a roasted free-range turkey breast, with Le Mistral gravy, Swiss chard filled with traditional stuffing, caramelized bourbon sweet potato and homemade cranberry marmalade. For dessert, sink your fork into a Pumpkin Soufflé topped with spiced rum sauce and vanilla cinnamon whipped cream. An a la carte and children's menu is availible upon request. Reservations can be made between 11 am – 2 pm and 5 – 9 pm.
PESKA Seafood Culture at 1700 Post Oak Blvd; 713.961.9229; peska.us 
Create a new tradition and give thanks at Peska Seafood Culture. Join the Galleria-area restaurant and enjoy a Thanksgiving dinner with a twist. Although turkey is the main attraction at Thanksgiving feasts, historians believe that much of the original Thanksgiving meal consisted of seafood. On November 24th, PESKA is turning back the clock and serving a "traditional" menu with a variety of seafood and seasonal ingredients.  Given the close proximity to the Thanksgiving holiday lighting ceremony and fireworks that starts at 7 pm, Peska makes it easy for guests to dine early and walk over to the festivities.
Priced at $60 per person, guests can delight in a three-course prix fixe menu with offerings like Mussels (served family-style), with smoked tomato, chorizo, white wine and toast; Whole Roasted Branzino; and Pumpkin Cheesecake. Family Style sides include, mashed potatoes, turkey gravy and green bean casserole. A $20 kids menu will also be available. Peska's convenient Uptown location also offers early diners an easy walk to Houston's 31st Annual Uptown Holiday Lighting Ceremony and firework show at 7 pm.
For the avid sports fan, PESKA offers an opportunity to combine football and family on Thanksgiving Day with a private "suite", complete with flat screen, outdoor patio and three-course menu. PESKA's private dining room is available all day for the family to eat, celebrate and enjoy.
Reserve your dinner in advance to guarantee seating and availability by visiting www.peskathanksgiving.eventbrite.com. To book a private room, call the restaurant at 713.961.9229.
Prohibition Supperclub & Bar at 1008 Prairie St.; 281.9940.4636
www.prohibtiontheatre.com
Keep your family and out of town guest entertained throughout Thanksgiving weekend at Prohibition Supperclub & Bar to enjoy show-stopping entertainment with a holiday twist.  The downtown destination will be introducing their new holiday musical Tales of a Hard Nut, a burlesque-inspired adaptation of the timeless classic, The Nutcracker. Through veils of glistening snowflakes and song, their majestic odium transforms into the Stahbaums' annual Christmas party – only this year you and your guests are invited to savor seasonally-inspired cuisine, while partaking in holiday games and festivities. The show runs every Friday and Saturday throughout the month of November with two seatings each evening – Friday, 7PM & 9:30PM and Saturday, 6PM & 8:30PM. To reserve your tickets visit: www.prohibitiontheatre.com.
Radio Milano at 800 Sorella Court; 713.827.3545; radio-milano.com
Radio Milano's Jose Hernandez welcomes the season with Thanksgiving dinners to-go, allowing customers to wow guests minus the mess.  Serving 8 to 10 and priced at $300, the package includes pumpkin soup, green beans, Brussel sprouts, sweet potato puree, mashed potatoes, stuffed turkey, gravy, pumpkin pie and pecan pie.  Orders must be placed by November 21.  To reserve yours, call 713.827.3545.
For those wanting to dine out rather than in, Radio Milano is also offering a three-course, prix fixe Thanksgiving lunch menu from 10 am until 3 pm on November 24. Highlights include Sunchoke Creamy Soup with smoked salmon, salmon rose and chives; Roasted Turkey Breast with green beans, sweet potato mash and cranberry cake; and Pumpkin Pie with marshmallow and vanilla ice cream.  Priced at $45 per person. An a la carte kid's menu with items like turkey, spaghetti, burgers and French toast will also be available.
Royal Sonesta Hotel at 2222 West Loop South; 713.627.7600
www.sonesta.com/royalhouston
Kick off the holidays with a bang that won't break the holiday shopping budget with the Royal Sonesta Houston Uptown Lighting Black Friday package.  Not only will you enjoy a prime, rooftop location for the annual Thanksgiving eve Post Oak Blvd. tree lighting and fireworks spectacular, along with champagne, hot chocolate and desserts for two, but you'll also be ideally positioned steps from The Galleria to get an early start – without the hassle of parking – on Black Friday shopping.  Priced at just $99 for the night, the package includes luxurious, double occupancy accommodations, complimentary self-parking and a 4 pm late check-out.  Extend the celebration through the weekend for only $79 per additional night. To book: https://gc.synxis.com/ rez.aspx?Hotel=56925&Chain= 5157&promo=PKGUPT
The Westin at the Woodlands | CURRENT; westinthewoodlands.com
currentthewoodlands.com; 281.419.4300
The Westin at The Woodlands gets an early start on Thanksgiving Day with a festive a la carte brunch offered from 10 am until 4 pm.  Indulge in beginnings like Butternut Squash Soup with cinnamon crème fraiche and spicy pumpkin seeds; or Lil' Emma's Crispy Calamari with fresh Gulf calamari, peppadew peppers and lemons, roasted tomato basil sauce, lemon infused Old Bay remoulade and scallions. Brunch selections include Stuffing Eggs Benedict, traditional holiday stuffing cakes topped with tow poached eggs and spiced Hollandaise sauce; and Pumpkin Bread French Toast, house made pumpkin bread with maple glaze and candied pecans. Guests can also indulge in lunch items like the Turkey & Pear Sandwich made with house roasted turkey breast, poached pears, cranberry jelly, Boursin cheese and artisan pecan and cranberry bread; and Grilled Bay of Fundy Salmon with Yukon gold whipped potatoes, green bean casserole and orange butter sauce.