Are you Super Bowl Ready? Find the Perfect Food All Over the City!
February 3rd the biggest party in America will fire up with a side of football. Here's Houston's top list of places to enjoy the Superbowl or best takeaway options to watch at home.
FOUR SEASONS HOTEL HOUSTON | ULTIMATE SUPER BOWL VIEWING PARTY    www.fourseasons.com/houston
Experience the ultimate Super Bowl viewing party in "Houston's Living Room." Four Seasons Hotel Houston is allowing you to rent out their TopGolf Swing Suite, which consists of two floor-to-ceiling big screen projectors and living-room style furniture for up to 21 people.
Comfortably indulge in crafty cocktails, appetizers, entrees and desserts from Bayou & Bottle, restaurant conceptualized by world-renowned chef Richard Sandoval. Guests have the option of using one screen for the game and the other for TopGolf simulator activities, too. Rates: $120/hour for the rental and a $1600 Food & Beverage Minimum (for up to 21 people). 
For more information, visit www.bayouandbottle.com. 
GOODE COMPANY | SUPER BOWL SUNDAY OFFERINGS   www.goodecompany.com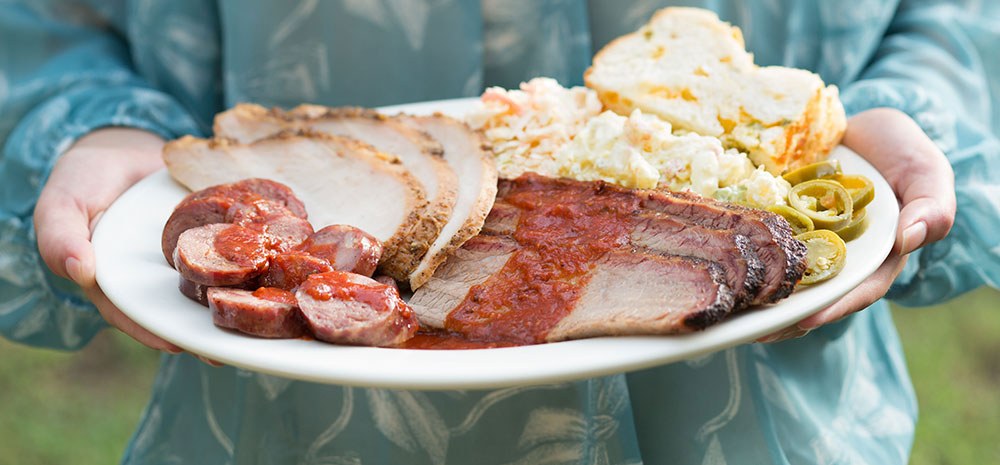 Bring home the party this Super Bowl Sunday with decked out party packs with the Backyard Party Pack from GOODE CO. TAQUERIA. An assortment of vegetarian options, baked goods, sides, toppings, desserts, and beverages are also available for an additional cost. * Must be ordered 24 hours in advance for Pick Up, Curbside, and Delivery. Call 713.520.9153.
BURGER PACK for 20 (Includes Lettuce, Tomatoes, Onions, Ketchup, Mayo, & Mustard); Chuck Burgers (20 mesquite grilled burgers & 20 homemade toasted buns): $135 + tax; Chicken Burgers (20 mesquite grilled chicken breasts & 20 homemade toasted buns): $150 + tax 
HOT DOG PACK for 20 (Includes Chopped Onions, Relish, Ketchup & Mustard); All Beef Hot Dogs (40 mesquite grilled all beef hot dogs & 20 homemade toasted buns). 
Or opt for Barbecue in Bulk from GOODE CO. BARBECUE:
Party Packs include a choice of beef brisket, sausage, chicken (a whole chicken may be substituted for 1 lb of meat), pork ribs, honey smoked ham, turkey breast, or spicy pork + a choice of side order — potato salad, jalapeño pinto beans, Austin baked beans, Cole Slaw, or Jambalaya Texana. 
Packs come in variations of 3, 5, 8, 20, and 25 pounds of meat and range in price from $55 to $635 + tax. 
An assortment of baked goods, sides, toppings, desserts, and beverages are also available for an additional cost.
Available for Pickup or Delivery via the 5109 Kirby (713.522.2530), 8911 Katy Freeway (713.464.1901), and 20102 Northwest Freeway (832.678.3562) locations.
HOTEL DEREK | SUPER BOWL DISHES destinationhotels.com/hotel-derek
Hotel Derek is gearing up for the big game in a big way. Beginning Sunday, January 20th Hotel Derek will activate a SUPER-sized Super Bowl Squares Game at Revolve Kitchen + Bar.
Any Revolve customer that orders a Wagyu Burger, Key Cocktail or any local craft beer will receive a square in the Squares Game. Squares will be given out beginning January 20th until the Super Bowl on Sunday, Feb 3. At the end of each quarter a winner will be picked and notified via email. Squares are limited. 
Prize Breakdown: First Quarter Winner – $50 gift card to Revolve Kitchen + Bar. Second Quarter Winner – $100 gift card to Revolve Kitchen + Bar. Third Quarter Winner – $50 gift card to Revolve Kitchen + Bar and room upgrade. Fourth Quarter Winner – $100 gift card to Revolve Kitchen + Bar and one-night Penthouse stay based on availability.
POITÍN | SUPER BOWL WATCH PARTY
Cheer on your favorite team at this year's Super Bowl LIII Watch Party at Poitín by enjoying signature cocktails, bar snacks and HD coverage of the big game. Featured "PIGSKIN ON THE PATIO" menu includes
A Carolina style pig roast on the patio: 9.00 per ½ LB
sides to choose from:
Collard Greens- 5.00
Gina's Potato Salad- 5.00
Cole Slaw- 5.00
Miso Mac and Cheese- 5.00
Baked Beans- 5.00
Southern Sweet Tea- 3.00
Also served are Social Sundays specials like the Brunch and Roast special that feeds four, as well as the Bar Snacks menu. Sunday Brunch: 11 a.m.-2:30 p.m. Bar Snacks Menu: 2:30 – 10 p.m. More information, go to www.poitinhouston.com/bar-snacks.                                            
TREEBEARDS | SUPER BOWL SPECIAL  www.treebeards.com
Channel the spirit of New Orleans on Super Bowl Sunday with Downtown mainstay Treebeards' Super Bowl Special: a party pack comprised of Chicken & Sausage Gumbo, Red Beans & Rice with Sausage, a side of Cheddar Cheese and Green Onions, and Treebeards Hot Sauce for 10 hungry fans. The price is $100 and $120 w/ Jalapeño Cornbread. Available at all Treebeards locations for pickup on Friday, February 1st.
ROYAL SONESTA HOUSTON | BLOODY MARY BARwww.sonesta.com/royalhouston
Join Royal Sonesta for a Bloody Mary Bar, featuring Enchanted Rock Ultra-Premium Vodka out of San Antonio and Bloody Revolution Bloody Mary mix out of Austin. The Bloody Revolution features 6 flavors: Original, Ribeye, Wasabi Ginger, Pickle Zest, Smoked Habanero, and Roasted Garlic. Pricing is $10 each. The Bloody Mary Bar will be setup in Axis from 3 p.m. until the end of the game.
photos by Amanda Calderon